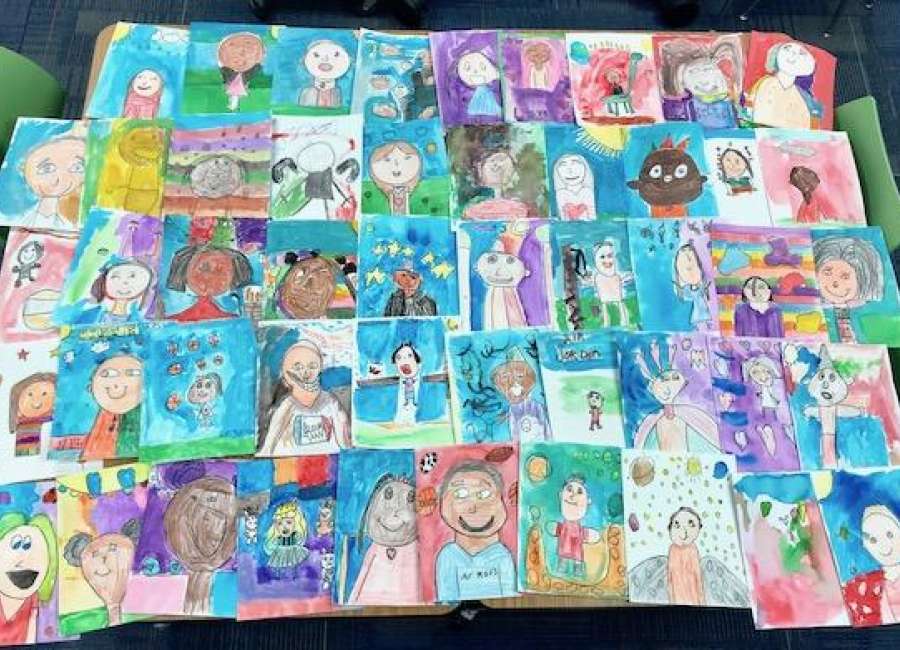 The Newnan-Coweta Historical Society's new exhibit "Newnan Now and Then: Roaring back into the 20s" features work from some very special artists – local students.
Students from Ruth Hill Elementary School, fifth graders from Coweta Charter Academy and local elementary schoolers who came to NCHS's kids' lecture series completed self-portraits for the exhibit on display at the McRitchie-Hollis Museum, according to Museum Curator Noelle Hagen-Atwood.
"It took me four days to make it and it made me happy," said Ruth Hill Student Delaney Gonyea. "I am excited to have my picture in the museum."
Ruth Hill Media Specialist Anne Graner said the NCHS is a community partner for Ruth Hill's Launch Pad Library. She said the library has different learning portals for students, and when she was setting up the portals she asked NCHS to partner with them for the "Learn from the Past" portal.
Graner said NCHS has created different displays for the portal, including showcasing a quilt Ruth Hill fifth graders made in the 1970s and a display on World War II. She said because of the library's relationship with NCHS, they asked Ruth Hill students to help with their new exhibit.
Hagen-Atwood said she really wanted to connect with kids for the new exhibit. She said she has children who are 11 and 12, and she was thinking about what life is like for them now, and how different it is from the 1920s.
Hagen-Atwood reached out to Graner to see if students would be interested in creating self-portraits using the prompt, "How do you see yourself as a citizen of Coweta County in 2020?"
Graner said one of the library's learning portals is "Express Yourself," which the self-portrait project fit right into. She said second through fourth grade students completed 48 self-portraits for the exhibit.
Graner said the project was an opportunity for students to think about what makes them unique.
"We were able to celebrate uniqueness about ear shapes, nose shapes and skin color," Graner said.
Graner said they also talked about what interests each student has, and what they wanted to include in their self-portrait.
Hagen-Atwood said in the exhibit there are photos of students in Newnan in the 1920s holding footballs and basketballs, and in the self-portraits, there are also students holding footballs and basketballs.
However, she said some students also included dinosaurs, Chick-fil-A and Air Jordans into their self-portraits.
"It was so cool to see what's different, but how much has actually stayed the same," Hagen-Atwood said.
Graner said the project helped increase student's awareness and celebrated their uniqueness. She said some students drew themselves similar to how they look, and others changed their hair color or skin tone.
"The kids put their heart in it and worked really hard," Graner said.
Hagen-Atwood said she was so excited when Graner told her the art was ready for pick-up. Students completed the project at the end of February.
"Flipping through their self-portraits, there was so much color, so many smiles — and seeing the things that were important to them was actually pretty eye-opening," Hagen-Atwood said.
Graner said she was hoping they could have a gathering for students and families at the museum to see their work on display, but they haven't been able to because of COVID-19. Instead, Graner compiled the portraits into a virtual gallery which can be found at https://youtu.be/1e92GnRtOqQ .
"Self-portraits from Ruth Hill Elementary, Coweta Charter Academy and from some little locals are all up in the exhibit, and we would love to meet the artists — and they are more than welcome to come by the museum and bring their families to see their artwork in our gallery," Hagen-Atwood said.
The "Newnan Now and Then" exhibit at the McRitchie-Hollis Museum will be up at least through the end of the year. Tours can be scheduled by calling the NCHS offices at 770-251-0207 or on the historical society's website, newnancowetahistoricalsociety.com .