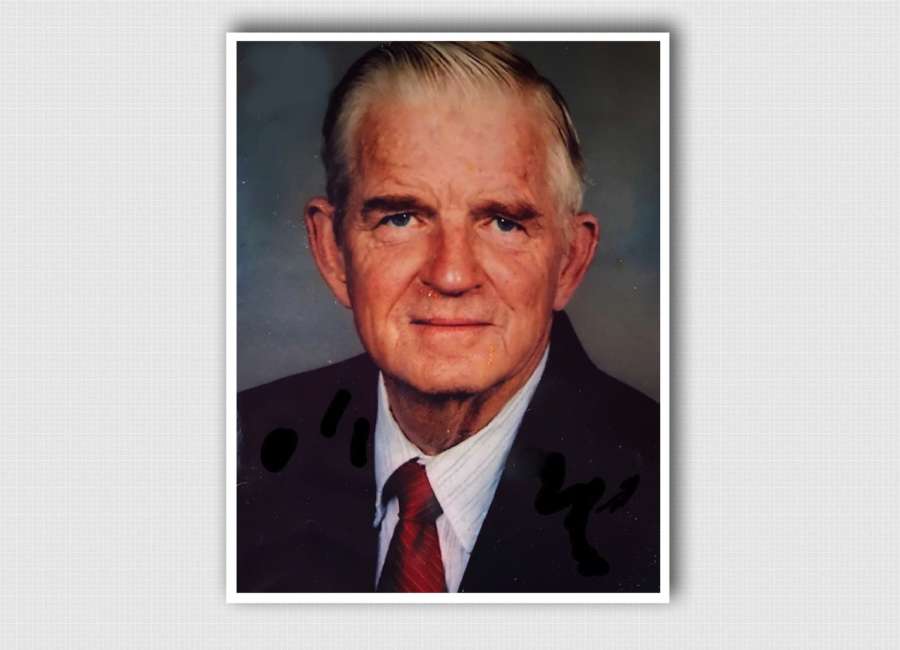 Jeremiah 29:11 "For I know the plans I have for you," declares the LORD, "plans to prosper you and not to harm you, plans to give you hope and a future."
Some might find this lifestyle somewhat of a daunting task. Steve Hardegree did not.
Steve was born August 29, 1933 and was one of eight children born to the late Jesse and Fannie Stephens Hardegree. The Hardegree and Stephens families are like historic markers in the Handy Community of Coweta County.
In addition to his parents, Steve was preceded in death by his siblings, Vivian Leigh Hardegree, Jack Hardegree, Jesse Eldridge Hardegree, Jr. and Mary Hardegree Rooker.
Steve graduated from Western High School and would later marry the young lady that completed his life. Nancy Faver saw that red hair and piercing blue eyes and was hooked. Their love story would continue for the next 64+ years. Steve's last words were of the love he had for Nancy.
At age 19, he heeded the call of his country during the Korean War and spent his tour of duty in the belly of the Navy ship, the USS Shenandoah as a boiler operator. Steve spent his employment career in the insurance business and he diligently worked for his customers as in any task he assumed in life.
Nothing was more important to Steve than his family. When Paul, his son,played ball, Steve was right there volunteering and coaching. He had a love for baseball especially the Atlanta Braves and his affection for pitching was passed down to his daughter, Tina, whom he also coached for years in church softball.
Steve's family had a deep involvement in the life of their church, Elim Baptist in the Handy Community. At one time or another, he would serve on every committee, sing in the choir, be involved in Sunday School, help with the fish fry and even looked after the cemetery for years. He believed in the importance of the deacons in the church and faithfully performed his duties as deacon for 53 years.
In spite of all the other roles he had in life, he absolutely relished his role as a grandfather and great grandfather. His heart had a huge capacity of love and he gave it freely. These lucky kids never got too old to share a chair or pile up on the sofa.
The words in the book of Micah speak to a Christian's obligation as a believer, in that God wants us to do what is right, to love mercy and to walk humbly with Him. Well done, Steve, you have been a faithful servant in all that you have done.
It should be mentioned that he was a passionate fan of both The University of Georgia and Georgia Tech and split his loyalties due to granddaughter Erin's graduation from Georgia Tech and grandson Brantley's from University of Georgia. He had a great fondness for lawn mowers especially those that were John Deere greenand was often found mowing not only his own lawn but those of neighbors as well.
Steve is survived by his wife Nancy Faver Hardegree. He daily led by example in the lives of his children, Tina Hardegree Marsh and her husband Michael; Paul Hardegree and his wife Joanne. His grandchildren are Erin Marsh, Ryan (and Ana) Marsh, Brantley (and Lauren) Hardegree and Devon Hardegree. Nothing could lighten the burden of Steve's health issues like the appearance of his great grandchildren McKena Neumeyer, Declan Hardegree and Eva Marsh. His surviving siblings are Nancy Hardegree Burks, Betty Hardegree Stapler, and
Julian "Bubba" Hardegree. The life and love of Steve Hardegree will be remembered in service to be held on Thursday, July 23rd at 11 a.m. Leading the service will be Reverend David Patrick and Reverend Mike Harris. Interment will be in Historic Elim Baptist Church Cemetery led by Reverend Glenn Dow.
The family will receive friends on Wednesday, July 22nd between 6 p.m - 8 p.m.. at McKoon Funeral Home 38 Jackson Street in Newnan. Flowers are a lovely remembrance, but it is the suggestion of Steve's family that instead of flowers, his life might be memorialized by a gift in his memory to Elim Baptist Church Cemetery Fund 1529 Handy Road or on the internet www. elimbaptistnewnan.com/giving,
Online condolences may be expressed at www.mckoon.com. McKoon Funeral Home 770-253-4580.