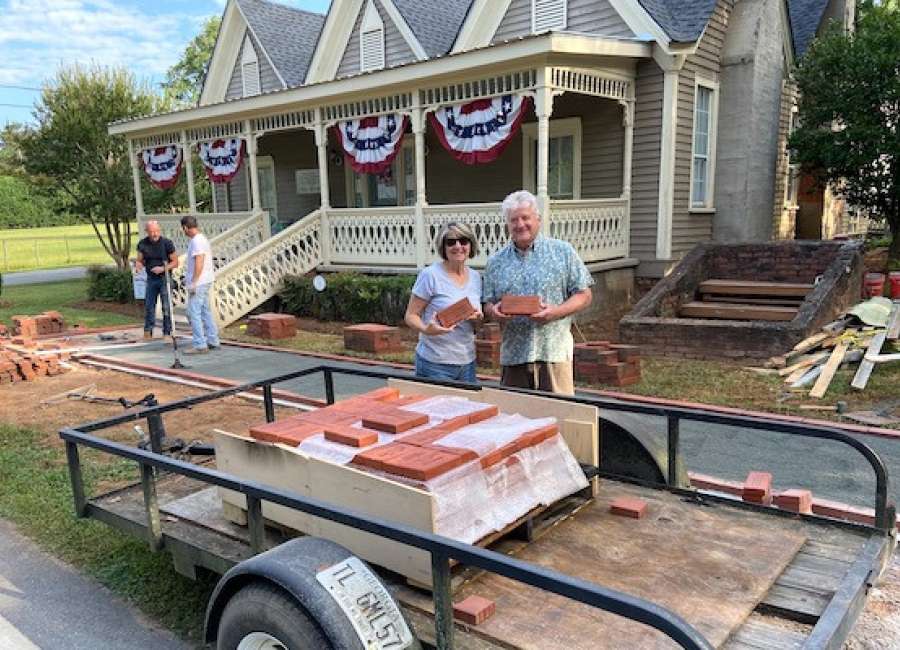 The Senoia Area Historical Society is set to celebrate its 10th anniversary with a "Mingle and Memories" open house event July 18.
Museum Director Maureen Schuyler said the open house will be held on the exact date the museum opened in 2010. Events will take place at the museum located at 6 Couch St., Senoia, from noon to 4 p.m.
The museum has been closed since March because of COVID-19, and the celebration will be the first day it's back open.
Schuyler said the event will kick off with a ribbon-cutting for the museum's new "Walkway to History." Community members and out-of-town donors purchased 312 engraved bricks for the museum to build a walkway.
Schuyler said many of the bricks were purchased in memory of someone who lived in Senoia. She said some were purchased for people who lived in Senoia in the 1800s, and some were purchased by families who have only lived in Senoia for a year.
Also at the open house, attendees will have the opportunity to meet the mayor of Senoia and test their knowledge in a Senoia trivia game.
There will also be six memory boards that highlight the events and activities over the past 10 years and represent the fun, the learning and sharing that has happened at the museum, Schuyler said.
Four storyboards will highlight interesting Senoia history, such as the railroads, the Brown Bell Golf Course, the historic homes and businesses in downtown Senoia over the years.
There will also be a Princess Senoia costume contest and a video chat with 10 special guests including: Mayor of Senoia Dub Pearman, City Manager Harold Simmons, SAHS President Dennis Sanford, Charter SAHS Member Nancy Roy, President of Senoia Enterprises Scott Tigchelaar, Owner of Katie-Lou's Cafe Bill Wood, Senoia Sweetheart Jane Hutchinson, Museum Docent Shauna Mooney, Business Owner Ellis Crook and Schuyler.
Children will be able to paint their own Senoia rocks, and cake and ice cream will be served.
"We're excited to be sharing our special day and our history with the community," Schuyler said. "Back in January when we started planning, we had no idea we'd have all the current issues to deal with, but that being said we are taking necessary steps to ensure everyone's safety."
"The event will be joyous, fun and memorable. Like our flyer says, 'Come celebrate with us,'" she added.
More information about the "Mingle and Memories" event can be found at the Senoia Area Historical Society's Facebook page .