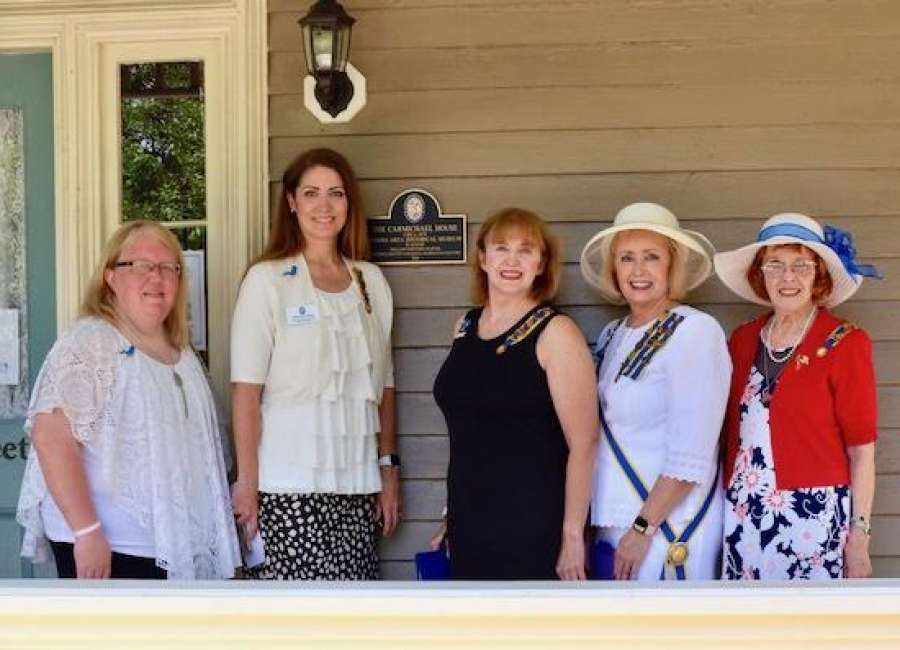 The Senoia Area Historical Society museum received a historical marker Monday from the William Wofford Chapter of the National Society Colonial Dames XVII Century.
The event was attended by Senoia Mayor Dub Pearman, City Council members Tracy Brady and Chuck Eichorst, SAHS board members, SAHS museum docents and other members.
The museum at 6 Couch Street in Senoia was built in 1870, and the historical society purchased the building in 1990. After many repairs and improvements, the museum was opened in 2010, according to a press release from the SAHS.
"Being selected for the marking is a great honor," said Museum Director Maureen Schuyler in the release. "And we appreciate the recognition by the local chapter of this organization which values our country's ideals and our society's efforts."
The house is known locally as the Carmichael House. At the turn of the last century, the town's undertaker, A.P. Carmichael, and his wife, Beulah Gay Carmichael, raised their eight children in the home, and their family memorabilia is on display in the museum, including the Carmichael family Bible and Mrs. Carmichael's 1883 wedding dress.
The National Society Colonial Dames XVII Century is an organization of women, 18 years of age or over, who are lineal descendants of an ancestor who lived and served prior to 1701 in one of the Original Colonies in the geographical area of the present United States of America, according to the release.
The organization's members are devoted to preserving the memory of those that settled in the United States of America prior to 1701. Established on July 15, 1915, the National Society Colonial Dames XVII Century is a nonprofit with headquarters located in Washington, D.C.
"To uphold and continue the values and ideals of our ancestors, our work is dedicated to the preservation of historic sites and records, promotion of heraldry and coats of arms, and support of charitable projects and education," according to the release. "Through these and many other activities, we acknowledge and honor those individuals whose enduring legacy of virtue, courage and patriotism formed this great nation."