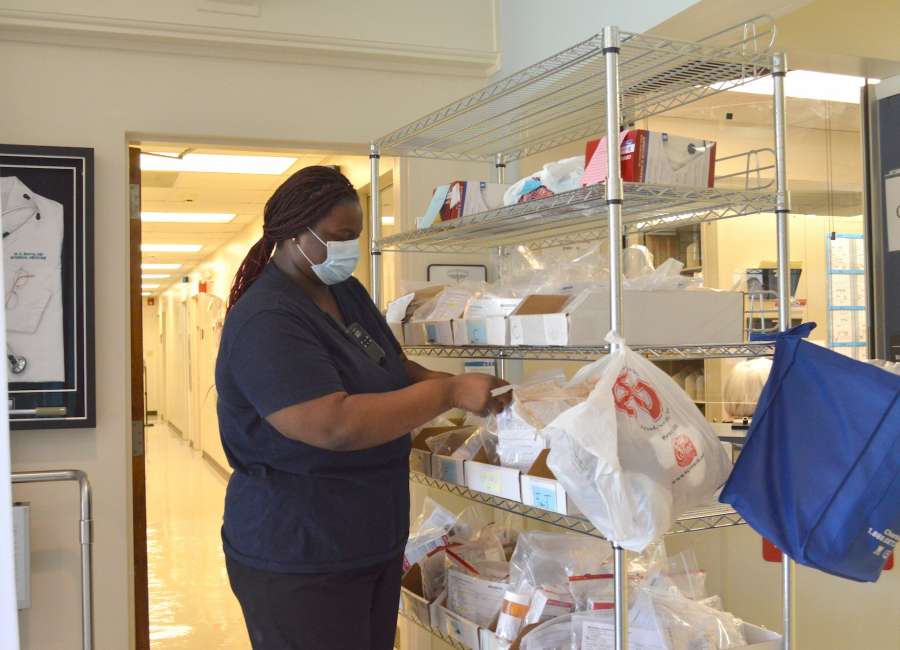 The Coweta Samaritan Clinic opened nine years ago as the vision of Dr. Kay Crosby.
When the clinic first began, patients were only seen one day a week. Now, the clinic is open four days a week, with access to specialists, prescription medications, lab tests, CT scans and MRIs, and dental services. Nutrition counseling and personal trainers are available for some patients.
The clinic has about 700 active patients and a total patient list of 1,500. As always, there is a long waiting list. The list was closed after reaching 460 patients, according to Volunteer and Office Coordinator Ginny Lyles.
Currently, the clinic hasn't been able to start seeing new patients because of COVID-19 restrictions. The first appointment is usually two hours in close quarters, Lyles said. However, they are working on ways to start bringing in new patients.
Partnerships add services
Dental care, including fillings, extractions and dentures is offered through a partnership with the CEC, West Georgia Technical College, and local dentists. However, the dental clinic has been closed since March. Hopes are to reopen sometime this fall. When open, the dental clinic is held once a week, and last year it served over 400 patients, said Kelly Hines, executive director.
There are many partnerships that make the clinic work. Piedmont-Newnan Hospital runs the blood work and provides X-rays, Cancer Treatment Centers of America provides colonoscopies and endoscopies, and American Health Imaging provides CT scans, MRIs and ultrasounds – all for free.
The partnership with American Health Imaging came after Crosby was honored at an awards dinner. "The CEO of American Health Imaging came up to her and said 'I want to do your imaging,'" said Lyles.
There are also various specialists throughout the county that see Samaritan Clinic patients.
"There is not a specialty that we have needed that we have not been able to find somebody to help us," said Crosby.
Before COVID, a group of doctors came once a month for an evening clinic to see patients who can't come during the day.
Access to expensive medications - for free
The clinic is able to provide access to some very expensive medications through various patient assistance programs. In 2019, the programs provided medication with a retail value of $2.5 million.
That includes medication for hepatitis C that can cure the previously incurable liver disease.
"We've cured 27 patients of hepatitis C," Crosby said. "I can tell you the benefit to the health care system is tremendous."
The clinic has also been able to line up vital surgeries for patients and provide medical equipment.
A mission – at home
For years, Crosby went on medical mission trips to Mexico with her church, Newnan Presbyterian. One year, they weren't able to do the trip to Mexico, so they decided to do a medical mission in Newnan, in the church basement.
The church was ministering to the Hispanic community in Coweta at that time and set up a weekend for medical care, counseling, various classes and clothing.
Crosby found that many of the people who came to see her had issues that couldn't be fixed in one or two doctor visits.
She particularly remembers a woman whose blood sugar was over 300 – and the woman had no idea she had diabetes.
"I was trying to figure out where I could send her. And she had no insurance," Crosby said. "There really wasn't a place to send her."
That stuck in Crosby's brain. She started thinking about it and talking to others about the need for medical care for the uninsured with chronic conditions.
"Really, when I started down this path, I had no idea of the significance of the need," Crosby said. When she spoke with various nonprofits that were serving the same population, they were excited that there were plans for a medical clinic.
A group visited a clinic in Mississippi to learn more about its operations. "Then we came home and started planning," Crosby said. It took two years to get the clinic up and running.
"I really felt like God has been preparing me for this in many ways," Crosby said. The work she did on medical missions in Mexico "opens your eyes to needs that might also be right at home."
The timing was right – the Coweta Health Department was moving into its brand new location on Hospital Road, leaving the old location on Jackson Street vacant. The Coweta Hospital Authority, which owned the building, made it the home of the Coweta Samaritan Clinic and helped with some renovations.
"It didn't suit their needs anymore, but it was perfect for our needs," Crosby said. The Newnan Hospital Foundation, which had money from the sale of Newnan Hospital to Piedmont Healthcare, promised $100,000 a year for 10 years.
There was a federal grant for a needs assessment and "we realized these patients' problems were much bigger than we were able to meet within our walls," Crosby said.
"We started reaching out to the other providers in the medical community, asking for help. And everybody has been so gracious and willing to help," she said. "It takes a whole community to make this happen, to give people the care that we give them. We couldn't do it alone."
The clinic has continued to grow in scope as time goes on. At first, Crosby was the only doctor. A Sam's Family Grant to Piedmont allowed the clinic to hire Nurse Practitioner Rhonda Whitton so that more patients could be seen, got the clinic on Piedmont's electronic medical records system, and provided a part-time social worker. Having Social Worker Amy Kelly, "has been an incredible gift," Crosby said.
Newnan Hospital Incorporated offered a two-to-one matching grant, which ended up raising $300,000 for the clinic – including donations from the patients themselves.
"We put a donation box in the front lobby and we put a sign about the matching grant," said "Lyles. "It was so generous of them to want to contribute."
With the additional funds, the clinic was able to hire Physicians Assistant Laura Alton to see even more patients. Currently, the clinic has three full-time employees and six part-time employees. All doctors are volunteers.
For more information about Coweta Samaritan Clinic, visit www.cowetasamaritanclinic.org or the Coweta Samaritan Clinic page on Facebook or call 770-683-5272.