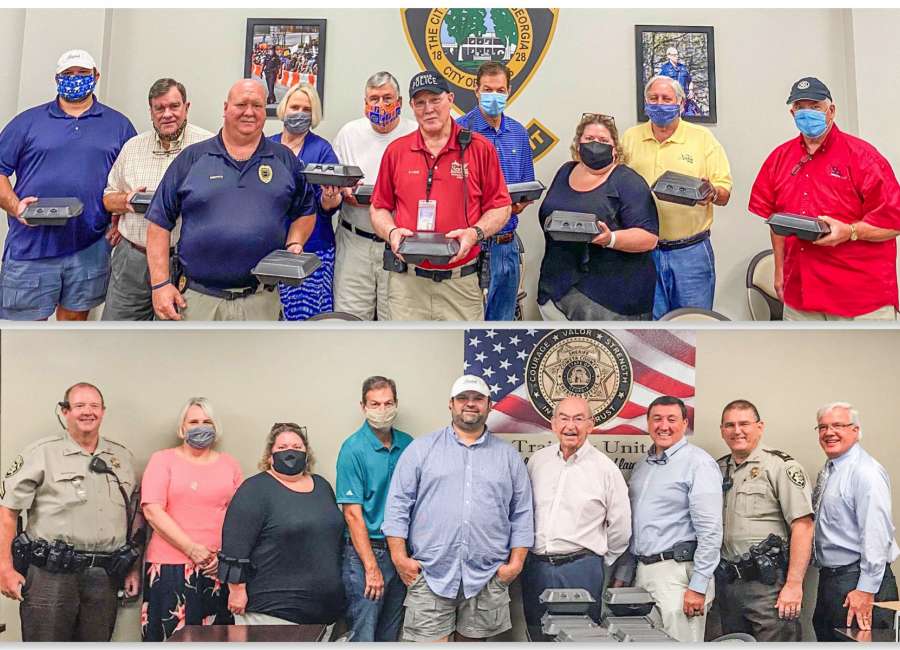 A little morale boost for public safety was the intention behind the latest service project for the Newnan Rotary Club.
Last week, the club provided 330 meals to both the Newnan Police Department and Coweta County Sheriff's Office. The group plans to bring even more to the Coweta and Newnan fire departments next week.
Each meal, provided by Life Of The South Catering, contained a brisket sandwich, potato salad, jalapeño pickles, potato chips, cookie and a drink.
Newnan Police Chief Douglas "Buster" Meadows and Sheriff Lenn Wood thanked the group for their efforts and confirmed it was much appreciated by staff.
"We were very surprised by the meal, which was extraordinary," Wood said. "It's great for morale. When they come to work and see our community is so supportive, it picks everyone up and makes everything a whole lot better."
"It means a lot to know they're thinking about us," Meadows said. "Our citizens have all been so good to us, and we really appreciate it."
Carol Moore, outgoing Rotary president, said the group was happy to provide some smiles to local first responders.
"The Newnan Rotary Club is proud to be a supporter of our local law enforcement, who risk their lives daily to keep our community safe," she said. "We are so happy to offer a meal as a small token of our appreciation for all they do."