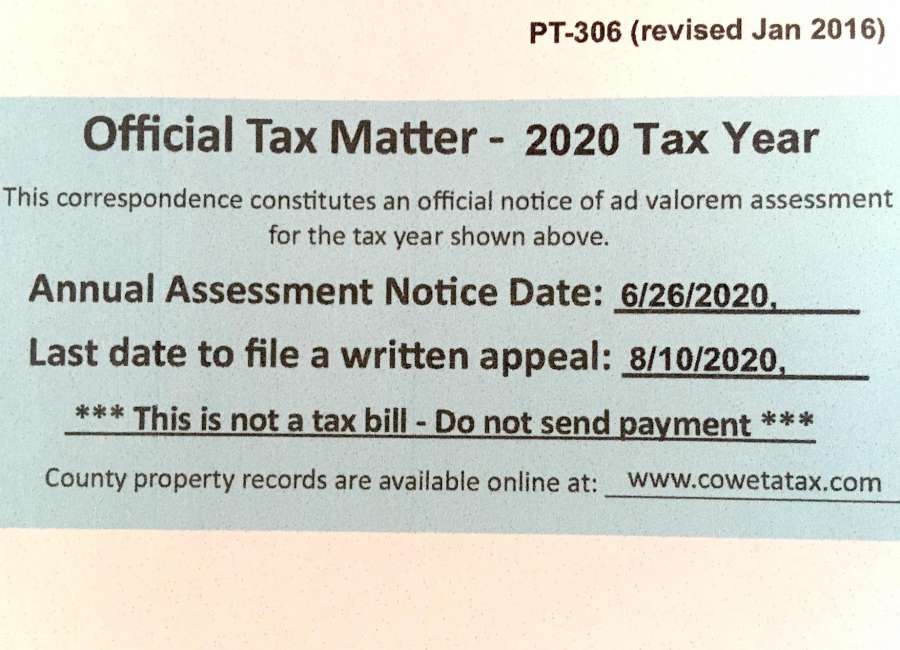 Some Cowetans got an unwelcome surprise in their mailbox this week – assessment notices showing significant increases in their property's tax valuation – sometimes tens of thousands of dollars or more.
The assessment notices don't go into detail of what makes up the value – the value of the structure, of the land and of accessories.
However, all those details are available by searching for your property on the Coweta County Tax Assessors website, www.cowetatax.com .
The website contains additional information including sketches of the house and other structures, information about septic tanks, and sales information.
There is also access to a map, and visitors to the website can check the assessments and other information about neighboring properties by clicking on those properties on the map.
There's also the ability to begin an appeal, right from your property's record page.
Tax rates won't be set until August
The notices also contain an estimate of what property taxes would be with the new value – but that "estimate" isn't based in reality – because this year's property tax rate hasn't been set.
The office has been busy this week, with phones ringing off the hook. The office isn't open for walk-in traffic because of COVID-19, but visitors can call ahead.
Coweta Chief Appraiser and director of the Coweta Board of Assessors Mike Marchese said he prefers correspondence through email, because it creates a record. But much information can be obtained through the website.
Coweta property owners can appeal the new valuation if they think it is too high, and obvious errors can be corrected without an appeal.
But taxes can't be appealed – because taxes are separate from the tax valuation. Tax rates are set by each taxing authority – the Coweta County Board of Education, Coweta County Commissioners, and various city councils – typically in August.
The tax estimate is based on last year's millage rate, and including the estimate on the notices is required by state law.
"As is always the case, people want to talk about the tax amount," Marchese said. "We are sympathetic, but that is not a part of the conversation we can legally have. Our responsibility is to reflect an accurate fair market value."
Marchese said he thinks putting the estimate on the assessment notices just adds to confusion for property owners.
"It has its good points, such as helping people understand how homestead exemption credits work and how their property may be affected by a conservation use program," he said. "But it leads people to think that the amount of the taxes is appealable, and it's not."
Because the county's tax digest – the total value of all property in the county – has gone up significantly with the revaluation, it's likely that property tax rates – known as millage rates – will go down.
If millage rates don't go down, it's considered a tax increase and each taxing authority must hold three public hearings on any tax increase before it can be approved.
First revaluation since 2001
The assessment notices are the culmination of a three-year process to do a countywide revaluation of all residential and agricultural property. The Coweta County Tax Assessors Office does some reassessments each year.
While subdivision properties in rapidly growing areas are reassessed often, some properties in less active areas may not have gotten a good look in years, meaning values were much lower. The last time a countywide revaluation of residential property was performed was in 2001.
While the notice taxpayers received in the mail lists the current fair market value, along with last year's value, it doesn't go into detail about where those values came from.
Accessory value added to all improved lots
The countywide revaluation started from scratch, and a few things are different than before. The biggest difference that property owners will see is in an "accessory value."
Before this year, that would only be the value of an accessory structure – a barn, a pool, a detached garage and the like. But under the new system, just about every lot with a house on it is going to have an accessory value listed – even if there is no other structure on the property.
"You can almost call it an intangible value. For a piece of vacant land to be transformed into an improved parcel, there are costs involved that add value to the parcel – whether it is cutting in a driveway, paving a driveway," Marchese said.
That value also includes water and sewer hookups, wells and septic tanks, and even extensive landscaping.
Accessory structures are also included in the accessory value. On the website, each accessory is broken down and listed.
Marchese said he's gotten a lot of inquiries about the changes to accessory value.
Using that kind of valuation technique is fairly common, but Coweta County hasn't used it since 1991, Marchese said. It was decided to put that back in after consultation with people around the state and the contractor that did the leg work on the revaluation.
Errors can be corrected without an appeal
With any project this big, there will be errors, Marchese said. And obvious errors can be corrected without going through the appeal process.
"If you filled in your pool and we've still got it on the record, we can take that off and send a corrective notice without you having to file an appeal," Marchese said. Errors could also be things such as an incorrect house size.
Error correction is for "an irrefutable matter, that doesn't involve a matter of opinion," Marchese said. Differences of opinion are where the appeals process comes in.
Land values double or triple
Some of the most dramatic increases are in land values in highly desirable areas, such as north Coweta and downtown Newnan.
One area of north Coweta where homes sit on large tracts saw land values more than double. Some historic homes near downtown Newnan also saw land values triple or even quadruple.
Conversely, the value of houses, particularly older ones, has gone down. For example, one home on Greenville Street had its land value go from $17,000 in 2019 to $97,000 with the revaluation, but the total value of the property and home only went up $11,000.
Property owners have until Aug. 10 to file an appeal.
Appeals can be filed for several reasons: if you think the value is wrong; if you think there isn't uniformity in how your property was valued compared to other properties; if your property is tax-exempt; if an exemption or conversation use has been denied; or a covenant has been breached. The most common route for residential properties is to appeal to the board of equalization.
For more information, visit cowetatax.com and search records to navigate to your property and appeal options, or email tassessors@coweta.ga.us or call 770-254-2680