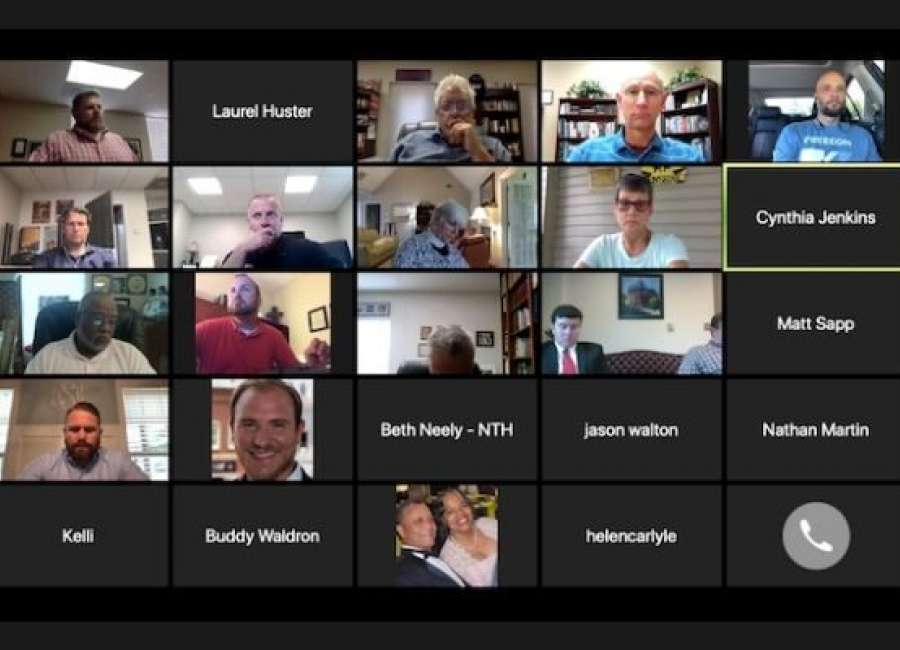 The Pastors and Leaders Lunch group met Monday to continue its discussion of defining racism, and to talk about the difference between the Black Lives Matter movement versus the organization.
The Pastors and Leaders Lunch group took a break in the spring because of COVID-19, but decided to reconvene over Zoom to discuss racial issues after the response over the recent killings of George Floyd, Breonna Taylor and Ahmaud Arbery.
At the previous meeting, the group began discussing the definition of racism. Newnan City Council Member Cynthia Jenkins said those who have experienced racism may be able to help people understand what racism looks like. She said it's not always the obvious things, such as police brutality.
She said there are a lot of microaggressions and unconscious biases that affect people of color. Newnan Presbyterian Pastor David Jones said he didn't realize for many years that people had different experiences than him.
"I remember part of my experience in college and even a little bit in seminary as I was becoming a pastor, learning that my experience in the world wasn't the same as everybody else's," Jones said. "The hardest part for me was learning to trust other people's stories and beginning to believe them."
He said it was hard for him to realize his story wasn't the same as everyone else's, and he had to learn to trust people when they told him about their struggles.
Jenkins said one of the reasons they have started the conversations around racism is for education, and for people to hear stories about Black people's experiences.
"I've talked about this as an African American in our community more in the last month than I have in a couple of years because the ears to hear are there," she said.
Jenkins said she's trying to tell the stories about racism because people are wanting to hear and understand them. She said because these stories haven't been told and now people are listening, it's making it more real and people more sympathetic.
Jones said people struggle with trusting others' experiences because the media can portray stories with racial and gender bias that a consumer isn't aware of, but it becomes ingrained in them. He said this causes us to stop trusting people around us when they talk about what's happening in their lives.
"That's where my biggest piece is –how do I get better at trusting people that don't look like me, or sound like me or from the same places that I'm from? How do I begin to trust what they're telling me about their lives is true, even though it's different from the story I've got in my head?" Jones said.
Black Lives Matter
Derrick Teagle with Empowered 4 Life talked about a recent forum called Connecting the Dots he held with coaches, students and law enforcement officers. He said two things he took from it were the emotions behind the difference between All Lives Matter and Black Lives Matter and how individuals' rights need to be taught more in schools.
Teagle said most people in attendance agreed that, as a whole, many don't know their rights as individuals. He said they also discussed what Black Lives Matter really means, and said many people don't understand the movement.
"To me, it means that it hasn't mattered before – we weren't on the level playing field, and by saying Black Lives Matter means we want to get on the level playing field," Teagle said. "We don't want to be above whites; we don't want to be above Hispanics or Asians. We just want to be on a level playing field, and we feel that we haven't.
"So for us to say it over and over again — we feel like we've been silenced for so long, and now we want everybody to hear that our lives do matter," Teagle added.
Teagle said a law enforcement officer at the forum said "all lives matter" and received a lot of feedback for it.
"Of course all lives do matter, we understand that, but I keep saying it won't really matter until Black people feel like their lives really do matter," Teagle said.
Jenkins said that the conversation from Teagle's forum may serve as a good example for what people are understanding about race in the community. She said many people in the community don't seem to understand what the Black Lives Matter slogan means.
Todd Slade, pastor of First Baptist Church of Moreland, said he firmly believes and preaches that Black lives matter.
"I firmly believe that Black lives matter. The organization Black Lives Matter — I do not agree with anything that they say," Slade said. "Because it is a Marxist organization that believes in decentralizing the family and really destroying the Black family.
"I think we have to be careful when we say Black lives matter — which I firmly, again, believe in — that we're not supporting the Black Lives Matter organization," Slade added. "They don't believe in the nuclear family; they don't have the same beliefs that I do as a pastor and what's going to cure our problem."
Jenkins said when she first heard Black Lives Matter, it was used as a slogan and a movement that gives attention to the Black community and the discriminatory things that happen to Black people.
"I cannot speak intelligently to the leadership of the Black Lives Matter organization, because that's not where my attention has been," Jenkins said. "My attention has been on the subject of Black lives and the fact that we matter, and we need people to see the racial inequities within our community."
Teagle said he agrees with Jenkins, and he shared an example from his own organization. He said people have told him Empowered 4 Life's logo is a devil symbol and something a former wrestler had used, and overlooked the cross in the middle.
"Don't miss that part," Teagle said. "Don't overlook the part that Black lives really do matter. Don't overlook the part that there's 90 percent of people who are saying that our lives haven't mattered, don't overlook that part."
He said he hasn't heavily researched the founders and the leadership of Black Lives Matter, because it's not about the organization.
"I can tell you as a Black man at 43 years old, and I can strongly say this, my life hasn't mattered," Teagle said. "I can strongly say that. So don't focus on the organizers."
Jenkins said there does seem to be hesitancy in the community for people to follow the Black Lives Matter movement because of the organization and its leadership.
"I would encourage you to not jump so quickly onto the All Lives Matter retort, because for us, it's like you're ignoring us," Jenkins said. "It's like the house that's on fire in the neighborhood, if they said all houses matter, people would be like, 'This is stupid — that's not the one that's on fire; the one that's on fire is the one that needs the water right now and needs the attention from the public and the fire department.'"
Jenkins said she also understands those that don't want to give attention to the slogan if the organization is benefitting from the slogan.
"But as an individual who is affected, I don't have the luxury of trying to disparage the group and still say, 'Hey, this is what's the focus and I can't say that because of this group,'" Jenkins said. "I don't have the luxury of that. I'm just going to have to trust our community to see what the real issue is and to address that real issue and not get sidetracked or put their support to the group.
"But to put your attention on the problem and the solutions that go along with it — and that is acknowledging that there is work to be done and being with those of us who are working to make Black lives really matter in our community," Jenkins said.
Jones said he struggles with this, but always turns to the Biblical words of Paul who said "God can use all things for good." He said even when people in the church struggle with being involved in secular movements, it can be used for good.
"As Christians, how do we take something that might be good if we made it good?" Jones said. "And if we believe that God can work through us, then part of that is saying when we say Black lives matter, we're saying our black brothers and sisters in Newnan, Georgia, matter to us and we're going to fight together to see that equality come to pass."