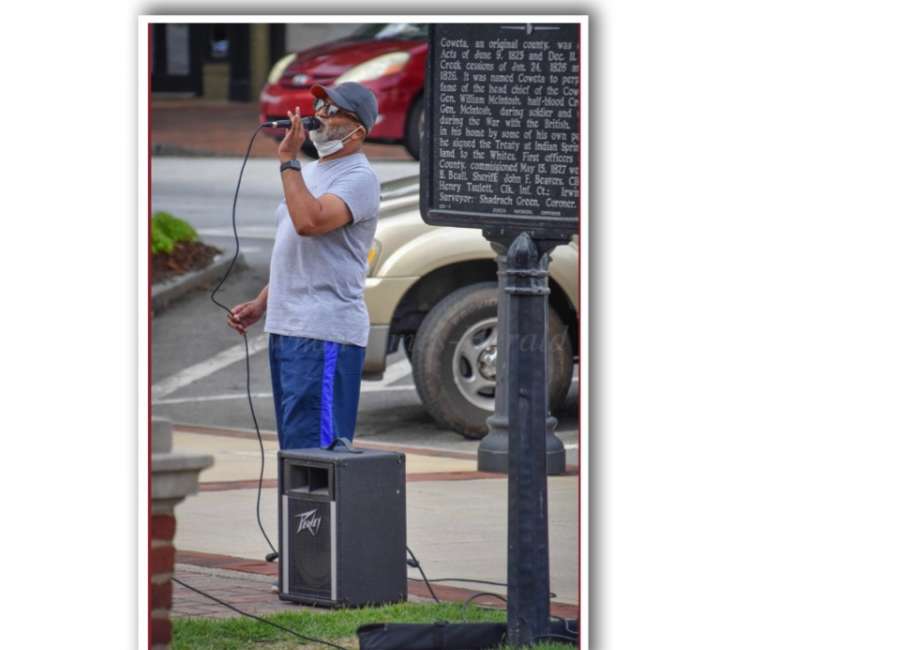 Calvary Worship Center pastor explains why he protests
Protesting and peaceful demonstrations have been prevalent in Coweta since last month, and Pastor Danny Hudson of Calvary Worship Center in Newnan said he has been part of protests since he was a child.
"When I was a kid, we marched to Court Square, and someone picked me up on their shoulder and I read a scripture," Hudson said. " I've been at it ever since in some manner."
Hudson has been participating in the protests in downtown Newnan, and he said many white protesters have supported the protests.
"What really surprises me is there are more white people than black people on court square," he said.
Hudson said the protests in Newnan are part of a much bigger cause and the requests are simple.
"The protest in Newnan is an extension of the national and global protest around the world," Hudon said. " We are asking for the same thing we've been asking for for years — equal justice."
One of the major issues Hudson said is excessive force and police brutality.
"The city must know that its citizens are serious about the issue of police brutality toward people of color, and must recognize this problem, along with other issues that face minorities," Hudson said.
Hudson said the request is for equal protection, justice and police reform.
"It matters to me because I have sons," Hudson said. "We've had encounters with the police from the least to the extreme. I have seen police escalate situations that really didn't need to be escalated. It matters to me because we as black men are born with a target on our chest, and they keep hitting it."
Hudson said it is important for protests to be well-planned to be successful.
"A successful protest must have great leadership and specific agenda and strategy," Hudson said. " You can't just march to get physically tired. You must know what you want and have a strategic process to get there."
Hudson said churches and faith-based organizations can get involved by discussing current events and having tough conversations.
"If a church doesn't talk about social justice from the pulpit, it has missed what Jesus taught," Hudson said. " Also, we have to understand that true ministry is not in a pulpit or in the four walls of the church. True ministry is in the highway and hedges. It is among the least of these, the less fortunate. It's taking the church to the world. It's interesting that the people Jesus met, he always attended to their needs."
Protesting in downtown has brought up conversations and the possibility of change within the local law enforcement and judicial community.
Citizens for Positive Reform took their daily demonstrations from Court Square to City Hall, where about 100 people protested outside a Newnan City Council last Tuesday.
Inside, the council unanimously approved two measures aimed at strengthening the local community: an outside review of city policy, and the facilitation of collaborative community forums.
Mayor Keith Brady brought a policy review resolution before the council, acknowledging the public concerns of the protesters while reinforcing the city's support of "transparency, accountability, procedural fairness and professional practices" across all departments.
The resolution calls for the hiring of an independent third-party facilitator to help create a citizen task force and lead the task force in a review and evaluation of the city's policies, procedures and practices.
Mayor Keith Brady said the goal of the resolution is to seek out and adopt policies and training procedures that will produce "the finest, best-trained police department in the state," keeping morale high and community relationships open and engaged.
Councilmembers set policies that steer all city operations, including law enforcement.
The council voted to direct staff to engage the agencies in an intergovernmental agreement to hire a firm to lead the community through a series of public forums about race, equity and justice, then create an action plan and track performance goals in an effort to help repair and strengthen the community.