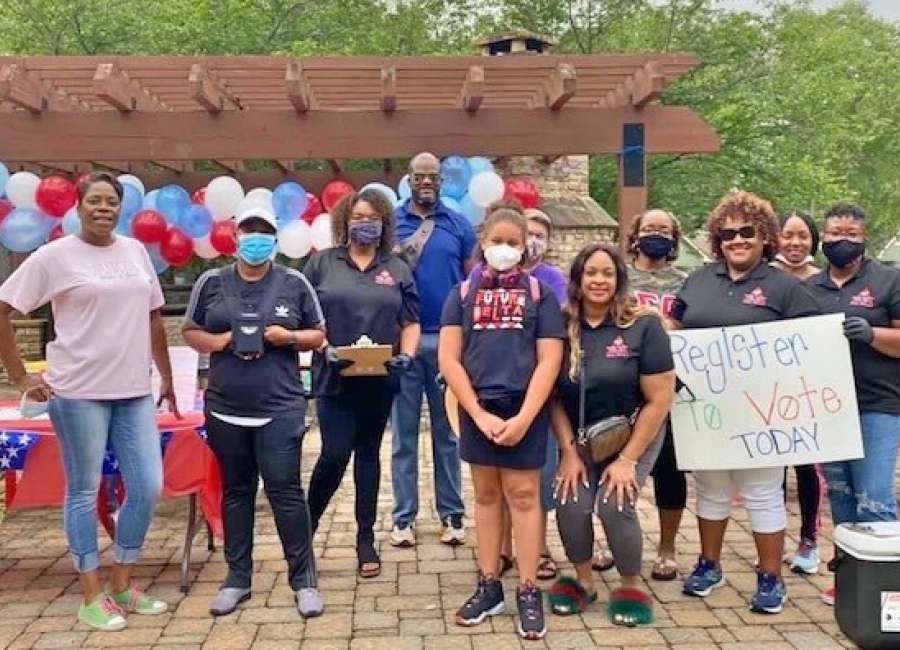 Thanks to a group of volunteers, Coweta County has 30 newly registered voters.

Members of local Greek organizations and Citizens for Positive Reform partnered with March to Vote for a voter registration drive last weekend, going door to door at the Highland and Creekside apartment complexes to convince residents to exercise their right to vote.
Shelton Martin, lead coordinator of March to Vote, said the organization's intent is to go out into the community and educate people about the importance of being engaged, active citizens.
"People who live in disenfranchised communities, especially in poverty, often feel like there's no point in voting because the people in office don't represent them," Martin said. "They say 'Vote for who? Why? There's no one to vote for. Even if we voice our issues, nobody will listen.' But we tell them if you take the power of the ballot, you're able to let your voice be heard and possibly effect change."
The child of a Republican father and a Democrat mother, Martin was exposed to politics at a young age.
"My father would take me to conventions, and we would be with politicians from all over the place in venues where they were talking about politics," he said. "It was intriguing. I was this little kid sandwiched between all these people at tables and booths, where they were talking mostly about money, smoke everywhere. They were talking about things that seemed so important. I was very young, but I knew what important felt like."
His interest waned as he grew older, though, and Martin – a high school math teacher and pastor who recently completed his masters degree in educational leadership – did not vote until he was in college and newly Christian.
"Before then, I'd never been to the polls, and I didn't know anything about voting," he said. "The only thing I knew was that I was not interested. Then I became a Christian and realized I have a civic responsibility to help shape a world that reflects the values I have, that treats everyone equally, and that's what made me start voting."
Martin said he did not bother learning about the candidates or issues at first.
"I was young and dumb," he said. "Not that first time or for many years after did I do any kind of research because I didn't realize how deceptive things were in politics. I was naive, and I didn't have anyone to tell me, 'Hey, these are the things you need to think about when you vote.'"
His experiences have inspired Martin to be that person to others. He starts reminding his students to register when they are nearing their 18th birthdays – keeping things nonpartisan and neutral, not talking politics – and he takes the same approach when he educates potential voters in the community.
"It's a nonpartisan matter," Martin said. "Every human being has to make sure they are heard. You are not powerless in a country that is a democracy. Even if there's corruption, you still have the opportunity to affect positive change through your vote.
"And that's in local elections and not just presidential elections. It's a local matter just as much, if not more, because they are going to make decisions for you," he continued. "You have to know who is mayor, who is on the city council, who is on the board of education. Things that aren't right can't be fixed if you don't know."
His passion for voter advocacy led him to form March to Vote, and Martin said he hopes to partner with more organizations and property owners, reach out to local pastors to get their churches involved.
But the purpose is not just convincing as many people as possible to fill out registration cards – it's also about serving the community through education and outreach, especially when the voting process can be intimidating to new voters.
"It's about saying 'This is what you do to vote,'" he said. "We want to present a positive message, to create a model that other people can use with basic questions that people have about voting."
Martin said he is working on compiling facts for new voters like rules from the secretary of state's office, common mistakes – for instance, not making sure the name on the registration card exactly matches the name on a driver's license – and information about candidates.
March to Vote's first registration drive at the Central Library drew four volunteers, who registered one person to vote. The second drive drew more than 20 volunteers and featured a barbecue for children and the families of the 30 people registering at both apartment complexes.
Before Saturday's volunteers dispersed, they met for training led by Martin.
"We talked about the 14th Amendment and the 15th Amendment," said Stacey Bristow of Citizens for Positive Reform. "We talked about how our ancestors died for this right, how as citizens we are born with this right, and how we should not give up the right to vote and have our voices be heard."
Those reminders are at the heart of March to Vote's message, Martin said.
"The civil rights movement made different treatment based on the color of your skin illegal," Martin said. "We won that victory with blood. Women got the right to vote even after African Americans. If you're a woman and black, too much has been fought for you not to go to the box. No matter what the color of your skin, whether you live in poverty or are rich – you need to vote, no matter who you are."
March to Vote is planning more voter outreach events at the end of July, August and September, Martin said. For more information, visit the organization's Facebook page (@marchtovoteamerica) or email marchtovoteamerica@gmail.com .