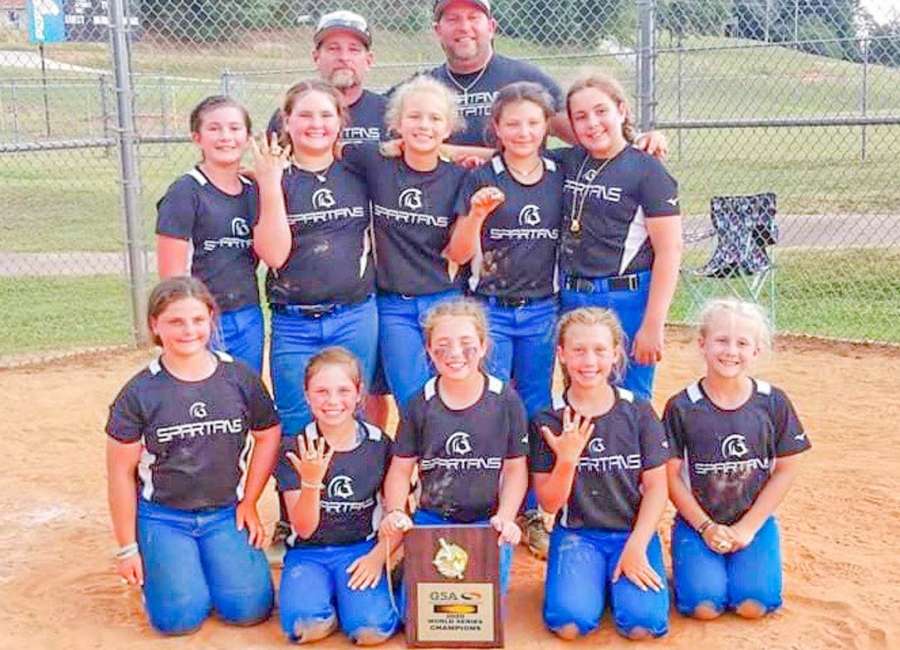 The 10u FS2K9 Spartans, a local softball team, recently won the Global Sports Authority's Fastpitch Softball World Series.
The event usually takes place in Toccoa, Georgia, but because of COVID-19, it was moved to Homer, Georgia. The tournament is a double-elimination event that typically draws teams from all over the southeast, according to a release from the team.
The Spartans started the day off with a 6-5 victory, defeating the Atlanta Sluggers. Jumping out to an early 5-2 lead, they were able to hold off the Sluggers late.
Game 2 saw the Spartans down the Ga. Storm in a battle of pitching and defense in a 2-0 victory.
Due to the odd number of teams, the third game of the day winner would play a fourth game. The winning team would then be the only team to play four games on Saturday in the 90-degree plus weather, according to the release.
If the Spartans won then they would have one less game on Championship Sunday. The third game saw an extra-inning affair with the Spartans downing the Buford Elite 3-2. This set up the Spartans to play their fourth game of the day.
The fourth game also saw extra innings. After holding Sandy Plains Blue Blaze to no runs in the top half of extra innings the Spartans we able to score the winning run on a suicide squeeze bunt for a 3-2 win and going 4-0 for the day.
Sunday started off with teams with one loss facing each other and the losers going home. It was late morning before the Spartans took the field for their first game.
"The girls were pumped up and ready to play knowing that with a win that they would be in the championship game," said Coach Chris Walker in the release.
The Spartans came out swinging and posted a 6-1 victory and headed to the Championship Game. Since the Spartans had not lost yet their opponent in the Championship Game would have to beat them twice.
The Spartans faced The Atlanta Sluggers in the Championship who they played in their first game of the tournament. The Spartans jumped out 7-1 to lead but allowed the Sluggers to cut the lead to 7-6 late.
The final inning saw the Sluggers tie the game 7-7 sending the game into yet another extra-inning game, the third of the tournament for the Spartans. The sluggers plated 3 runs in their top half of the inning.
Not to be outdone, the Spartans scored 2 runs quickly. With runners at second and third, the Spartans hit a line drive just out of reach and off the tip of a jumping shortstop falling out into left-center and scoring the winning run just ahead of the throw to home. Thus sealing the 11-10 victory and GSA World Series Championship.
"This was truly a team Championship!!" Walker said in the release. "The girls played their hearts out, giving 110 percent and never gave up. From catching with all the gear on in the heat, to pitching, fielding, hitting and waiting in between games, the girls gave us all they had and you get out what you put in. So proud of them!!"