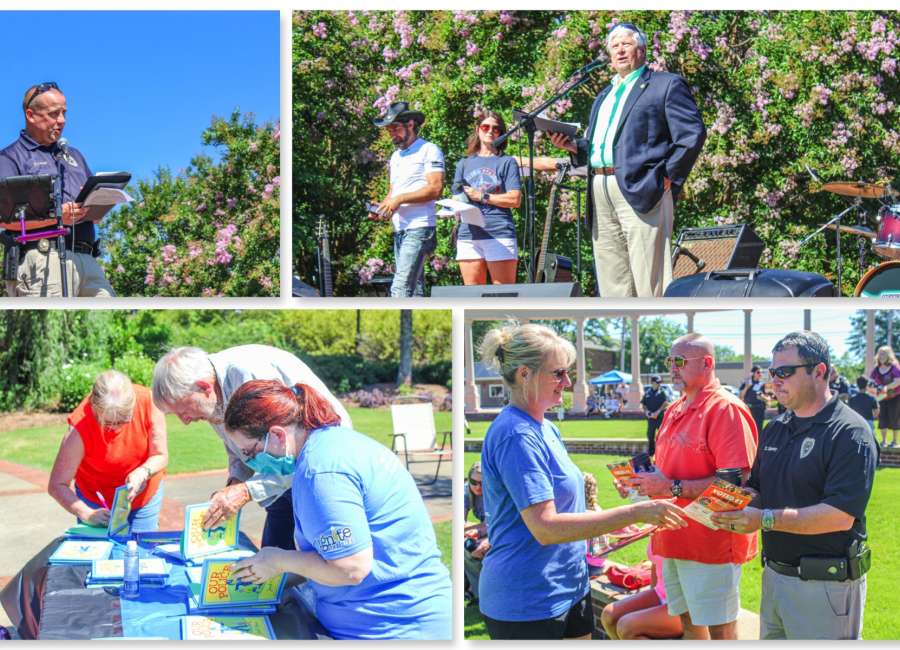 Newnan residents gathered at Greenville Street Park on Saturday to show appreciation for local law enforcement officials.

The day of appreciation was organized by Cindy Sellards, a Newnan resident.
"The reason it got started is because my son is federal law enforcement," she said. "I wanted to do something to honor him."
Reading a proclamation from the mayor and city council, the rally kicked off with Newnan City Council Member George Alexander declaring the day Newnan Police Recognition Day.
"I will put any of the men and women in our law enforcement against anyone in the country," Alexander said.
Following the proclamation was a short performance by local band, Dean Taylor and the Better Days, and prayers by Greg McEvoy of Southside Church and Tim Camp of the Newnan Men's Pipe Club.
"Behind a badge is a heart, and you're asked to do more than any individual should do," McEvoy said to the officers in attendance.
Gifts were also given to the officers at the Newnan Police Department. Tumblers and discounts donated by local businesses were given to each NPD officer, Sellards said.
Also at the event were 24 copies of the children's book "Our Police," purchased by Darryl Coyne, to be given to officers to share with their children or grandchildren.
Coyne said the officers could use the books to help younger family members understand their parent's or grandparent's job in the community.
The books were available for the attendees of the event to sign to show their support for officers.
At the event, Deputy Chief Mark Cooper acknowledged the other law enforcement agencies within Coweta.
"We are blessed to have leadership that works together with other agencies. It's all really one big team. We are blessed to have a sheriff, a chief, the Grantville Police Department and the Senoia Police Department," he said. "Each one of those agencies support each other and we support them as well."
"It's awesome to receive support from the community. They trust us to be the police force, and we're thankful for the support," Cooper said. "We look forward to always being there to support the community."
Sellards said she is in the process of planning a similar event to show support for the deputies at the Coweta County Sheriff's Office.