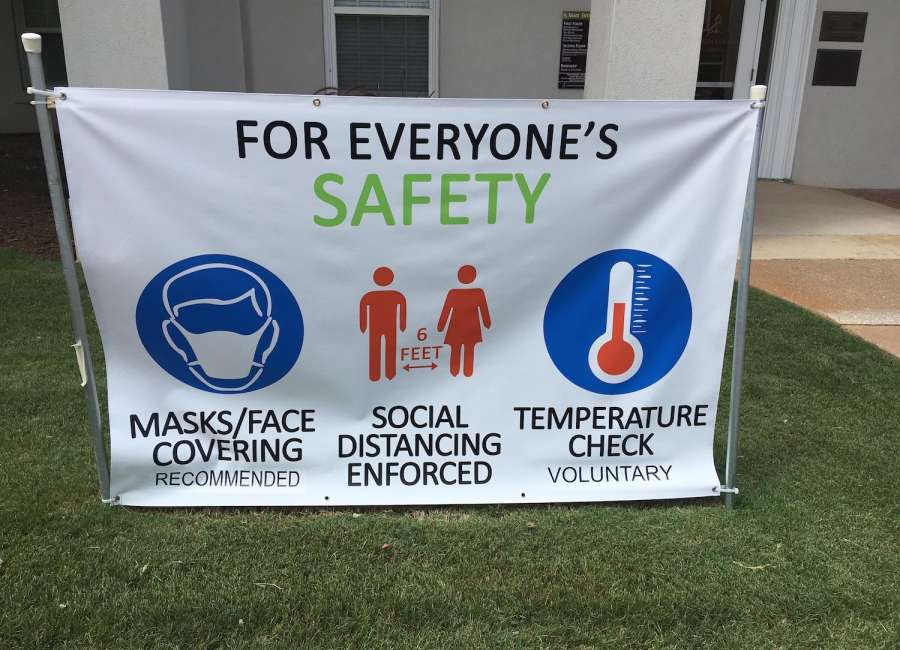 Gov. Brian Kemp's most recent executive order does more than just tell cities and counties that they can't enforce "mask mandates" that require people to wear masks in public.

It also tells local governments that they can't make rules about entry to their own buildings, including requiring masks for the public to go into buildings.
But Kemp doesn't have that power, and his decree is a violation of the "home rule" power of cities and other local governments, according to a legal filing by the Georgia Municipal Association.
GMA, which represents cities around the state, has filed an amicus – or "friend of the court" – brief in the lawsuit between Kemp and the city of Atlanta.
Kemp filed the suit over Mayor Keisha Lance Bottoms action to ask restaurants to stop allowing dine-in service, and the city's mask mandate.
The lawsuit also includes provisions that affect all cities, including every city's right to have a policy for its buildings and property, said GMA Executive Director Larry Hanson.
Protecting Home Rule
"This brief is to protect home rule for all cities and to protect the rights of approximately 100 cities who have already adopted a policy regarding the wearing of masks in their own public buildings in order to protect their own employees and citizens," Hanson said.
"Our position is in support of home rule, local control and the rights of local governments to adopt policies for their own buildings and the right of local governments to adopt ordinances that supplement the governor's orders."
The lawsuit is now in mediation. The current executive order, which took effect July 15, runs through the end of the month.
"As city leaders, we have no choice but to stand up for the citizens who live in each of our communities and protect the right of local control," said GMA President Vince Williams, the mayor of Union City.
"As elected officials of Georgia's cities, we are obligated to ask the court to determine the appropriate role of the executive, legislative and judicial branches of state government and if the power of the executive branch allows for the suspension of Home Rule, even in times of an emergency."
Approximately 100 cities had adopted policies requiring the wearing of masks in their own buildings, according to GMA. As Gov. Kemp has urged all Georgians to wear face masks, GMA had provided a model policy on face coverings for city's to use in regards to their public buildings, said GMA spokeswoman Kelly Bennett.
Coweta County had been requiring masks and temperature checks for entry into any county building. Now some signs say the masks are recommended and the temperature checks are voluntary.
The executive order states that any orders, ordinances, rules or regulations, other than those issued by judges for court operations, that require people to wear face coverings, face shields or any other personal protective equipment "while in places of public accommodation or on public property are suspended to the extent that they are more restrictive than this executive order" is suspended.
Though Kemp's orders have typically stated that county and city governments can't make any rules more or less restrictive than the governor's orders, this is the first time Kemp has tried to stop counties or cities from setting policies for the use of their own buildings.
Newnan City Manager Cleatus Philips and Coweta County Administrator Michael Fouts declined to comment on the issue.
Only legislature – not governor – can preempt local rules
Kemp's emergency powers do not supersede the separation of powers between the executive, legislative and judicial branches, according to the brief.
Under state law, the Georgia General Assembly has the power to preempt local ordinances. For example, local governments are preempted for regulating where guns can be carried.
But the legislature hasn't taken any action to preempt local rules on mask-wearing, either in public buildings or in public, according to the brief. And while the constitution gives the power of preemption to the legislature, it does not give it to the governor.
The brief lists numerous Georgia Supreme Court cases regarding home rule and preemption and states "these cases show that preemption is based on legislative act and intent, not through an executive usurpation of that legislature."
There is no case history granting the executive branch the ability to dictate terms of preemption "where the General Assembly has clearly authorized local governments to act in a manner that is not inconsistent with the governor."
Under state law regarding emergency management, cities and counties have the power to make rules necessary for emergency management purposes and to supplement the carrying out of emergency management activities, according to the brief, as long as they are not inconsistent with regulations from the governor.
Inconsistent?
The brief argues that because Kemp has repeatedly urged Georgians to wear masks, and has even embarked on a "Wear a Mask" tour of the state, requiring masks is a supplementation that is not inconsistent.
"Despite his apparent desire, the plaintiff (Gov. Kemp) simply does not have the constitutional authority to legislate or to adjudicate an interpretation" of the state law on emergency management powers.
Without action by the legislature, the scope of "supplementation that is not inconsistent with the governor's orders" should be a matter for the courts to decide, not for the governor to decide, the brief states.
"Municipal mask mandates are a clear supplementation within the powers granted to municipalities … and not a contravention, of the governor's stated public policy of increasing mask uses," the brief states. The governor's decree that local governments can't take action either less or more restrictive, "would not allow for any supplementation of his executive orders, in direct contradiction to statutory law."
Kemp's attempt to usurp local control and Home Rule "threatens great injury upon not only the defendants in this litigation but every municipality in the state of Georgia," the brief says. "Should the plaintiff prevail, the constitutional and statutory powers of self-government will be greatly eroded and stand to be further eroded by future executive orders."
The Association County Commissioners of Georgia, which represents Georgia's counties, doesn't typically get involved in legal battles until they reach the appellate courts, said Beth Brown of ACCG.
However, ACCG has always been a proponent of "the right of people to determine and implement public policy at the grassroots level through home rule," she said.
While recognizing home rule powers, Brown said ACCG is committed to helping counties work together with the governor, the Georgia Emergency Management Agency and the Department of Public Health "to solve this pandemic for the benefit of all Georgia citizens."