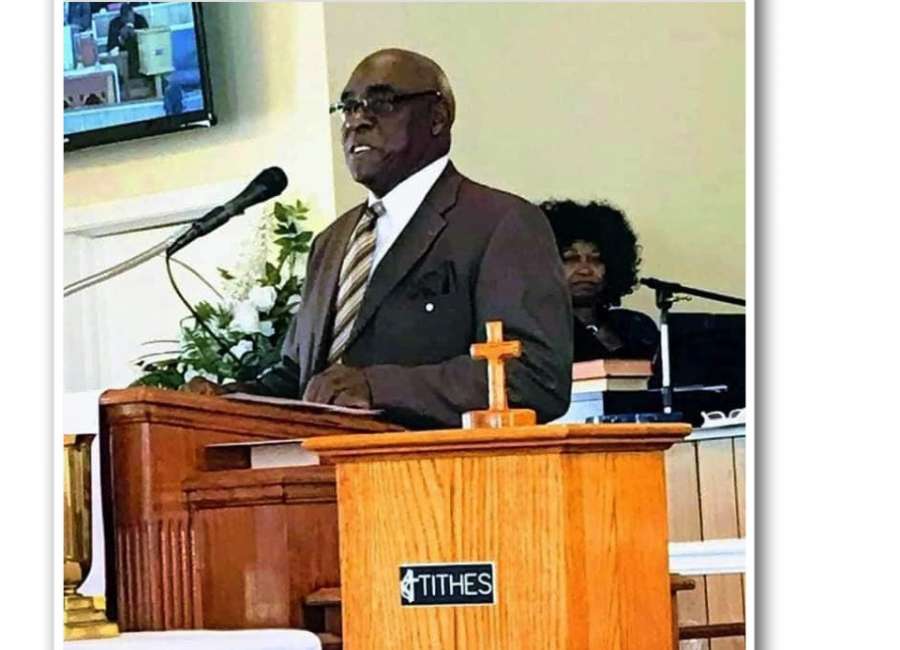 Rev. Joe Geter of Powell Chapel United Methodist Church in Newnan recently retired from pastoring.
Geter, a Newnan native, has been preaching for 35 years and pastoring for 33, with 20 of those years with Powell Chapel UMC on Old Atlanta Highway in Newnan.
Geter officially retired last month. Powell Chapel hosted a drive-in service to say their final goodbyes.
Answering the call
Geter graduated from Central High School and then went to school in Griffin for two years. Geter said he married his wife, Ernestine, when they were teenagers.
Geter grew up in Smith Chapel United Methodist Church in Newnan, so he is no stranger to church. As the baby of the family of 10, Geter's father passed before he was born, and his mother, Pearl, was very influential in his upbringing and being active in church.
Geter said he never intended on being a pastor. He said he ran from it for quite some time.
"I didn't want to go into pastoring," Geter said. "I used to be involved in sports in a lot and coach a lot of teams. So, that was my passion."
Geter said when he didn't answer the call to preach, "the good Lord dealt with me."
"I said I would never be a preacher because I had a fear of dead people and I would just have problems going to funerals," he said. "The Lord put it in my spirit that he was calling me into ministry. I prayed about it and said no, and I couldn't get any rest. In 1985, I accepted the call to preach."
Geter said his first sermon was in 1986 under the leadership of Rev. J.C. Neal, another United Methodist Church pastor. Geter stayed under the leadership of Neal until his first appointment in 1987 at John Wesley United Methodist Church in Grantville.
He pastored John Wesley for 13 years.
His most recent appointments were Jones Hill Chapel UMC and Powell Chapel UMC. Geter served at both Jones and Powell until 2008, when he went to only pastoring at Powell.
Preaching at Powell
Geter said preaching at Powell Chapel UMC granted him some of the best experiences of his life. Under his leadership, six praise teams were started as well as other ministries.
Geter was also very close with the church's former pastor, Rev. R.W. Sutton, who was well-known and respected in the community.
Janice Sutton, Sutton's daughter-in-law, said her father-in-law was the only pastor many of the members at Powell Chapel had known before Geter started preaching there.
"So, when we changed over 20 year ago, we were kind of hesitant, but God saw fit to send us someone that he (Rev. Sutton) gave the okay to take over after his retirement," Suttons said. "He watched out for us even after his retirement."
Sutton said the congregation grew to love Geter.
"God worked and allowed Rev. Geter to be part of our family," she said. "Many of us knew prior to him joining Powell, but not as a pastor. And when he came in, he brought his whole family. He treats everybody like family."
Sutton, who worked closely with Geter at Powell, said she and other members are saddened to see him leave.
"It's really sad in a way, but time brings about a change," Sutton said.
Kirsten Geter, one of Geter's children, said her father "has a heart for people."
"It's what made him a great pastor, but also a great dad and husband," Geter said. "His heart has been with helping people since he coached kids and adults in all types of sports. Later he merged that natural ability to connect with people with his passion for leading people to Christ, and being a pastor for him was a ministry always of love and about love."
Sutton said a temporary pastor has been appointed until a permanent pastor is appointed.
Looking ahead
Geter said being a pastor requires one to be a lover of people.
"If you're not, it's not for you," he said.
Geter said the call to ministry should not be taken lightly.
"If you know that God has called you, you must know he will keep you," he said. "Don't be afraid to love people, regardless of who they are, and don't be afraid to make changes and listen to people as well. Don't think because you're a preacher or a pastor you know everything."
Geter referred to the book of Exodus in the Bible when Moses sat in his tent everyday trying to watch over and judge over 2 million people. After taking some advice, Geter said Moses appointed men to help him.
"That's when Moses was able to do a better job," Geter said. "I don't care how long you've been in this, you don't know everything. Believe me, you need help. God speaks to others besides preachers.
"When you've poured out yourself to everyone, once in a while you need to be supported. That's when you need to take some time to restore yourself and you need somebody to hear you."
He said his favorite books in the Bible are the gospel of Luke and Daniel.
"I love the book of Daniel because it shows people who were punished in situations and because God put them in them and they trusted God, they were able to continue and prosper," Geter said.
Geter said he still loves to preach and will continue to do so.
"I just stopped pastoring, not preaching," he said.
Geter said he and his wife will use their free time to visit other churches.
"We will eventually settle," he said.
Geter is semi-retired. He runs a family-owned pallett business with some of his children. He and his wife of 51 years have three children and eight grandchildren.