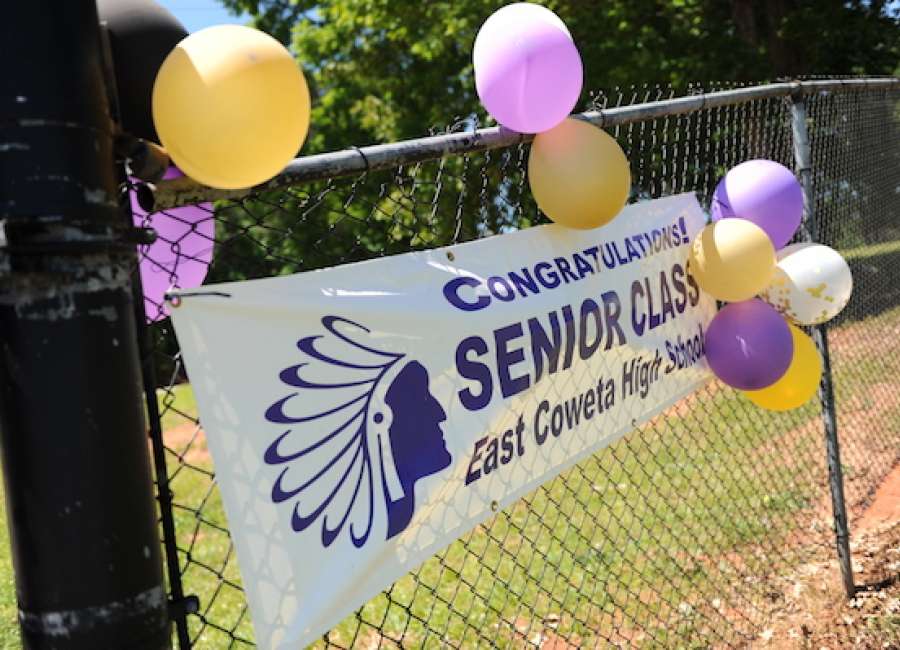 Coweta County high schools will honor their 2020 graduates July 28, July 29 and Aug. 1 with in-person graduation events.

The ceremonies will be split into two events at each high school according to graduates' last names, and attendance will be limited to allow for social distancing in stadiums. Students will be required to register to participate – and to receive guest tickets – beginning July 9.
Dates and times for ceremonies are:
Northgate High School, Henry Seldon Field:
• Tuesday, July 28, 8 p.m. – Graduates Last Name A-L
• Wednesday, July 29, 8 p.m. – Graduates Last Name M-Z
East Coweta High School, Shoemake Stadium:
• Saturday, Aug. 1, 8 a.m. – Graduates Last Name A-L
• Saturday, Aug. 1, 11 a.m. – Graduates Last Name M-Z
Newnan High School, Drake Stadium:
• Saturday, Aug. 1, 8 a.m. – Graduates Last Name A-L
• Saturday, Aug. 1, 11 a.m. – Graduates Last Name M-Z
Newnan Principal Chase Puckett, Northgate Principal Ken Kesselring and East Coweta Principal Steve Allen worked together and with high school staff to develop plans for the in-person graduation ceremonies.
"The COVID-19 pandemic has had a profound impact on the daily lives of CCSS students and families," the three stated in a joint release last week. "We know that our seniors missed events and activities tied to their last year of high school. While our virtual graduation ceremonies in May gave everyone an opportunity to celebrate our seniors, the district is making plans to hold traditional, in-person ceremonies as long as current guidance and regulations allow."
Graduates should register through their high school's websites, and each participant will receive four tickets for guests to attend the in-person ceremony. Schools will contact graduates with more information on registration and ticket pick up.
Guests without tickets will not be allowed into the venues, and no more than four guests will be allowed to sit together, as social distancing practices will be in place.
To prevent the potential transmission of COVID-19, the school system will implement the following safety precautions:
• Families and graduates are discouraged from mingling with others before or after the ceremony. Once seated, families will be asked to remain seated until the conclusion of the ceremony. Families will not be allowed onto the field at any time, and spectators should maintain physical distance of 6 feet or more whenever possible.
• Health officials recommend that individuals wear face masks/coverings to prevent transmission of illness. Participants are strongly urged to follow this guidance.
• Graduates will not line up and file into the stadium. Instead, they will check in and be assigned a seat, filling the seating area from front to back, with seats placed 6 feet apart. Seat assignments will not be in alphabetical order. At the end of the ceremony, graduates will be dismissed back to front. Graduates will leave the stadium directly after the ceremony, and they and their families are asked to avoid congregating in groups with others.
• Families and graduates will follow one-way signs when moving around the stadium to reduce face-to-face exposure.
• Families will be allowed to enter the stadium no more than one hour before the start of the ceremony to ensure recommended social distancing, and families will be asked to leave the stadium immediately after the ceremony and meet their graduate at home.
• Graduates will find information on parking, where to enter the campus, and other details in the ticket packet they pick up at school. Students should arrive one hour prior to the start of their ceremony.
• Caps and gowns are required. If students need to purchase caps and gowns, they should visit their high school's website for information.
• Students should arrive dressed in cap and gown. Customary decorum will be followed, and no decorations of cap and gowns will be permitted. Because of the ongoing epidemic, the ceremonies will not have some of the elements usually at graduations.
Because of current limitations, there will be no inclement weather makeup days for the scheduled ceremonies, and no separate graduation practice. In-person graduation ceremonies will take place only if current guidance and regulations will allow.
Because of the fluid nature of COVID-19, the school system reserves the right to cancel planned graduation ceremonies should health officials determine that in-person events can no longer be held safely. Any change in plans will be communicated to families as soon as possible.