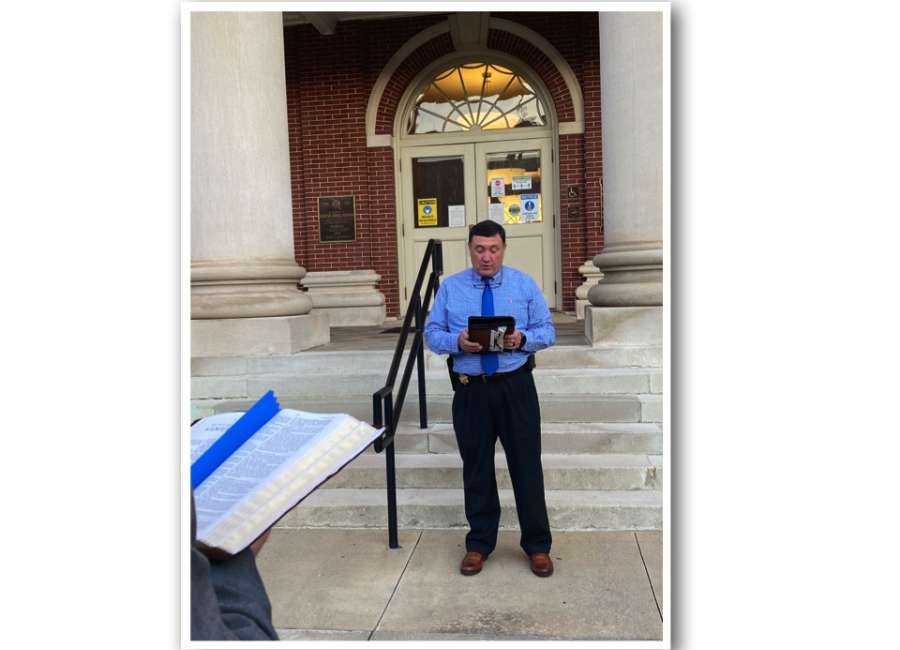 Sheriff Lenn Wood reads scripture at Coweta County Courthouse Tuesday morning during statewide Bible reading
Coweta County and several other counties in Georgia read the Bible simultaneously across the state Tuesday morning during the Second Annual Statewide Bible Reading.

According to Jerri Tuck, organizer of the event, there were gatherings across the state of Georgia, primarily at 7:14 a.m. at each county courthouse.
"Since we have so many counties in our state, the readings took no longer than 45 minutes, to an hour," Tuck said. "Last year Bible readings were held, not only in Georgia, but in 15 other states and in 22 countries."
Tuck said the date and time were chosen to bring attention to the scripture in 2 Chronicles 7:14, which is God's call to His people to turn to Him in repentance, that He may then answer by healing the land. The verse reads, "If my people, which are called by my name, shall humble themselves, and pray, and seek my face, and turn from their wicked ways; then will I hear from heaven, and will forgive their sin, and will heal their land."
Sheriff Lenn Wood and his staff read 1 Samuel, chapters 1-8 Tuesday morning at 7:14 a.m. Wood said he believes all scripture is appropriate in certain times.
"The scripture speaks of God blessing those who wait on him," Wood said. " If we keep God in the center of all our issues, then He will take care of us."
Georgia has the second largest number of counties in the U.S., second only to Texas which has 254 counties, according to Tuck.
"Because of the large number of counties, the readings, when divided, allowed the entire Bible to be read in the State of Georgia in one hour or less," Tuck said.
From the beginning
The Cochran-Bleckley Ministerial Alliance started this event in Georgia and Tuck, the ministry's secretary, has been organizing the various county readings.
"Several years ago, I learned about a 99-county-wide reading of the Bible in the state of Iowa," Tuck said. "As a passionate supporter of the public reading of God's Word and coordinator of our annual Bible Reading Marathon in Cochran, Georgia, since 2004, I was intrigued."
Tuck said he knew Georgia had 159 counties, which made him feel like the "the task of spreading the news about having a Bible Reading Marathon seemed like an impossible task."
"Never underestimate what the Lord can do when He sees our hearts," Tuck said. " The only ability we need with God is availability. The work is all His."
Tuck said Dianne Bentley, State chairman of the BRM's in Iowa, contacted him last year.
"Apparently, she was looking online to see if any other states had BRM's and came across information regarding our marathon in Cochran and found my contact information," Tuck said.
Tuck said Bently told him about a project of Bible reading that was happening in Iowa July 14, 2019. The plan was to read the entire Bible in every county. Their governor signed a proclamation declaring Bible Reading Marathons all over Iowa, Tuck said.
"After talking with Ms. Bentley, I felt this would be a possibility for Georgia," Tuck said. "After dividing up the Bible into equal readings for our 159 counties, I contacted people, who in turn contacted others and before you knew it all counties were represented for the first statewide Bible reading in Georgia.
Tuck said he received emails, text messages and Facebook messages from each county with reports about the event.
The Bible reading in Jones County, Iowa, led by Hall, had over 100 attendees, according to Tuck.