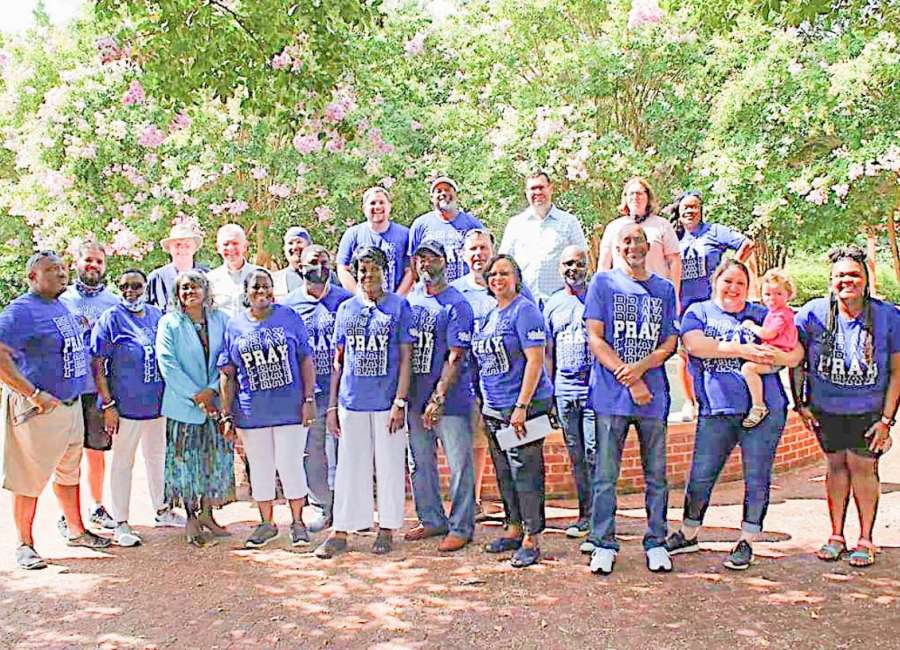 By MORGAN CRUMBLY

Saturday morning, Ignite the Fire hosted a prayer rally at Greenville Street Park in downtown Newnan.
A multi-county organization of churches and individuals that began in April 2016, Ignite the Fire's purpose is to gather leaders of the community and bring them together to focus on prayer and service.
Apostle Debra Harris of Ignite the Fire said members of the organization want to show the love and unity of Christ.
"We are here to pray for our community, our nation, first responders and for our teachers," Harris said.
The rally brought together a variety of church leaders and organizations from around the state.
Seventeen speakers, including various pastors and church members, led prayers.There were also several musical performances.
Harris said Ignite the Fire usually holds a rally on police week in May to pray for first responders and members of the community. It was postponed this year because of the pandemic.
Members of Ignite the Fire felt it was imperative that this gathering still be held, so they rescheduled the event for July.
"We knew that it was of essence to start bringing leaders together in these trying days," Harris said, "In unity there is strength and in unity we are able to reach the masses better."
Harris said it was important for her to lead a prayer at the rally Saturday, calling it "a mandate from God."
An educator for over 30 years, Harris felt a calling to ministry.
"I heard the call of God in my life," she said,"and I accepted the call."
She said she started out as a pastor leader at Lighthouse Faith and Action Ministries, now known as Kingdom Connected Ministries International. As a pastor leader, Harris became the first African American woman to speak at First Baptist Church in Newnan in 2018.
Later, Harris said she felt a duty to become an apostle. "I was already not accepted as a pastor as a woman, but I accepted the call as an apostle and have been doing that since."
As Harris led her prayer, she called for unity and togetherness through Christ.
Once Harris gave her decree, a group of speakers followed, and the attendees joined in subsequent prayers for first responders, the government and the president.
Next the crowd was led in prayer for reconciliation, prayer for all churches and prayer for the nation.
The speakers were Pastor Jimmy Ellison of Newnan City Church, Pastor Brenda Clark of Lighthouse of Praise, Pastor Joel Dover of Calvary Church Newnan, Pastor Terrilyn Lemons of Newnan United Methodist, Pastor Scott McInnis of Crossroads Church, and the Rev. Steve Cothran of Central Baptist Church.
Toward the end of the program, Minister Paul Schneider of Pray Coweta led a prayer for the educational system, and Pastor Jermaine Elder of Prevailing Grace Ministries led a prayer for the community.
As the rally came to a close, the speakers gathered, along with the dozens of attendees, around a group of local law enforcement officers to pray for them with Pastor Jimmy Patterson of First Baptist Church leading the prayer.
Harris said that in the past, Ignite the Fire was unaware of the impact their prayer rallies had on the community.
"We understand now that it has had an impact, from a spiritual perspective. I do believe today that it's going to have a greater impact."
Ignite the Fire has another prayer rally scheduled for September.
The event was coordinated in collaboration with the Summit Ministries including: Apostle Debra and Elder Kenneth Harris of Kingdom Connected Ministries International Inc., pastors Rick and Nora Nelson of Harvest Outreach Church in Sargeant, pastors Edward and Semone Brooks of China Grove Community Church in Turin, pastors Patrick and Kanyon James of Greater Love Kingdom Ministries International in Newnan, and Jason Walton of Foundation Church in Newnan.
For more information visit http://www.ignitethefire.info/ or contact Debra Harris at dharris387@gmail.com .