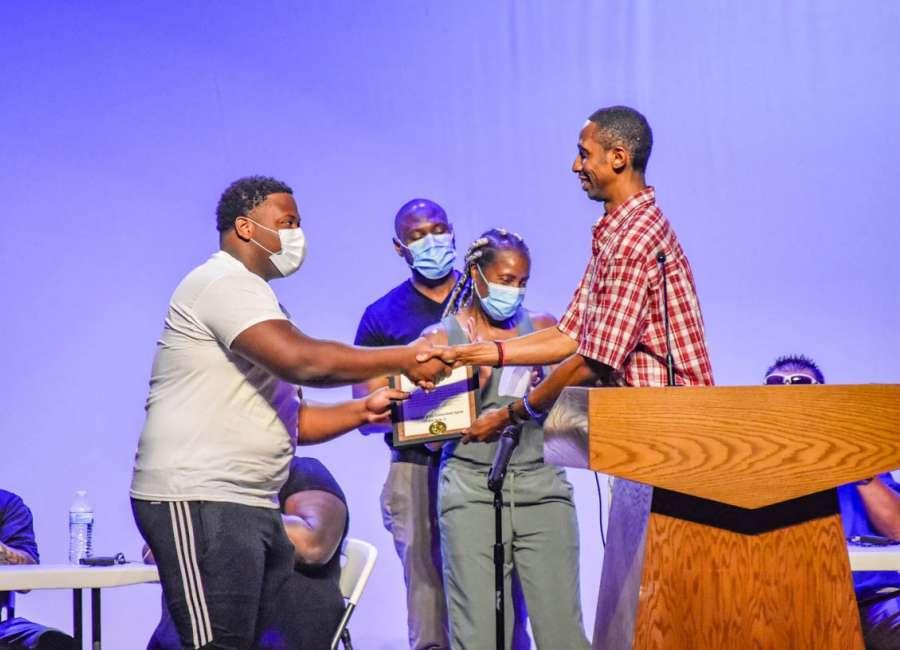 Empowered 4 Life joined the Newnan Police Department and local football coaches to host the first of a series of seminars on improving race relations between area youth and law enforcement officers.

Saturday night at the Wadsworth Auditorium, Derrick Teagle, who started E4L in 2007 with his wife, Teresa, said he got the idea to hold a forum directly from God.
"I was laying in my bed and God told me, 'I want you to do a seminar where you connect the dots between people who wouldn't usually talk,'" he said.
Teagle talked to his wife, and they agreed that "Connecting the Dots" needed to happen. He started reaching out across the city for help, contacting Newnan Police Chief Buster Meadows and Officer Edward Lee, as well as longtime friend Lt. Aaron Fenimore of the Fayette County Sheriff's Office.
Within six weeks, he had pulled together an impressive lineup of speakers and forum panelists.
Speakers included Fenimore, Heritage Football Coach Jake Copeland, Newnan Football Coach Chip Walker and East Coweta Football Coach John Smalls.
The opening introduction was provided by David St. John. He and Teagle started out as rival Little League pitchers decades ago and have been friends ever since. They now co-host the local Monday Night Meditation radio show on 99.1.
Each speaker took turns preaching his view of the current racial climate.
Fenimore, a 25-year veteran of law enforcement, said he's never seen racial tension this bad but is optimistic for the future.
"Hopefully Newnan can start something good, and it'll spread like wildfire," he said of the discussions taking place.
Copeland said he jumped at the chance to speak because he felt hopeless as a white man, especially as a leader of young black athletes. He said unity is a common thread within a football team, and it can be extended into a community as a whole. But, like football, he said, it won't happen overnight.
"We need to do three things: sit, understand and listen," Walker said. "We need to make sure our football program is a safe place for our kids."
He said he is looking forward to doing everything he can to help that process.
Smalls echoed that sentiment.
"If the world functioned like a football team, there would be no problem," he said.
Smalls said he believed opinions should come from the Bible instead of social media, mainstream media or even friends.
"Stop focusing on changing the world," he said. "Start changing your group. Let this have a ripple effect across the state, the country, the world."
Following the speakers, a roundtable discussion was led by seven panelists who took questions from the audience. Audience members texted their questions to Teagle or the moderator, Anthony Jones.
Panelists included NHS Coach Trent Gatz, NPD Officer Victor McVie, Ruth Hill Elementary teacher Lindsey McMillan, entrepreneur Marranda Swain, Heritage Coach Keshun Freeman, NPD Officer Steve McCook and Coach James Moore of Manchester High School.
Questions included:
"How do we heal as a country, city or community?"
"What was your initial reaction to the George Floyd video?"
"Do you think that law enforcement officers are getting a bad reputation?"
"Do you think hiring more minorities in the school system or in leadership roles would help in our education system as well as our community?"
"Do you think racial profiling exists?"
"When I say the words 'Black Lives Matters,' how does that make you feel?"
To coaches: "Would you recommend dismissing a player from your team if they used racist words towards a teammate? If not, how would you handle it?"
"On a scale from 1-10, how comfortable are you talking about race or racism?"
"Do you feel that we spend enough time in the school system discussing our Constitutional amendments?"
"In the year 2020, do you feel like our country is trending in the wrong direction or the right direction?"
"Can you give examples of how citizens and cops can collaborate to bring unity in the community?"
"For the officer that said he can't help but to lean towards 'All Lives Matter': Do you have a problem with 'Black Lives Matter'? Do you understand why we say 'Black Lives Matter'?"
"Does the panel have recommendations to improve police/community relations?"
"Now that a lot of people are 'listening,' how are you going to react when someone is being racist by way of a joke, comment, or conversation? Preferably answered by an officer and a regular panelist."
Also during the program, E4L awarded the Minnie Robinson Award to Eric Jeter for going above and beyond the 20 volunteer hours required of each E4L participant.
According to Teagle, Jeter is "the epitome of Minnie Robinson" because he is always thinking of others. Robinson, a longtime employee of Community Action for Improvement, passed away in 2017. Jeter was presented a plaque and gift card by Cheryl Ragland and Rainey Ragland, Robinson's daughter and grandson.
A community service award was presented to John Austin Cochran for "going above and beyond" when public relations went bad with law enforcement officers. He reached out to Harris County law officers, bringing them food and treats, all purchased with funds he raised by himself. Teagle said Colton wanted to inspire kids in other counties to get to know their local officers.
At the end of the event, Zion Brown of Newnan was awarded a prize of $600 for bringing the most guests to the event. He brought nine friends.
Teagle closed the program with a prayer, asking for patience and understanding.
Lee offered the final thoughts of the evening.
"If you want people to respect your community, you have to respect it first," he said.
***
Story by Beth Neely