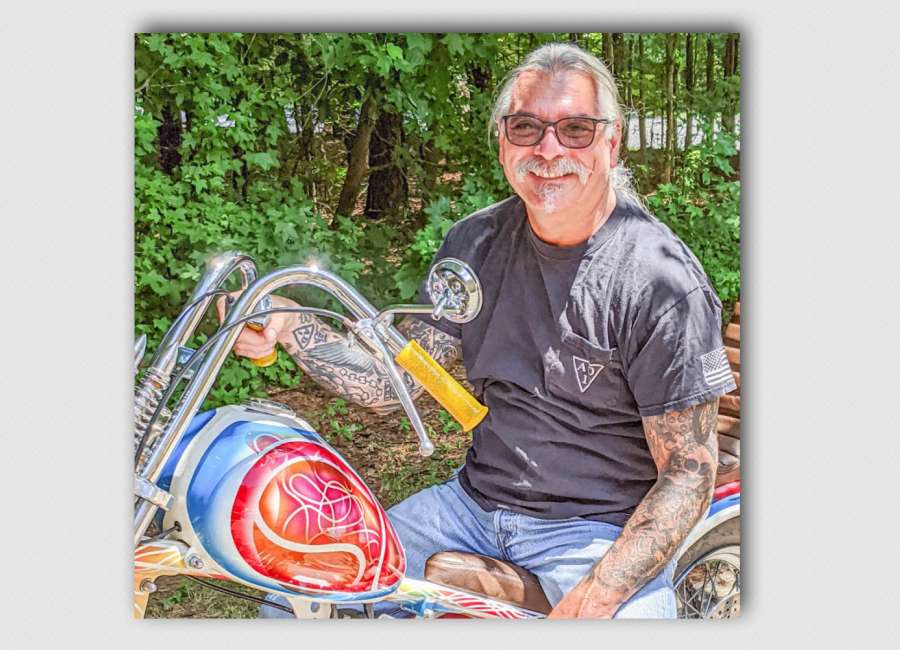 By MORGAN CRUMBLY
In a quiet Coweta neighborhood, the rev of a bike engine sounds. A radical motorcycle lay waiting in the driveway with colors so bright the sun's rays ricochet off of its frame. Soon, this bike will not only go for a spin but will also be the centerpiece of community charity.
The groovy, psychedelic-style chopper will go to a lucky raffle winner, having been built for a good cause. Coweta resident Art Dunnier will donate his custom-built 70s motorcycle to help raise money for St. Jude's Children's Research Hospital.
Dunnier said he has been building bikes for 21 years and owns his own business, AD-1 Originals.
In recent years, Dunnier has built two raffle bikes for charity. The first one was an old chopper with a jockey shift – also known as a suicide clutch because it is manuevered with the foot instead of the left hand and has to be held down at a full stop.
The second was a Bobber, which is a style of custom motorcycle. Dunnier said each of these bikes went for $10,000, which was then donated to organizations that assist veterans.
This year, Dunnier decided to build a bike for the Southern Cruisers Riding Club's event, Ride for St. Jude's. Proceeds from this raffle will be donated to St. Jude's Children's Research Hospital.
Dunnier said he is friends with many members of the Southern Cruisers Riding Club and became involved with events like these partly because of the really close-knit relationship of the local riding community.
"The riding scene down here is huge," he said. "And everybody, especially in Newnan, they all get to know each other and become friends."
Dunnier said that he wanted to build a bike for the St. Jude's event this year because he felt it was the right thing to do.
"I don't make any profit off of building these bikes," Dunnier said. "But it's something I've always been passionate about."
The St. Jude's raffle bike is a 1970s Ironhead Harley Davidson. Dunnier said he wanted to buy a vintage donor bike for the base of the build because donor bikes are inexpensive and come with a Certificate of Title.
"I'll buy an old beat-up bike with a title and build it up," he said.
Dunnier said that in the past large motorcycle brands began losing business because it became popular to build motorcycles from scratch. Dunnier said since that happened, states began adding more regulations, and it became harder to build custom motorcycles for resale, or in his case, charity.
Dunnier said that buying a bike with a title was important so that the new owner will not have to go through the difficult process of registering it.
"It's really hard to register custom motorcycles," Dunnier said.
Dunnier spent months working on the Ironhead. He changed the generator to a spinning alternator and made many parts of the motorcycle by hand, including the exhaust pipes and handlebars.
"There're so many handmade parts," Dunnier said. "The whole frame is pretty much handmade."
Dunnier also had the valves covered with a chrome finish to give the bike a special quality.
"That's something I've never seen before," he said.
As a tribute, Dunnier added St. Jude's dog tags to the bike, giving it a unique touch.
The bright finish on the Ironhead was inspired by the decade he grew up in. Dunnier said that he built the bike with the '70s in mind. He was only in his teens in the '70s, "but I remember all of them."
""This is my third raffle bike," he said. "I do a different theme every time, and this year I wanted to do '70s psychedelic," he said.
While Dunnier built the Ironhead himself, he said customizing it was a collaborative effort.
Dunnier explained his '70s vision to Paul Vanderpool of Vanderpool Customs, who did the paint on the raffle bike. Dunnier said he met Vanderpool through riding, and after explaining that he was building the bike for St. Jude's Children's Research Hospital, he was willing to donate paint and do whatever he could to assist with the project.
Dunnier and Vanderpool decided on a neon finish for the bike.
"We wanted the colors to be bright so kids would be attracted to it," he said. "That's why we did all the different colors like that."
Because the COVID-19 outbreak delayed the Ride for St. Jude's event, Dunnier had more time to work on the St. Jude's bike than he usually would. Dunnier said he is extremely proud of the finished bike.
"I'm really happy with the way it came out," he said. "Every time I build a bike, I learn something, and I just get more and more passionate."
The '70s-style chopper was on display earlier this month at Harley Davidson of Atlanta, and next month it will be on display at the Ride for St. Jude's.
A limited number of tickets are available for the Southern Cruisers Riding Club's Ride for St. Jude's. Club members are hoping to raffle the psychedelic bike for $15,000, which they will donate to St. Jude's Children's Research Hospital.
The SCRC Ride for St. Jude's is scheduled for Aug. 29. For more information, email chapter186@gmail.com or call 678-923-1462.