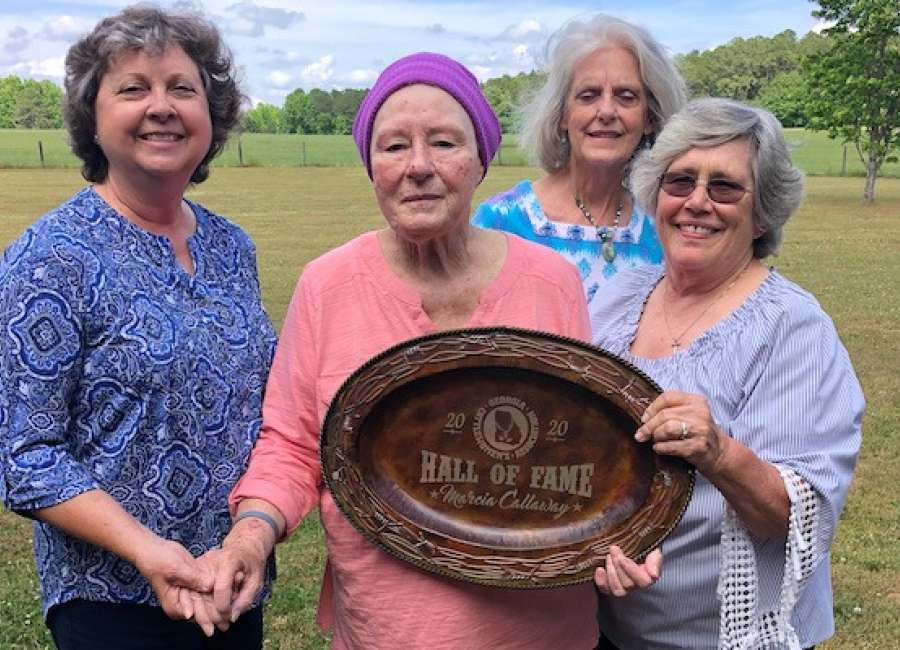 Coweta resident Marcia Callaway was recently named the 2020 inductee into the Georgia Cattlewomen's Association Hall of Fame.
Callaway was supposed to be recognized at the GCWA's annual banquet in April, but the event was canceled because of COVID-19. Cynthia Douglas, Parliamentarian for GCWA and one of Callaway's nominators, said they didn't want to wait until next year to give her the award.
Callaway was diagnosed with cancer earlier this year, and when she was in between treatments, fellow GCWA members and family surprised Callaway at her home with the award.
"It was a surprise and quite an honor," Callaway said.
Three GCWA past presidents, Douglas, Brenda Brookshire and Janet Gruel presented her with the award.
"It was really nice and much appreciated," Callaway's husband John said. "It was a surprise to her, and I'm very happy for her."
Callaway has finished her cancer treatments and is currently in remission. She and her husband, John, own the Callaway Cattle Company, which has been in John's family for over a century.
She and John met in Tallapoosa, Georgia, in 1987 at a Cattlemen's Association meeting there. They have a son named Wesley, who they hope will one day take over the family business.
Douglas said every year they select a Hall of Fame recipient, and Callaway used to help her by serving on the board that picks the winner.
"They chose her because of the contributions she's made over the years," Douglas said. "She's done a lot for the beef industry and the farmers."
Douglas and Peggy Bledsoe, a retired extension agent, worked together with John to create a video that highlighted Callaway's accomplishments.
Nomination material said that Callaway is passionate about the beef industry in Georgia and throughout the United States. But more importantly, she is dedicated to seeing this industry thrive in the coming years.
Callaway has committed numerous hours encouraging youth by teaching them how to care for their show calves and to develop outstanding showmen skills.
"Wanting youth to understand the beef industry, she provides opportunities for their growth and development," the nomination material said. "Sitting in her favorite seat in the arena, she spent hours observing youth exhibitors and designing ways to help them improve."
Through on-the-farm clinics, showmanship workshops and summer internships, the Callaways have taught many young people about the cattle industry.
Callaway has taught many 4-H club programs, assisted with rodeos sponsored by the Coweta Cattlemen's Association, and promoted and worked with her local beef cook-off.
While serving as the Troup County Farm Bureau Women's Committee Chairman, she distributed many "No Farm, No Food" bumper stickers. In 2013 she manned a beef exhibit at the Tallapoosa Visitors Center.
She was a supporter of the University of Georgia Cooperative Extension and a volunteer leader. Upon completing the Extension Master Gardener class, she was elected president of the Coweta County Master Gardeners and served in this role from 2005-06.
Leadership comes easily to Callaway, especially in her areas of expertise, Douglas said. She spent several years on the GCWA Board before being elected president in 2004.
During her two-year tenure, she implemented ways to promote the beef industry and educate consumers about it. While serving as president of GCWA, John served as the president of the Georgia Cattlemen's Association.
Callaway was instrumental in organizing the All-American Beef Battalion to feed troops at Fort Benning. The Georgia National Fair and the Sunbelt Expo were venues utilized to educate thousands of consumers about beef. An advocate for the Beef Ambassador speech competition, she encouraged youth to participate in the program and worked to make the event more accessible for them.
Getting more women involved in the GCWA was a goal of Callaway. She shared her love for the beef industry with many while encouraging their involvement. Thousands of beef promotional items have passed through her hands as she promoted the Cattlewomen and the beef industry.
Being a knowledgeable conversationalist helped Callaway share her message with legislators and consumers alike, Douglas said.
Her leadership spread across the state and nation as she represented GCWA at numerous American National CattleWomen Conventions and mid-year meetings. She coordinated the ANCW Region II meeting in Dahlonega and chaired and served on many regional committees.
An active member of the Corinth United Methodist Church, she has focused on her faith, her family and her purpose.
"She used her God-given gifts to make this world a better place now and for generations to come," Douglas said. "It is with great pleasure that we induct Marcia Callaway into the Georgia Cattlewomen's Hall of Fame."