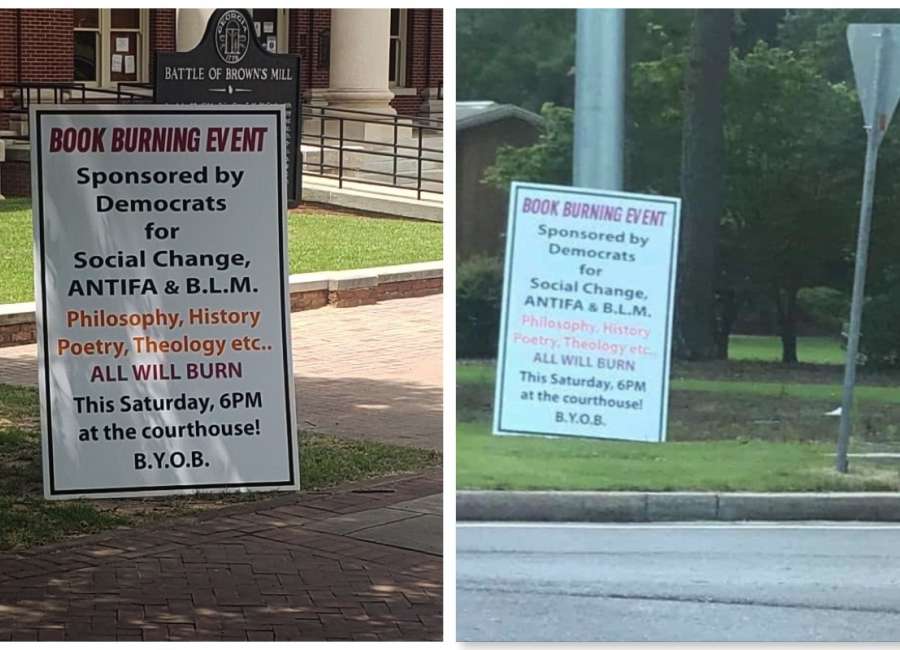 City officials released a statement after an alleged book-burning event was circulated online.
A photo posted on social media showed a sign placed downtown that read "Book Burning Event, sponsored by Democrats for Social Change, ANTIFA and BLM. Philosophy, history, poetry, theology, etc. all will burn this Saturday, 6 p.m. at the courthouse. BYOB."
Friday, the Newnan Police Department addressed the images, saying that no permit has been granted or issued by the city of Newnan for the event, and law enforcement will continue to monitor the situation, "our main priority is to ensure the safety of our community and keeping our residents, employees, businesses and visitors safe," the statement read.
Chuck Enderlin, chair of the Coweta County Democratic Party, said the group is not aware or affiliated with any group with the name "Democrats for Social Change."
"The sign placed at the square is a lazy and obvious attempt to sow hatred and division within our community," Enderlin said. "The CCDP strongly denounces any efforts to violate or deny Americans' 1st Amendment rights."