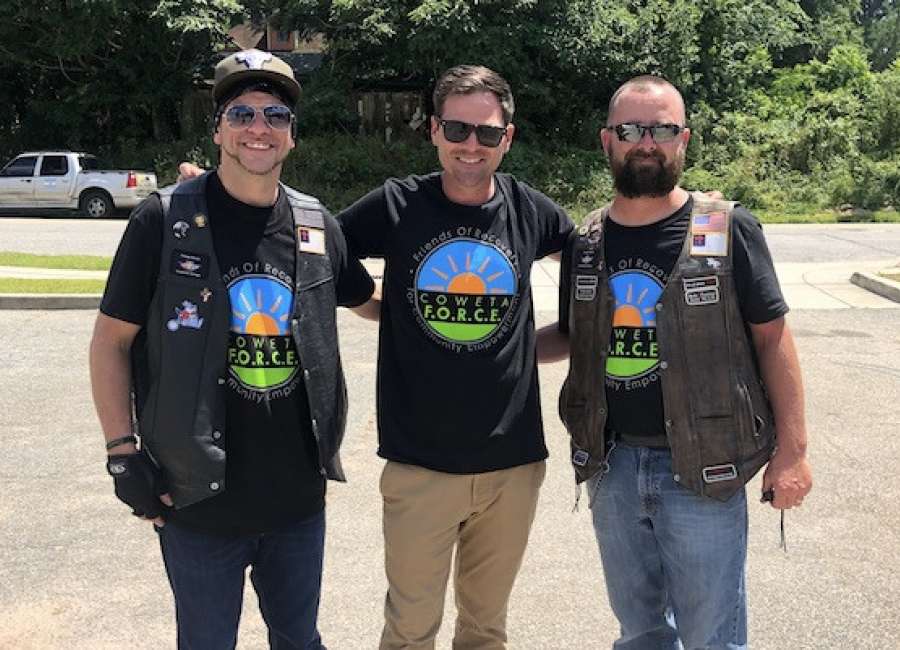 The F.A.I.T.H. Riders of Change Church second annual Ride for Recovery will take place this Sunday, Aug. 2, with all proceeds going to Coweta F.O.R.C.E.
Coweta F.O.R.C.E. provides support for recovery from addiction. Registration will begin at 12:45 p.m. at Change Church, 45 W. Broad St., Grantville and the ride will begin at 1:30 p.m. The ride will end at Coweta F.O.R.C.E., 48 E. Washington St., Newnan where free burgers will be served.
Wayne Stewart of the Change Church F.A.I.T.H. Riders said the ride got started last year when he chose it for his community project to finish Family Treatment Court. Stewart said he had a long history of sobriety and had been sober from 2006 until he relapsed in 2016.
"In a nutshell, I almost died, that's how bad the relapse was," Stewart said.
Stewart said his wife held him accountable, and he was in danger of losing his family. He said he joined the county's Accountability Court program and began to fight for his recovery.
Stewart said his family, his church family at Change Church and his Alcoholics Anonymous group helped him on his path to recovery.
He said towards the end of the Family Treatment Court program, each participant has to come up with a community project to complete. Stewart said he came up with the idea for the motorcycle ride because he wanted to support Coweta F.O.R.C.E. and it was an opportunity for him to ride his motorcycle.
Stewart said he wanted to think outside of the box, and since he already had a relationship with his church and the F.A.I.T.H. Riders, he felt like he could do something big. He said he already had a relationship with Hank Arnold of Coweta F.O.R.C.E., and Arnold is his sponsor.
"It just felt right that my charity was going to be Coweta F.O.R.C.E.," Stewart said.
Stewart said the Sunday of the ride, Change Church Pastor T.J. Boyd was preaching a sermon series called "Roads" and that Sunday's sermon was about the Road to Recovery.
After the service, Stewart said registration began in the parking lot, and 70 bikes and cars showed up to participate in the ride. He said they were able to raise $2,000 for Coweta F.O.R.C.E.
"I was amazed at how many bikes showed up," Stewart said. "It created awareness that for many years we have not had a central location for substance abuse. It was a hard route to help people to get help."
Stewart said he believes his calling and his ministry is to help people find and achieve sobriety.
He said after the ride that day James Wheeler, president of the Change Church chapter of F.A.I.T.H. Riders, looked at Stewart and said they needed to make the ride an annual event.
"The ride's important because there are so many people in recovery," Wheeler said. "We want to support what Coweta F.O.R.C.E. stands for."
The Change Church F.A.I.T.H. Riders chapter is one of the largest in the state, with 65 members. Wheeler said even though churches have their own chapters, they all support each other's rides.
Stewart said they had planned to have the second ride in May, but the COVID-19 pandemic postponed their plans. Instead, they have been able to get it in before school starts back.
Wheeler said the Grantville Police Department will be providing the escort for the ride, and they are expecting well over 100 bikes and cars. After the ride, there will be free hamburgers and fellowship at Coweta F.O.R.C.E.
"I want people to know that there is the ability to recover in the community," Stewart said. "They have resources, tools, connections and friends that they can recover in their hometown and anyone has the power to recover."
Stewart said they are encouraging that participants maintain social distancing throughout the event. Registration is $15 for a single rider and an additional $5 for passengers. Online registration can be found at 2020ride4recovery.eventbrite.com and registration will also take place at the event.