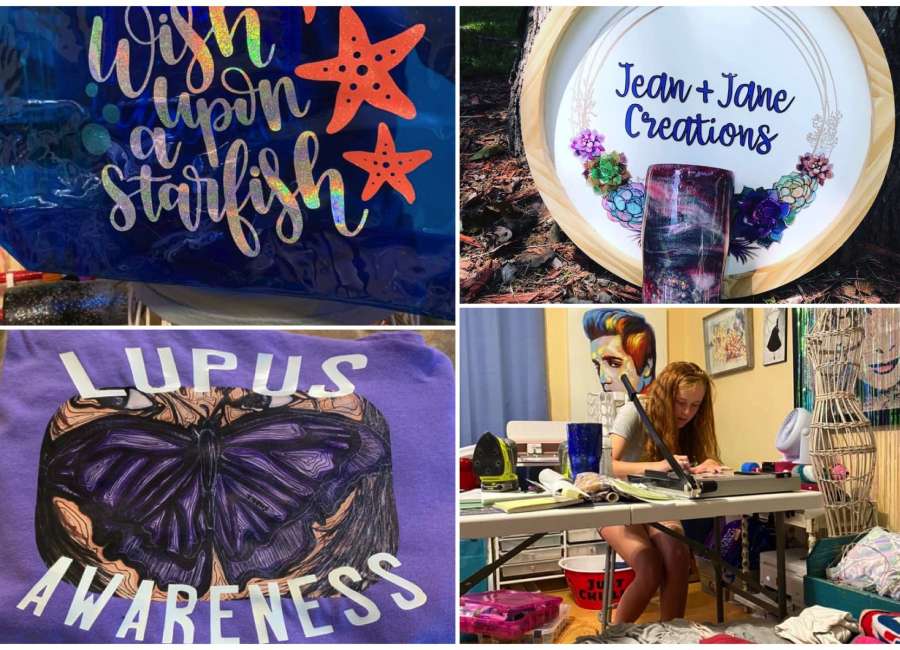 By MORGAN CRUMBLY

Newnan High School graduate Carly Johnson spent her summer break starting a business for a good cause.
Carly has employed her artistic talents in order to make a difference by raising awareness lupus – for an autoimmune disease she was diagnosed with in 2019.
Carly designed a T-shirt that illustrates a butterfly resting on a child's face and reads "Lupus Awareness." Proceeds from the sale of this T-shirt are donated to the Lupus Foundation of Georgia.
This T-shirt can be purchased at the business Carly started alongside her sister-in-law, Cathryn Johnson, this past June called Jean and Jane's Creations.
Carly said that she has always been an artist. After receiving a Cricket as a graduation present, Carly said she and her sister-in-law had the idea to start a business.
"It was coincidental. We just started it out of the blue, and I incorporated my art into it," Carly said.
Jean and Jane's Creations designs and sells an array of products such as T-shirts, coolers, cups, vinyl stickers, hats and bags. Cathryn said that they can find a way to customize "anything that anybody wants."
Cathryn said that her biggest hope for their business is to have a shop in downtown Newnan one day. She said that what sets Jean and Jane's Creations apart is that all of the products are personally designed. "We actually designed our logo too," Cathryn said.
Cathryn said that their products are similar to what can be found in an Etsy shop, but have an added convenience because they are made locally.
"We want to be that shop that's custom," she said.
Carly said it was important for her to use jump starting a business for a cause.
"I have lupus, so I know the struggle these people go through," Carly said, "So if I can raise a little bit of money to help, then I'm gonna do it."
"I've been talking about making a shirt for the lupus foundation for a year or so, and I finally did it," Carly said.
Carly explained the imagery of her "Lupus Awareness" T-shirt design and what the butterfly in the center symbolizes.
"On the outside a lupus patient may look normal, like beautiful, but on the inside they're struggling," Carly said, "and the child represents something that looks innocent but it's really not. The butterfly is trying to cover up the innocence."
Carly said she has always liked to create art, and grew her creative talent in her AP Art class at Newnan High School.
"I've been doing art my whole life, but AP Art is when I learned how to branch out and found my style," Carly said.
Carly said she said she wants what people struggle with to be recognized through her art.
"I just want people to look at it and see the deeper meaning and recognize issues in the world," she said.
Carly said she was diagnosed with lupus last March. She still continued on with school and graduated as an honors student while battling the disease.
"It made things a little harder on me, but I just kept pushing and put my best effort forward," Carly said.
Carly aims to further her education and plans to attend the University of West Georgia in August where she will major in biology.
Even before starting a business and enrolling in university, Carly enlisted her artistic abilities to serve the community.
While spending the remainder of her senior year at home due to the current pandemic, Carly spent her time sewing masks for health care workers. She said whenever she had to go to the hospital or doctor's office, the doctors and nurses were kind to her. Because of that, Carly wanted to give back.
Now, Carly is spending her time as a business owner while also raising money for the Lupus Foundation of Georgia through her "Lupus Awareness" T-shirt.
She said she wanted people with lupus to know that they can keep going. "It's all gonna be okay," Johnson said.
"I still struggle, but I just keep going."
Carly's "Lupus Awareness" T-shirt can be purchased along with a variety of other products on Jean and Jane's Creation's Etsy shop. Jean and Jane's Creations can also be found on Instagram and Facebook.
For more information contact Carly or Cathryn Johnson at jeanandjanecreations@gmail.com .