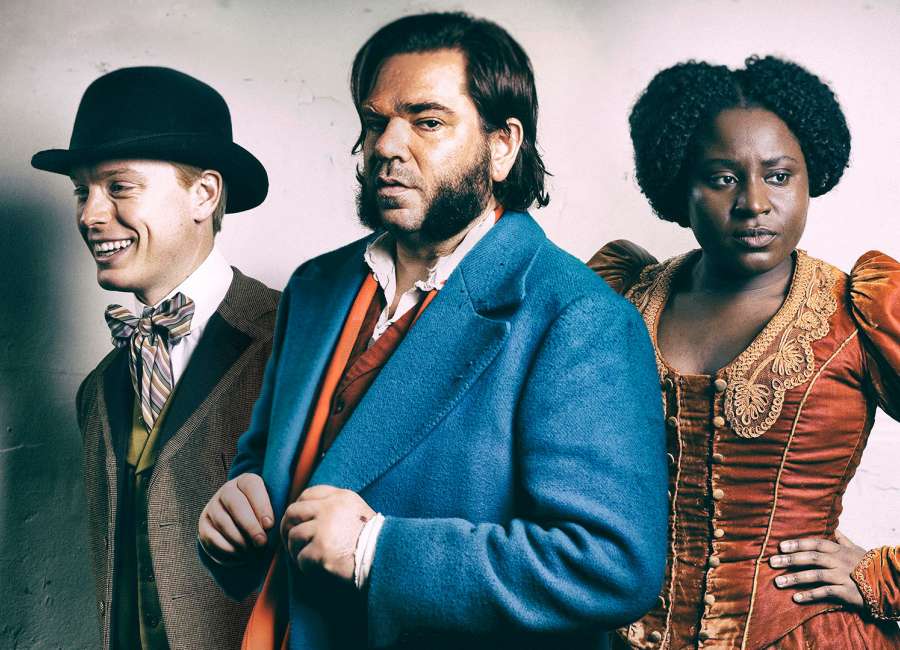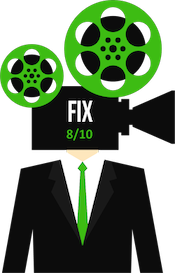 Review by: Jonathan W. Hickman
English comic actor Matt Berry is a funny guy. Having made a splash playing the outrageous Douglas Reynholm on the popular series "The IT Crowd," his tilted, irreverent star continues to rise. In "Year of the Rabbit," he takes the center stage playing Detective Inspector Rabbitt, a name given to him by his father, who, of course, named all the children after animals.
Rabbitt's no fool; he just plays one throughout his life. As a copper in Victorian London, he puts up with a great deal of repulsive horror. Turning to the comfort of the bottle at his disreputable local pub, Rabbitt is the often inebriated detective whose sleuthing comes through blunt force trauma inflicted by his silver billy club. But in England, the times are changing.
Naturally, to his disgust, he's made to take on a shiny, new partner named Wilbur Strauss (Freddie Fox), whose naivety beams so brightly that Rabbitt often has to beat it out of the boy. The two unlikely partners form an almost father and son relationship. And when joined by their superior's adopted daughter, Mabel Wisbech (Susan Wokoma), their team is comically unstoppable.
The fact that Mabel is black and a woman, the first woman copper in London, proves to be one of their most valuable assets. "Year of the Rabbit" doesn't seem to be set in a London that ever existed. But because it's revisionist narrative reflects today's modern, enlightened sensibilities, it's instantly relatable.
Berry's energy is positively infectious. And it flows endlessly throughout this consistently funny limited series. Devotees of the comedian already know this, but let me suggest a bit of his back catalog.
You should stop everything you're doing right now and watch… well, don't stop if it might result in your injury or death (keep your hands at 9 and 3 o'clock, per the NHTSA recommendations). Anyway, after the car is parked safely in the garage, watch him in FX's "What We Do in the Shadows." And catch his profane work in "Toast of London," which is sure to give you the naughty giggles. He's even got a significant YouTube presence with inventive musical compositions. The guy's a multi-talented dude.
What's unique about "Year of the Rabbit" is that Berry seems to be distilling his off-kilter brand into something that's less farcical and more, dare I say, potentially dramatic. As his detective inspector investigates a series of grisly murders, we see the wheels turning. Rabbitt's years of debauchery have given the man an almost spiritual connection with underworld forces that have all the answers.
He's no Sherlock Holmes, but his nasty and often violent tactics do have a science to them. And as the six-episode season one draws to a close, the pieces of an intriguing conspiracy have been fully established. I have a feeling that Arthur Conan Doyle would not have missed a single series episode.
A wonderful assortment of English talent supports Berry. Fox is funny as a new inspector, who, despite the abuse hurled upon him, looks to the disagreeable Rabbitt for sage advice. And Wokoma is terrific, as the coarse but highly skilled intellectual member of the sleuthing threesome.
Mabel is especially of interest. Because a high-ranking police officer raised her, she's well-versed in the profession's language. It's vernacular that includes a consistent stream of insults and swearing normally associated with men over more than one bitter pint. And although she's made to wear the obstructive women's fashion of the day, Mabel's often a whirlwind of physical and mental prowess. Wokoma's characterization lights up the screen in a series featuring so many distinctive performances.
Yes, I'm "all in" for this anti-Sherlockian adventure, which because of it's wide-ranging, low-brow, and high-brow laughs will turn some viewers off. But fans of TBS's "Angie Tribeca" and NBC's award-winning "Brooklyn Nine-Nine" will likely find the series enchanting.
"Year of the Rabbit" is something completely different.
Season one of "Year of the Rabbit" is available now on the new streaming service Topic. To give it a 7-day free trial, visit https://www.topic.com/.
***
A RottenTomatoes.com Tomatometer-approved critic, Jonathan W. Hickman is also an entertainment lawyer, college professor, novelist, and filmmaker. He's a member of the Atlanta Film Critics Circle, The Southeastern Film Critics Association, and the Georgia Film Critics Association. For more information about Jonathan visit: FilmProductionLaw.com or DailyFIlmFix.com