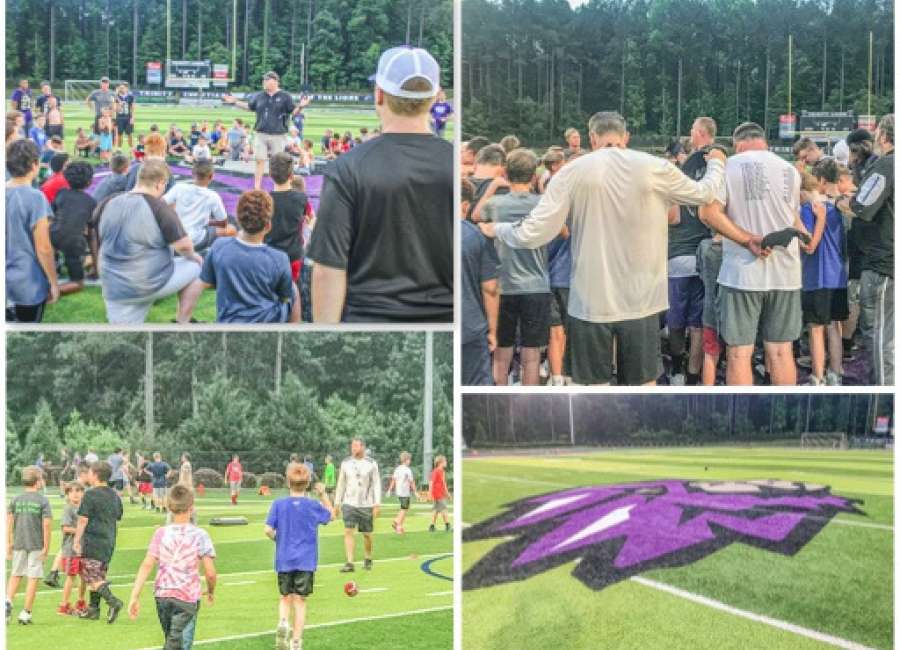 By Rob Grubbs, NTH Contributing Writer
SHARPSBURG – Trinity Christian Lions Head Football Coach Kenny Dallas has been to the mountaintop in high school football.
In 2011, he led Landmark Christian to a state championship game at the Georgia Dome before falling to Savannah Christian 20-3. His tenure at Landmark included six region titles in a row from 2002 through 2007.
More recently, he has led the Lions to the playoffs in each of his three seasons. But on Tuesday night at the Trinity Junior Lions Football Camp, Dallas seemed to be most at home, teaching and leading young men.
He has held the camp each year since his arrival, with this being the fourth.
"When I first got here, we had maybe 70 kids in the first camp, then 80 the next, and now we have 120 kids this year," he said.
But what makes this year's participation even more impressive is with COVID-19, there were a lot of unknowns.
"We did not know until two Mondays ago that we could even have this camp. We held our breath and put everything on hold. Then, the Governor announced that kids' camps could start again, and the GHSA issued guidelines on how to work out during the day," he said. "Our administration gave us the go ahead. We worried whether we could not pull it together in just two weeks, but people were ready for their kids to come to camp."
When asked how the camp fit into the overall fabric of his program, Dallas said you first had to understand the essence of Trinity Christian football.
"The mission of our football program is to win, we are unashamed about that, but we define winning in two ways. We want to win on the field and off. On the field, the formula is preparation and brotherhood which pushes us in every direction," he said. "Preparation boils down to hard work and brotherhood is love. We want to work harder than every program in the state and love deeper than every program. That's our formula on Friday nights."
As Dallas expounds further, it becomes obvious he has deep convictions about faith, life and his football program.
"But the heart of who we are and what makes us different is we also want to win off the field. Everyone one of our boys will one day be fathers, husbands and leaders in the community," he said. "We want to take every opportunity to sow good seeds in the hearts of these boys. We do not give lip service to the character piece.
"With that said, this is one of my favorite weeks of the year. We bring our varsity es to guide, and we bring our varsity players into it," he said. "That is huge for them — to experience being a mentor for these boys. The camp is an extension of our football program; we want to win on and off the field. We open it up to the boys of the school and the community, so they can experience preparation and brotherhood."
The formula gets results. Trinity has been a regular in the state playoffs and has sent 11 players on to play in college.
The upcoming season has much promise, and a large part is based on Dallas' twin sons, Joshua and David, upcoming juniors.
David is the quarterback; he threw for 2,573 yards last year and 30 TDs, while Joshua is his favorite receiver.
"I have five boys, two that are already in college that I ed previously in high school," he said. "I learned some lessons coaching those two and think I will enjoy this opportunity with Joshua and David a little more."
Dallas closed the evening with the team phrase for the upcoming year, back-to-back, a Biblical reference to Ecclesiastes 4:12. "We are really using that phrase as a teaching opportunity; be the type of man that has other people's back. Use your strength to do good in this world. We encouraged the boys tonight before they left to be 'Back-to-Back' with your family, your neighbor and everyone out there."
As he prepared to leave the field on an extremely humid and steamy night, a fresh Dallas looked back - "I am having fun," he said.
A man with strong beliefs and convictions following the will of God tends to leave you with that feeling, and Dallas is a tremendous witness to that.