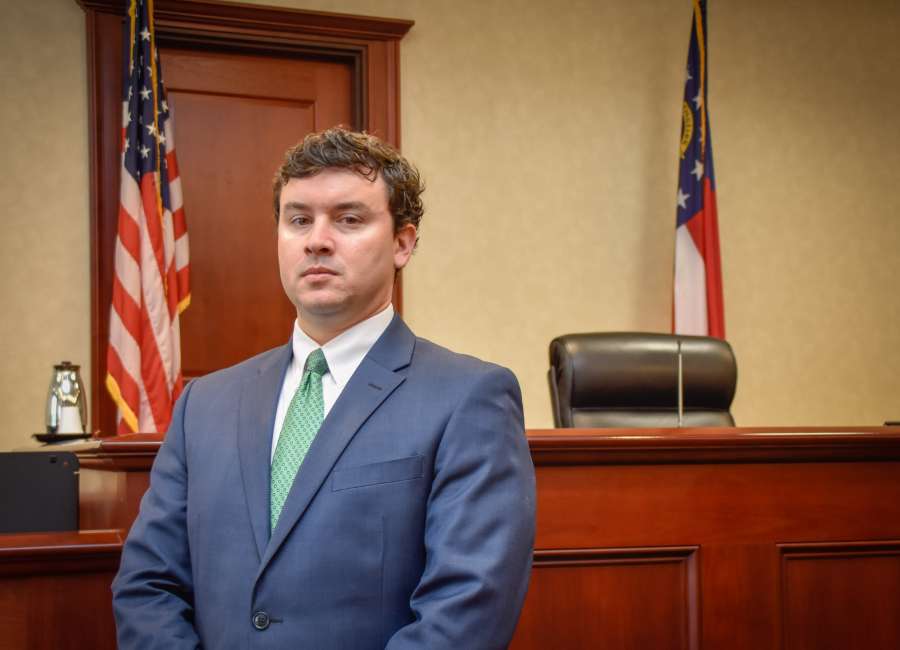 Protesters have gathered on Newnan's Court Square each evening for the past week to voice their dissatisfaction with a number of issues, including racism, police brutality and the lack of accountability in America's justice system.
While the current national dialogue has centered around the cases of Ahmaud Arbery, Breonna Taylor and George Floyd, several protesters cited the case of Nicholas Sherod Bolton, an African American man who was shot in the face by a Coweta County deputy in June of 2019 after ramming his car into a police cruiser.
According to the GBI report, which was presented to the grand jury, Bolton was discovered sleeping in the back seat of a vehicle parked behind a store in the Newnan Crossing Shopping Center on June 30, 2019. He reportedly refused a deputy's request to provide his driver's license and step out of the vehicle.
When deputies notified him he could be arrested for loitering and obstruction if he did not comply, Bolton reportedly jumped into the driver's seat and sped away, narrowly missing one of the deputies.
After a brief chase through the parking lot, a deputy performed a PIT maneuver that spun the suspect's vehicle around to face the lead CCSO car. Bolton's vehicle remained in drive and its tires continued spinning, with Bolton reportedly ignoring repeated verbal commands to stop.
Data retrieved from Bolton's vehicle indicated the accelerator on Bolton's vehicle was being pressed at between 71 percent and 100 percent at the time the deputy decided to use deadly force and fired his gun at the driver.
According to video from the body-worn camera and pictures from the scene, the tires on Bolton's vehicle stopped spinning after the bullet struck him. The deputy did not fire any additional shots.
Bolton survived but lost his vision in that eye.
Last month, a Coweta County jury ruled the deputy used reasonable force and did not indict him. Many in the African American community cited Bolton as another example of the justice system failing to hold officers accountable for excessive force.
As District Attorney, Herb Cranford Jr. said the mission of his office is to pursue justice on behalf of the community and victims of crime, to uphold the law, and to maintain the trust of the people they serve.
"I became a prosecutor in my home town out of law school and serve today as District Attorney because I believe I can make this community a better place to live," he said. "I and the public servants in the DA's Office are dedicated to doing right by every member of this community, regardless of any victim or defendant's race, religion, orientation, neighborhood, or anything else."
The perception of justice
While discussions about justice often ultimately focus on whether a just result is achieved, ensuring a just process is followed is as important as the result, Cranford said.
"If the evidence in the deputy's case showed that the deputy committed a crime, I would have pursued an indictment just like we pursue indictments for other crimes committed in our community," Cranford said.
In nearly every case reviewed by the DA's Office, Cranford said there are some community members that believe justice means a conviction in the case and there are others who think a conviction in the same case is an injustice.
"The inverse is also true of almost every case, some believe justice means the DA's Office should not prosecute and others believe it is an injustice that we declined to prosecute," he said.
As district attorney, Cranford said he can only do what he believes is the right thing to do in each case based on the laws of Georgia and what the evidence allows him to prove beyond a reasonable doubt.
In the case of Bolton, the DA's office presented multiple witnesses to the grand jury with a court reporter present, and showed the grand jury more than 60 pieces of evidence. The grand jury issued its recommendation of "no indictment" in a written report.
"When Nicholas Bolton was injured, he was initially unable to speak to the GBI, but once Nicholas healed, I met with him personally and asked him to speak to the Grand Jury to make sure they heard his testimony about the shooting," Cranford said. "But he chose to interview with the GBI instead."
To anyone who has asked, Cranford has provided the Grand Jury transcript, the Grand Jury Report, and all of the evidence presented.
"I have also offered to meet with anyone who wants to discuss the case, but I have not been taken up on the offer," he said.
Transparency essential to justice
Before deciding whether to prosecute a case, Cranford said communicating with the injured person, or the family of the deceased, is essential in order to make sure they understand the process and to ensure they are heard and their perspectives are considered.
"I believe a just process requires transparency and a willingness to meet with any member of the public who has questions about any case, whether we prosecute it or decline to prosecute it," he said.
Speaking to those who believe the justice system is inherently flawed, Cranford said he sympathizes with their concerns.
"To be clear, our justice system is not perfect — no man-made system is," he said. "That is why every person should engage their elected leaders and vote so that their voice can be heard about what should be done to maximize justice and minimize injustice in their community."
And while the justice system is not perfect, Cranford said residents of the Coweta Circuit should know that there are prosecutors, defense attorneys, judges and law enforcement officers who have dedicated their lives to doing their best to ensure justice is done in each case they touch.
"More personally, I am constantly in awe of the members of the DA's Office who work long hours dealing with emotionally difficult cases in pursuit of justice," he said. "Our country's justice system may be flawed, but there are a lot of good people in this community fighting to make it better."
The outcry and protests for justice in light of the homicides of Arbery, Taylor and Floyd made Cranford recall a verse from Proverbs chapter 29, which in essence says — Justice brings stability to the land.
"When justice is lacking, righteous anger is an understandable and appropriate response, and as this Bible verse illustrates, without justice there will be civil unrest," Cranford said.