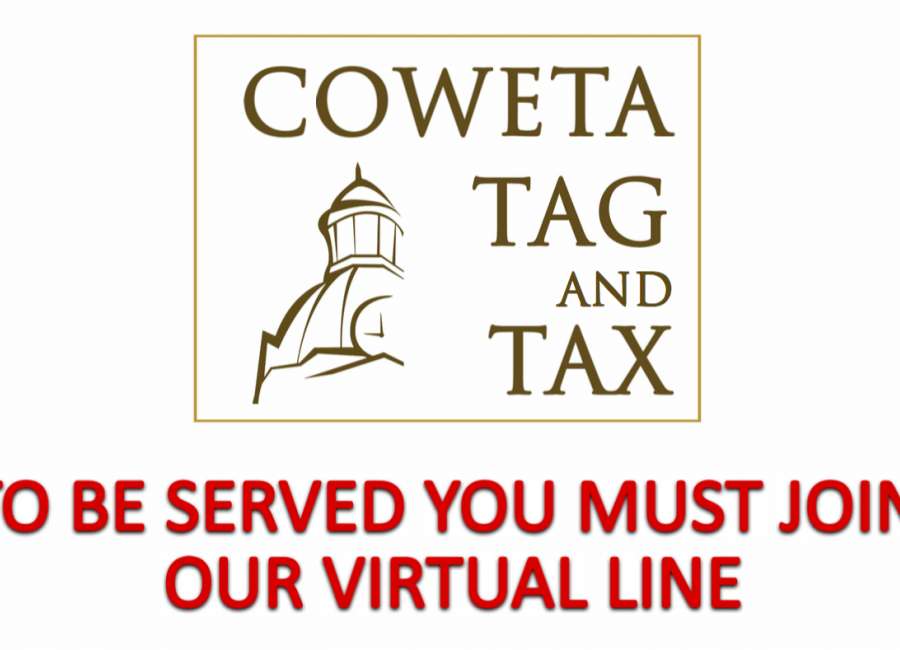 Coweta County's tag office has fully reopened to the public and is using an electronic queue system to serve customers.
The "Q" is similar to a "fast pass" at amusement parks or call-ahead seating at a restaurant, and is a system Tax Commissioner Robi Book had been looking at long before the outbreak of COVID-19. The system is also being used for those who need to see someone in the tax commissioner's office.
Customers can make appointments to be seen at an approximate time, or simply sign into the Q before they get to the tag office. Once signed in, customers are notified by text message 15 minutes before it's their turn. If you're running late, you can ask for more time. When it's your turn, you'll get a message saying what window you are being served at. Currently, once people get that message they have four minutes to get to the window. After that, there is a five minute window to rejoin the line.
"The idea is if there is a long wait, they don't have to stand here, and stand in line. They can go walk around town," or do other errands, Brook said. People can see what the wait is before they sign in, as well.
Customers can join the virtual line by text message, online or at the tag office itself. There's a computer screen outside that shows the current wait time and where people are in line.
Right now, tag office staff can sign people in on a tablet. For people who can't get text messages, "we can tell them how long the wait is, and depending on the wait, they can decide if they want to venture off or not," Brook said. Tuesday morning, there were only five people in the Q. "So if someone came up now, I would not advise them to go anywhere," she said.
Everyone coming into the office must go through a temperature check and wear a mask or face covering that covers the nose, mouth and chin. Brook said they are trying to limit the number of people in line inside the lobby to no more than 10. When the weather is nice, people seem to prefer waiting outside, she said.
The office opened fully on Monday, but there was a soft launch of the Q last week. "We've gotten a lot of good feedback. It's just a matter of getting people used to the process," Brook said.
Things have been busy so far this week, she said. She said she thinks the reason for that is a combination of it being the first of the month and the office being mostly closed for so long.
The state of Georgia has extended deadlines for people whose vehicle tags were due between mid-March and mid-June. As of right now, that deadline is June 15, though it could be extended.
The office isn't taking new sign-ups after 4:30 p.m., to give time for all business to be handled by 5 p.m., and sign-ups will cut off if the line gets long enough. "You can't sign in if the wait is past our closing time," Brook said. One day last week, it shut off at 3:30 p.m.
"We encourage everybody to get here earlier or at least get into the Q early," she said.
While the office is now open, Cowetans have many options for taking care of vehicle registration business online or through the mail. You can renew your registration, cancel a tag and change your address. If you purchased a vehicle through a dealer and the dealer handled the title transfer but not the tag, you can even request a plate for a new vehicle, Brook said.
Brook said she is excited about the system. Eventually, she plans to have a self-service kiosk inside the lobby where people can join. But for now, staff is adding people who can't join through their phones or computers.
"It will take a little bit of tweaking here and there to get everything set right," Brook said. "But I think if people use it the way it is intended, it is very beneficial to everybody."
To join the Q, text "Coweta" to 678-573-4860, visit bit.ly/cowetatagtax , or visit the Coweta Tag Office, located in the Coweta County Administration Building, 22 E. Broad St., Newnan.