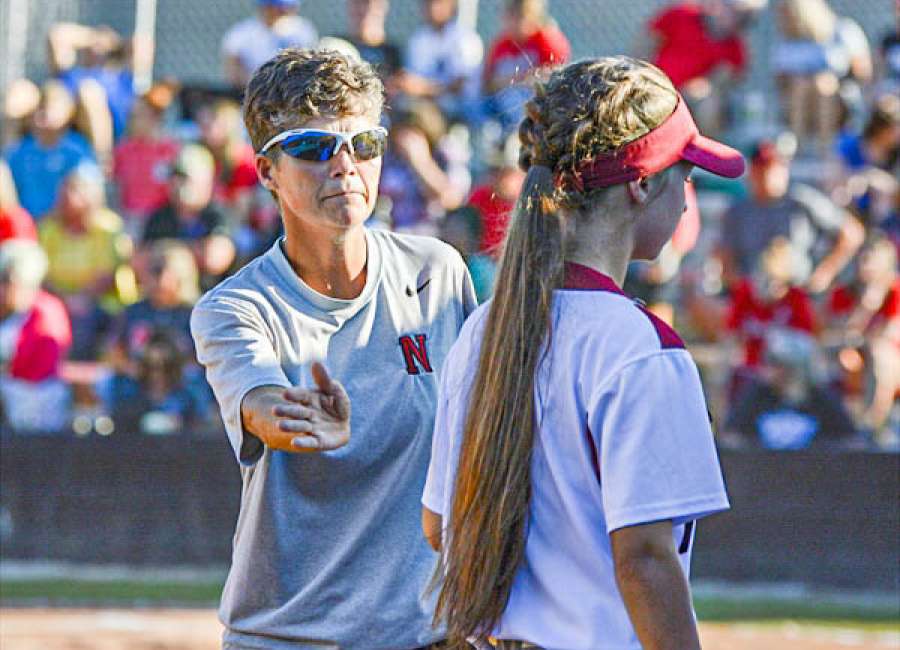 By Rob Grubbs, NTH Contributing Writer
Perspective comes from listening and if you want to learn about softball in Coweta County, you want to listen to Northgate Lady Viking Head Coach Lisa Skelton.
She began her career at Newnan High School in the late '80s and has seen the rise of the sport and witnessed excellence in her own team and others in the county firsthand. Coach Skelton has won two state championships and seen countless girls ink scholarships to play at the next level.
Her vision is more than just athletics; her methods are designed to inspire and grow young women into champions in all aspects of life.
Today, fast pitch is big business, recruiting starts early and often, and for the girls, the attention can be overwhelming. ESPN made college softball explode, and the college coaches become easily recognizable to the fans and the players.
During the summer months, these high-profile coaches show up at travel ball tournaments and express interest firsthand. It was different in Coach Skelton's experience.
"I was in class during my senior year of high school, and I got a call from the principal's office that a college coach wanted to talk to me," she recalled. "That was my first contact with a college coach."
Skelton went on to play at the Mississippi University for Women. College softball was at a much smaller scale at the time, at MUW played a big-time schedule.
"The big schools you see now, like Texas and Alabama, did not play fast pitch back then, but we did, and we played teams like Florida State, Southern Mississippi and Mississippi State," Skelton said.
Fast forward to 1989 and when Coach Skelton arrived at Newnan.
"When I got here, it was all slow pitch," she said.
The Georgia High School Association sanctioned a championship in fast pitch for the first time in 1994.
"When I first got here, the west Coweta area already had some fast pitch youth leagues, so our girls were making the opposite transition; they were having to convert to slow pitch for the school ball season," she recalled.
Skelton was also having success at the Cougar Ladies Tennis Coach. Her 1996 team went undefeated and won the Region 4-AAAA title but lost to Colquitt County in the state playoffs in a heartbreaker. That team was led by Amy Robertson and Stephanie Most.
In 2001, she moved to Northgate High School and has seen unprecedented levels of success over the last 18 seasons. Her 2019 team finished 4th in the state with a record of 30-8.
Under her leadership, Northgate has been a routine member of the annual GHSA State Softball Tournament in Columbus.
While the upcoming season shows much promise, there are challenges as well. Northgate was dropped in GHSA realignment and will compete in 5A this year, and will be in one of the toughest regions in the state.
With four teams from each region qualifying for the state playoffs, there are six quality teams in the Lady Vikings' new region, therefore two will be home in October. Coach Skelton has surveyed the landscape.
"Every game will be important for us, each one will mean something. We can not take a game off, there is just too much at stake," she said. "Even if we get out of the region, there are other top 5A teams we will have to compete against, like Locust Grove and Buford."
For now, Skelton and her team are following the GHSA preseason workout guidelines.
"This is our team's second week back together. We are doing conditioning and getting the girls connected once again," she said.
When asked about her early observations, Skelton replied, "Our Seniors are going to determine how our season plays out."
Skeleton's formula puts a premium on senior leadership, and it has proven to be successful from the start. There is no reason to doubt that in the season that is just two months away.