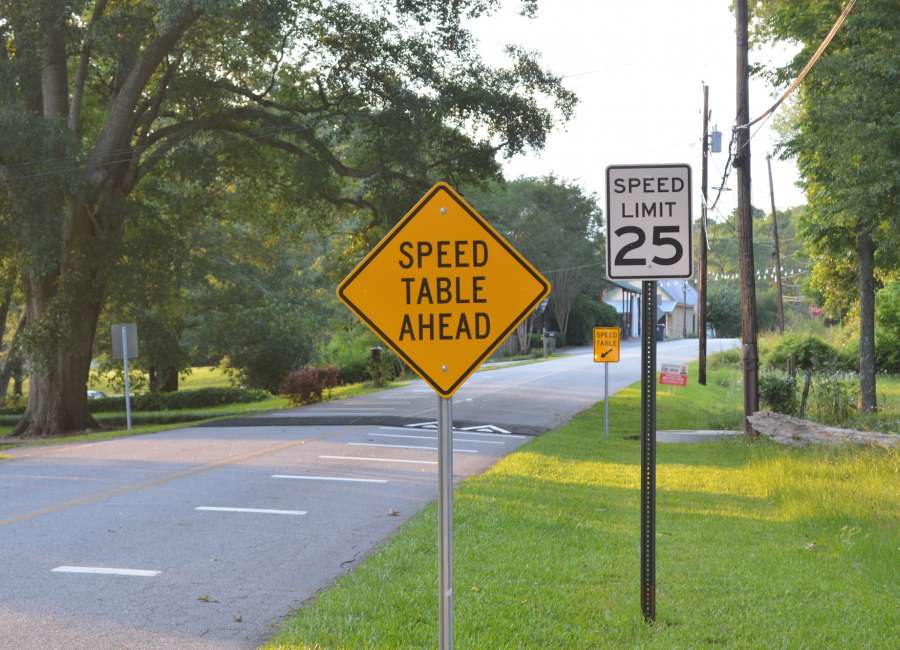 The town of Sharpsburg has added several traffic improvements in the past few months, and the new "speed tables" on Terrentine and Main streets have been well received.
The speed tables are different from a speed bump or hump, in that they allow cars to travel over them at 10-15 mph, according to Mayor Blue Cole, instead of requiring vehicles to nearly come to a stop. They also tend to be more aesthetically pleasing.
Installation began in late April, and so far, Cole said he's received no complaints about the speed tables. "I have had some positive comments from the business community; the residents enjoy it," he said. "Everybody likes it."
When Turin installed speed bumps many years ago to slow down traffic, they had to be removed because of issues with fire engines and ambulances.
Speed tables don't have those issues, according to Cole. "We have had positive conservations with the county, and we were able to put in a product that alleviated their concerns," he said.
Cole took office in late 2018 and said that "speeding and cut-through traffic has been a topic of conversation almost every month since I've been elected.
"We tried a number of solutions before the tables, including the radar sign, increased enforcement and improving our signage."
The town had a traffic study done in March 2019 and the study recommended six speed tables: four on Terrentine – two in each direction and two on Main – one in each direction.
The town has done other improvements recently, including adding plastic "turtle shell" markers at the intersection of Main Street and Highway 154 to slow down people turning onto Main, and adding "left turn ahead" signs on Highway 16 at its intersection with Main Street and its intersection with Church Street.
Cole said the town also had the Georgia Department of Transportation do work to improve the site lines at Church Street and Highway 16, and Main Street and Highway 16.
Other improvements the town is hoping to undertake include reducing truck traffic, additional striping, redesign of on-street parking and consideration of one-way streets.
Cole said they'd also like to extend sidewalks and "we plan to have a robust discussion of our surface street network during our comprehensive plan process, which is due in Oct. 2021."
There is also a plan to improve the site distance for drivers trying to take a left off of Terrentine onto Highway 154.
"We are working with GDOT to come up with a solution," Cole said. They had hoped to do a GDOT "quick response" project but those projects must be done within the existing right-of-way, and more right-of-way is needed.
There's already a proposed plan, which would move the end of Terrentine about 14 feet to the east, which would give more site distance, Cole said. There's not currently a timeline for that project. However, "I will say kudos to GDOT District 3. They are awesome. They have been excellent partners and quick to respond," he said.
He also wanted to thank Coweta County for the county's help with various public works issues, including mowing the right-of-way.
"The county is great," Cole said.