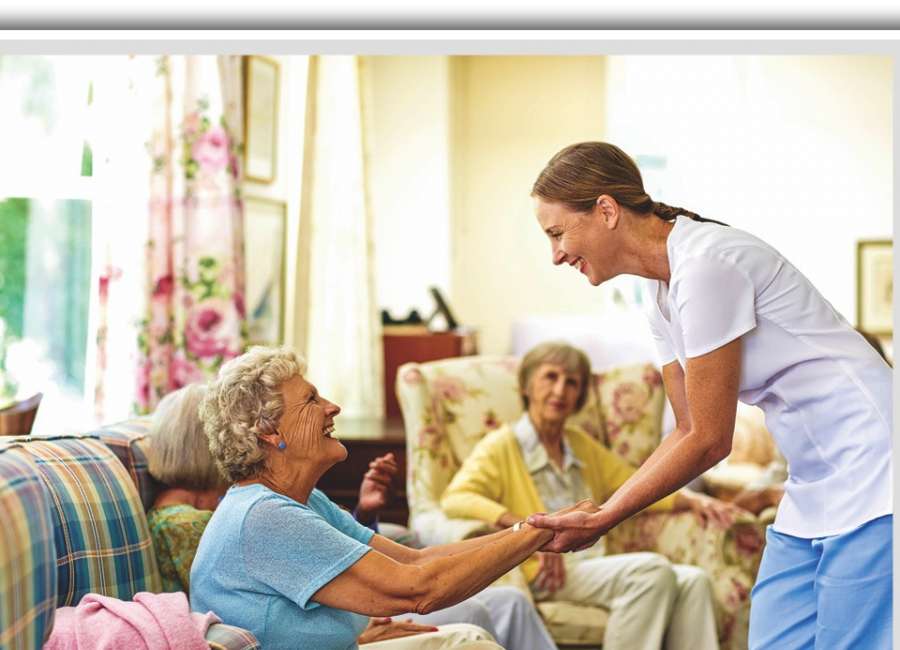 BY JOE EATON, AARP
Special to the NTH
As COVID-19 ravages the U.S., many of the nation's 15,600 nursing homes are among the most dangerous places to be.

In the early months of the pandemic, more than a third of those who died from the virus were residents or workers at nursing homes, according to multiple analyses. In at least 18 states, nursing homes accounted for more than half of all deaths related to COVID-19.
The individual stories are horrific. In Brooklyn, one nursing home reported 55 COVID-19 deaths. In New Jersey, police discovered bodies in a makeshift morgue at one facility. In a nursing home outside Richmond, Virginia, a quarter of the residents — at least 45 people — died from the virus.
Suddenly, the nursing home industry, which has long operated out of public view, finds itself at the center of scrutiny. Elaine Ryan, vice president of government affairs for state advocacy at AARP, says the outbreak will push nursing home residents and their families to question whether many facilities should survive.
"I think as the data becomes clearer, families and individuals are going to rethink if nursing homes are the best and safest places for them to be," Ryan says.
But change will be difficult.
The nursing home industry exists largely out of necessity, housing more than 1.3 million Americans. Most of these people cannot care for themselves and don't have resources to pursue other options or family that can take them in. For many older Americans, nursing homes are their only choice, says Patricia McGinnis, executive director of California Advocates for Nursing Home Reform.
It is an industry paid for in large part by tax dollars. The federal government requires all states to provide and pay for nursing home care for eligible seniors and people with disabilities through state Medicaid programs, funded mostly by contributions from the federal government.
Medicaid currently pays the bills for more than 60 percent of nursing home residents at a cost of more than $41 billion a year. But because Medicaid is a hybrid federal-state program, states have some discretion on spending, so benefits can vary dramatically based on where you live.
Adding to the complexity is the range of nursing home types, often with different oversight or demands. Nursing homes for veterans, for example, are run by the Department of Veterans Affairs. Nursing homes that serve people with dementia have far different demands than others. At least 70 percent of nursing homes are for-profit businesses. Many offer other services in their facilities, such as short-term rehabilitation — paid for by Medicare — to keep beds filled and revenue flowing.
As the industry faces a reckoning, experts hope the pandemic will inspire change.
AARP interviewed more than a dozen national experts to hear their views on what the crisis has exposed and what needs to happen for the industry to be safe and secure.
Challenge 1: Lax enforcement of nursing home standards
U.S. Sen. Chuck Grassley, R-Iowa, responded to the crisis by calling for strict oversight of nursing homes. The federal government has a fundamental responsibility to ensure that "the tens of billions of tax dollars that pay for long-term care" are well spent and pay for quality care, Grassley said in a statement.
Before the pandemic, government safety standards for nursing homes were strong but often not enforced, says Richard Mollot, executive director of the Long Term Care Community Coalition. Mollot thinks those standards should include increased focus on infection control — with rigorous enforcement.
Challenge 2: For many, no age-at-home option
Surveys by AARP are crystal clear: Americans overwhelmingly want to remain in their homes rather than move to a nursing home. But Kelly Bagby, vice president at AARP Foundation Litigation, says many are unable to do so.
Current law mandates that states use their Medicaid dollars solely for nursing home services, effectively cutting off stay-at-home options for countless older Americans. If a state wants to divert some of those funds to provide care outside of a nursing home, such as for home care or community services for the elderly, it needs to file for a federal waiver — a long, difficult process. That makes providing home care more difficult.
"Forcing people to live in such close proximity to people who are not family or friends leads to neglect, isolation, depression and medical deterioration," Bagby says. "The pandemic has put a fine point on that."
Challenge 3: Unhealthy environments
The COVID-19 outbreak shows infection control fails when residents share rooms, toilets and showers, and when staff is forced to rush from room to room. It's also bad for quality of life.
Robert Kramer, founder and strategic adviser of the National Investment Center for Seniors Housing & Care, says nursing homes need to be arranged so people are not in such close proximity that it is difficult to control virus outbreaks, "whether it's seasonal flu or a new virus like COVID-19."
But that will require increased Medicaid reimbursement to nursing homes and changes in regulations. Those are huge investments. "We have consigned poor, frail, elderly people to a place where none of us would choose to be," Kramer says. "We now want something different, but are we willing to pay for it?"
Challenge 4: Underpaid, understaffed workforce
While health care professionals have been celebrated during this crisis, experts say it's clear that nursing home workers have frequently faced low pay and understaffed conditions.
In nursing homes that survive this crisis, caregivers should be paid well enough to get by on one full-time job, says Lori Porter of the National Association of Health Care Assistants. Also, staffing levels must increase so each worker cares for a handful of residents rather than dozens, she says. The national average pay for caregivers is about $13 an hour, Porter says, and staffing shortages put residents at risk as workers are forced to cut corners.
Abuse and neglect are problems at nursing homes, federal inspections have found. Investigations by the Department of Health and Human Services reveal that many nursing homes have skipped background checks and hired caregivers with criminal backgrounds.
Challenge 5: Few options for long-term care insurance
The cost to care for a person in a nursing home is high; Medicaid pays an average of $6,180 per resident per month, an amount very few Americans can afford on their own. That leaves long-term care insurance as the primary funding alternative. However, the private marketplace for this form of coverage is spotty, and it changes frequently, meaning few Americans buy it.
McGinnis supports a federal long-term care insurance program that would allow far more Americans to build up resources over time to fund care late in life. Japan launched such a mandatory program in 2010, but the last time such legislation was attempted in the United States, during the Obama administration, it failed.
How to move forward
While it is much too soon to say how COVID-19 will affect nursing homes, advocates hope the crisis sparks what AARP Senior Vice President for Government Affairs Bill Sweeney calls "a moment like after 9/11, when people demanded change."
But what form will it take?
"To start, we need to take a hard look at the entirety of late-life housing options, including assisted living care, home care and nursing home care," says Nancy LeaMond, AARP's chief advocacy and engagement officer. While the past decade has seen great health care advances, care for "the really sick and the really old" has been neglected, she says. "That has to change. Medicaid should be more focused on home- and community-based care, and Medicare has to cover home health care to a greater degree."
Such shifts would allow care for frail elders to move from hospital-like complexes to smaller facilities with more individual care, or to their own homes. "Some states have made progress in moving to home care," AARP's Ryan says. "That requires more home care workers, and that is the struggle."
A fundamental first step would be for the federal government to change some rules governing Medicaid spending so states can have greater freedom to support home care and other solutions that keep more older Americans out of nursing homes, Ryan says.
Fixing the situation also would require federal law changes that support a "functioning long-term care insurance market," so more Americans can afford the type of care they wish for in their final years, adds Everette James, interim dean of the University of Pittsburgh Graduate School of Public Health.
And Congress needs to put teeth into laws requiring infection control in nursing homes. "There needs to be a new level of accountability in how nursing homes put in place and monitor infection-control measures," says Lori Smetanka, of the National Consumer Voice for Quality Long-Term Care.
Such dramatic change is hard. But if it is to ever happen, now is the time, Ryan says. "This pandemic has made us painfully aware that we can't ignore our most vulnerable people. Americans always respond to a crisis. And there is hope that, with innovative ideas and bold actions, they will again."