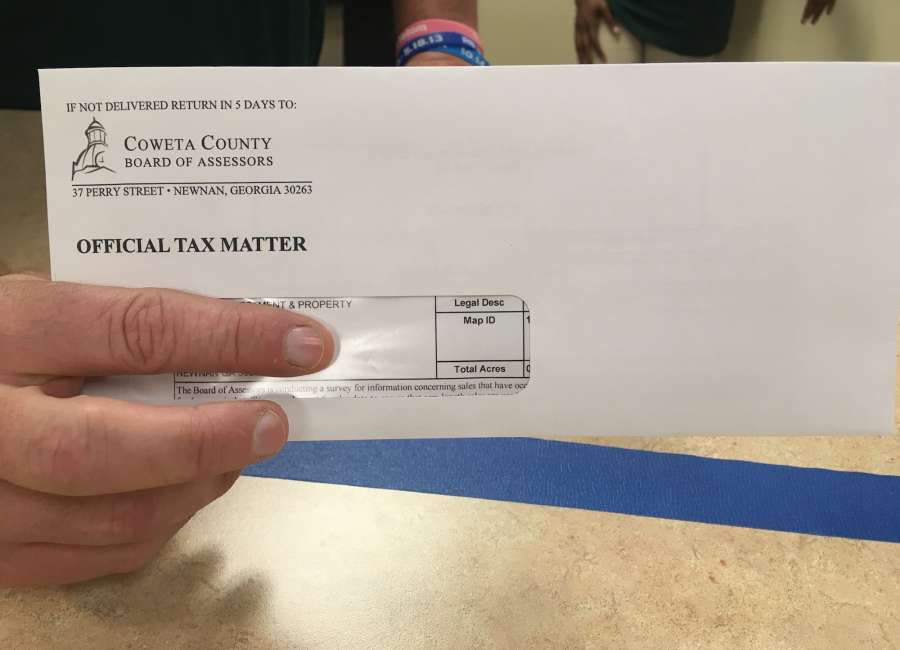 For three years, the Coweta County Tax Assessors Office, with the help of a contractor, has been working on a complete revaluation of all residential and agricultural property in the county.
That job is now done, and new property assessment notices are in the mail.
Some Cowetans may see significant changes in their property's taxable value because of the revaluation, while some may see only small changes. The value of some older homes may even go down slightly.
While the county's appraisers look at properties every year, they tend to focus on areas of high activity – places where there are a lot of homes sales or new homes. That means some properties haven't seen a value change in a long time.
The revaluation is "kind of like a reset button," said Mike Marchese, chief appraiser and director of the board of assessors.
It puts every piece of property on equal footing and will also pick up changes over the years that maybe weren't noticed – like a finished basement or a new swimming pool.
"The flip side is maybe you filled in your pool or your barn fell down," said Marchese.
Subdivisions, particularly those in rapidly growing areas, probably won't see the kinds of value changes that more rural properties will see, Marchese said. On the other hand, during the great recession, subdivision properties saw their values fall more than rural properties did.
No "average" increase
Because there are so many factors, there's no "average" increase that property owners should expect to see.
However, the county's digest – the value of all taxable property in the county – is up 17 percent this year, Marchese said – before appeals and error corrections.
The overall increase includes commercial property and new construction. There were 1,000 new residential lots in 2019, Marchese said, and he estimates about 6 to 8 percent of the increase is new construction.
Workers with the contractor, GMASS, visited every piece of residential and agricultural property in the county, Marchese said.
New schedules and tables were created that are used to set the value of every property, based on various characteristics.
For land and lots, those characteristics include the desirability of an area and the accessibility and other characteristics of the land itself, said Dean Henson, deputy chief appraiser.
Property owners should check for errors
With any project this massive, there are going to be errors, so Coweta property owners are encouraged to take a close look at the assessment notice they should be getting next week.
If there is a mistake in the county's favor, it can be corrected in time for this year's tax bills. If the mistake is in the homeowner's favor, it can be corrected as well, but the valuation won't change until next year.
Property taxes are based on the property value as of Jan. 1, so any changes made to a property after Jan. 1 won't be reflected in this year's assessment or tax bill.
"If you see a big reduction, you're probably the beneficiary of an error," said Marchese. "We've already begun to discover some of those errors."
In addition to correcting errors, every property owner has the right to appeal the assessment.
Property owners can appeal the assessment for several reasons: value – they think the valuation is simply wrong; uniformity – the property is not being treated the same as other properties; taxability – your property should be tax-exempt; denial of homestead; and denial or breach of covenant.
Property owners cannot appeal based on their tax bill. If property owners think the value is wrong, they should give an estimate of what the value should be.
There are also different ways to have your appeals heard – by the Board of Equalization, arbitration, certified hearing officer or superior court. The board of equalization route, which is free, is the most common for residential and agricultural properties. Other routes carry a cost.
Appeals made easy online
The tax assessors office has recently added a new appeals module to its website so that appeals can be filed online. The module allows property owners to easily view comparable properties.
Property owners don't have to complete the appeal process in one sitting; they can sign out and then sign back to continue working on it or complete the process. The module walks property owners through the process, Marchese said, and there is even the ability to upload documents.
The appeals deadline is Aug. 10 — 45 days from the date of the assessment notice. Under state law, there is no leeway on that deadline, Marchese said.
However, supporting material can be added to an appeal after the deadline.
"If you think there is a problem, take care of it sooner rather than later," Marchese said.
Because of COVID-19, the tax assessors office isn't open for walk-in customers. Most business can be handled online or over the phone. The office will be open for appointments, or people can call when they arrive.
Those who wish to file an appeal without using the web module can request a preprinted form be sent to them.
The tax assessors office must submit the digest to the state by Sept. 1, though a small number of properties can still be under appeal at that time. The digest is used by the various local taxing authorities – the Coweta County Commissioners, Board of Education and city councils – to set the property tax millage rate, and property taxes are due in late 2020.
For more information, visit www.cowetatax.com , call 770-254-2680 or email tassessors@coweta.ga.us .