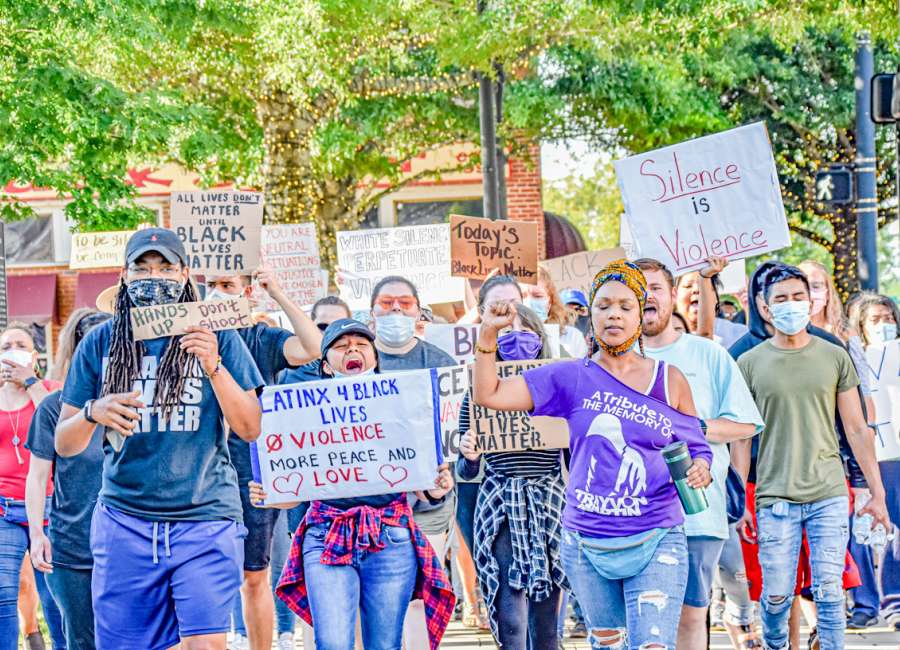 When Stacey Bristow saw social media posts about protests in downtown Newnan Saturday against police brutality in the recent death of George Floyd in Minnesota and the death of Ahmaud Arbery in Brunswick, she set about trying to figure out who was organizing it.

She couldn't find anything.
She got to the protest a bit early and discovered there was no organizer – no point of contact, but people were showing up. Bristow said, "I thought, oh, this doesn't look good. It could get out of hand."
She decided to step in and take charge until the organizer showed up. "The organizer never showed up, so I just carried it through by default," she said.
While protests around the country turned violent with property destruction and fires, the downtown Newnan protests have been peaceful.
At the second protest Sunday afternoon, even more people showed up — an estimated 200 people. The events are continuing all this week at 6 p.m. on the Court Square, Bristow said, and they'll reassess for the weekend.
A small team has formed to organize the events and are passing out water and keeping things in order, Bristow said. Because of the threat of spreading COVID-19, Bristow said Monday they now have masks that can be passed out to those that need them, and she's got hand sanitizer and wipes.
Bristow said she's been very pleased with the turnout, the diversity, the caliber of people and their collective mindset.
"It's people from all walks of life, but the mindset is for one thing and that's justice, and for this behavior to stop," she said. "I was so pleased that we were all on the same page."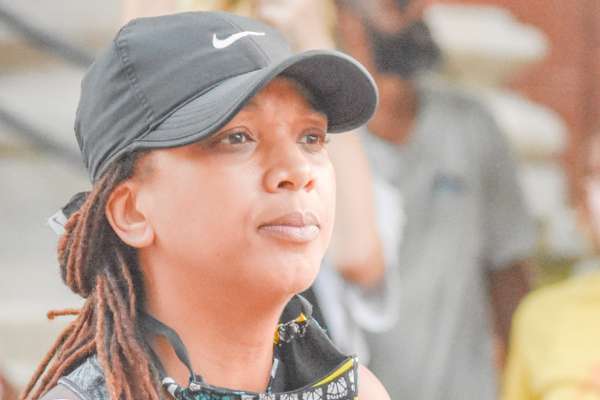 Stacey Bristow / Photo by Rebecca Leftwich
There was no sound system on Saturday, but now they have a small public address system, donated by a local dance studio, and those attending are invited to speak.
"There have been community leaders — such as pastors — who have spoken, and community members have shared their own experiences, some good and some not so good, with local law enforcement," Bristow said.
Newnan Mayor Keith Brady, Newnan Police Chief Buster Meadows and Coweta County Sheriff Lenn Wood attended the protest on Tuesday evening to show their support.
"First and foremost, I want to say, I appreciate so much all of you being here," Brady said. "All of the times you've been here — you're doing this the right way, and you have the support of the city and the county."
Brady said one of the organizers, Josh Tuck, called him earlier Tuesday and asked if he would come speak.
"The folks around you are here to serve and protect you and make sure that we, in Newnan, Georgia, do this the right way," Brady said. "That's what we're known for in Newnan — is being out front, being progressive, being understanding, being inclusive, understanding what it means to be a loving community."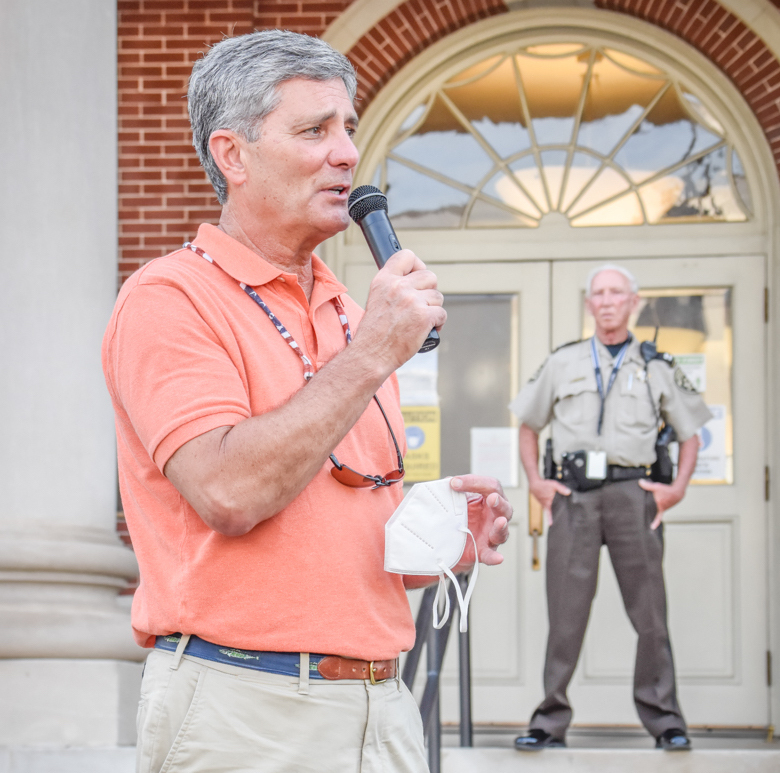 Mayor Keith Brady

"We appreciate that you're here, we know why you're here, and we understand that you will continue to be here and you have our full support to do that," he added.
Local teenagers also shared their experiences and fear, and that it feels like "people of color are walking targets," Bristow said. They also expressed those feelings on behalf of brothers and cousins who couldn't be there.
Bristow and others say they don't want this to just be about protests that fade away without any impact.
People came with the intent to really take action, she said. "That's what people are asking: 'OK, we're protesting. But what is next?' It tells me that they have a vested interest in this."
While the protests in Newnan and around the country highlight incidents all over the country, "we know we cannot affect change on a wide scale tomorrow," Bristow said. "We are going to start where we live, in our own backyard."
There has been a heavy law enforcement presence at the demonstrations but "they were very cordial, shaking hands," said Newnan City Manager Cleatus Philips. "There wasn't a military line."
Those leading the events have been "very cordial, very professional, very upfront with their plans," Phillips said.
A righteous message
Clarence "C-Bo" Bohannon has been participating in civil rights demonstrations and protests since the 1970s. He said he heard about Saturday's event at around 4:45 p.m.
Like many others, Bohannon was concerned that the protests could turn violent. It reminded him of the National Social Movement rally in Newnan in 2018, when counter-protesters from out of town seemed to want to pick fights, while local people just wanted to protest peacefully.
He said he told people on Saturday to be vigilant and keep their eyes out for people who would want to cause disruption.
In Newnan, "there were too many folks out there for the right purpose," he said. "They couldn't infiltrate it."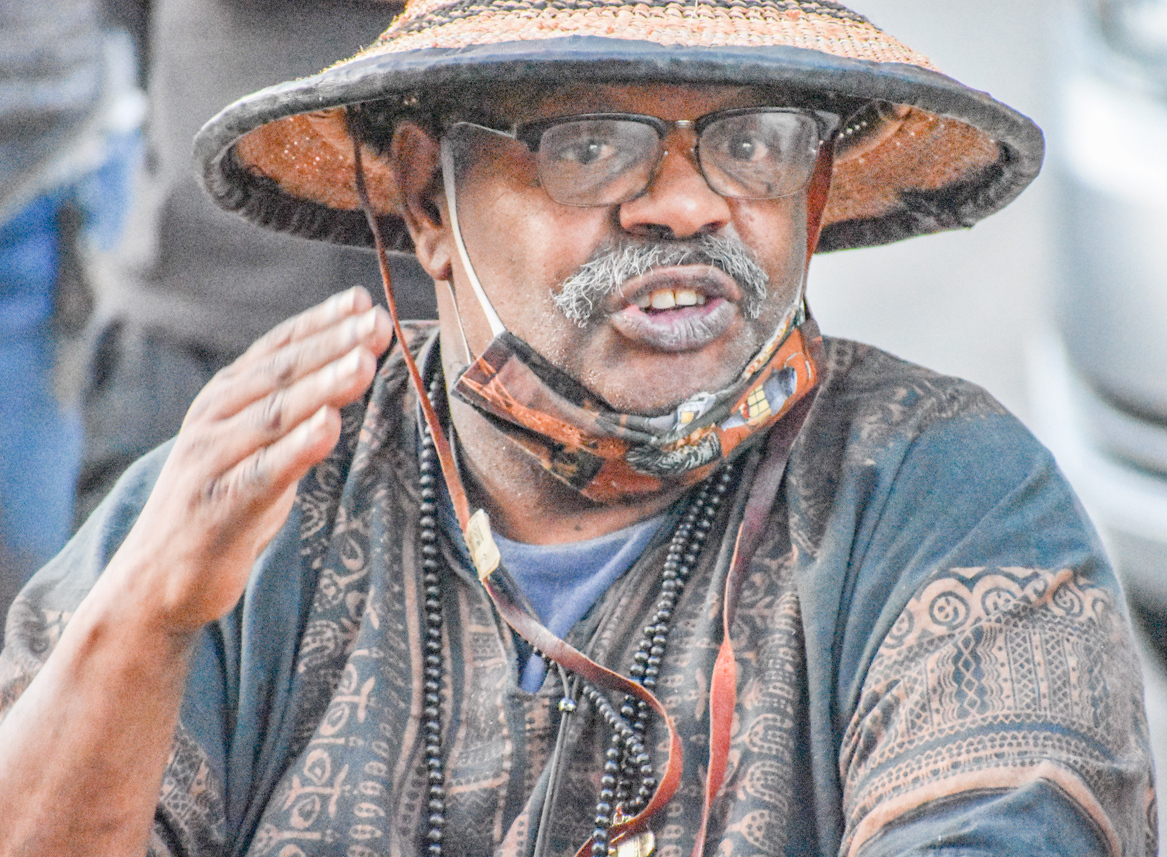 Clarence "C-Bo" Bohannon / Photo by Rebecca Leftwich
Bohannon's message was clear: "Stuff has got to be changed. This did not start with the guy who got killed in Minnesota. This has been building and building … We've got a lot of issues right here in this town and county that we need to be addressing."
Regarding law enforcement interactions, Bohannon said law enforcement can only do what they are allowed to do. If someone knows they can rob a bank and not be prosecuted, every bank would be broken into, he said.
There are good cops and bad cops, but instead of only blaming the officers who do wrong, people also need to look to district attorneys and elected officials, he said.
Bohannon said he was surprised at the large number of white people who are attending the protests. He noted there were Latino and Asian people attending as well.
"They are feeling our pain and anger, too," he said.
Bohannon said he would like to see more politicians and other leaders come down – but not to speak. "Make it a listening visit," he said.
Shed light on the issues, and then do the work
Newnan City Councilwoman Cynthia Jenkins, Newnan's only African American elected official, hasn't been able to attend the demonstrations because she is recovering from surgery, but has been watching them on social media and talking to a lot of people – people who want to help and take action.
When she first saw something on social media Saturday about the protests happening, "it was in the context of fear," she said. "I was like – that doesn't mean it has to be violent," she said. "But I would be lying if I didn't have a little palpitation in my heart."
Jenkins said she wanted to reassure people on social media that well-organized, clear-messaged, peaceful protests are effective. But also – "I'm tired. Just like everybody else. We've been tired," she said, of seeing people of color killed by law enforcement around the country.
"You see these things pop up on TV and your heart skips – it's like, I can't watch, because this is happening again," she said. Sometimes, you have to protect yourself emotionally by not watching.
She said it took a while before she was able to watch the video of Floyd. "Watching George Floyd call for his momma – that was really hard," she said.
As Dr. Martin Luther King Jr. said, riots don't develop out of thin air. They are the "voice of the unheard."
Dr. King also said "social justice is the absolute guarantor of riot prevention," Jenkins said. "Stop talking about the riots and start talking about the issue."
"I do not condone violence in any way. Yet I need people to stop skipping over the trauma and jumping right into criticizing the response of the traumatized," she added.
Jenkins said a friend who works in health care made a good comparison: "We expect our medical personnel to do what is necessary to treat the injury and not criticize the injured for their response to pain," she said. "Treat the injury, and the pain will stop."
Jenkins reiterated that she doesn't think violence is the answer, but she agrees with King's thinking – don't criticize people for what they are doing if you're not going to criticize why they are doing it, she said.
"Because both are wrong and need condemnation. Right now I'm only hearing the condemnation about the riot from some folks."
Then again, more and more information is coming out that the violence in other cities may not have been started by the people protesting, but from others who show up to turn those protests into something else.
"The purpose of the protests is to shed light on the issues and then to do the work beyond the march," Jenkins said. Doing the work to effect change after the protests is something that doesn't always happen.
"Our generation has to step up, but we also have to do the work. We can't say – hey, I protested, and then didn't have an action plan," she said.
She says she's ready to hear people's ideas for action. "I don't have all the answers, so I need you to voice your concerns, but also voice your suggestions," she said. She said she's already getting calls, emails and social media messages about solutions.
This moment seems to be different from protests over police brutality in the past, Jenkins said. With the death of George Floyd, "We've had a much greater reaction from those who normally say, 'Let's wait for the facts,'" Jenkins said.
"Those folks are like – there is no way that this is justifiable," she said. "This moment is resonating with people and they're like – 'How can this happen?'"
Eve Graybeal Olsen, a member of the local African American Alliance and the genealogist for the Coweta County African American Museum, attended Sunday's protest and said it felt like history in the making.
"It's an interesting picture from my history book, seeing someone hold an 'All lives matter when black lives matter' sign under a confederate monument," Olsen said. "It's a pivotal moment."
Olsen said her sister-and-law and nephews are black, and she has half-sisters who are black, which is one reason why she is actively involved in advocating for the rights of black people.
"As a white person, I can't say that I'm free if my family isn't," Olsen said. "White privilege is systemic; that is the trick, and the reality is that it's hidden. It's normal for us."
Olsen said white people need to realize that if there's going to be change for people of color, they have to help.
Staff Writer Laurel Huster contributed to this article.