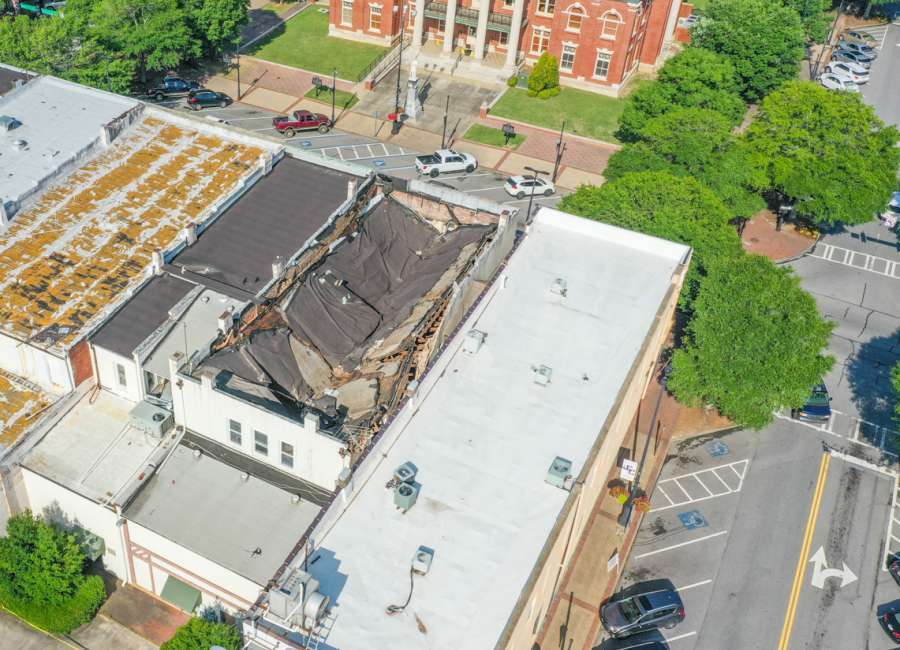 Officials said a roof collapse in downtown Newnan has closed parking spots for nearly half a dozen spaces on East Court Square.

The roof collapse at 6 E. Court Square occurred Friday, according to city officials, and the cause has not been revealed by the owner of the property.
No one was injured in the collapse.
City officials, including the fire marshal and building code officials, recently conducted an assessment of the damage and determined the building was not an immediate threat to the public, according to Assistant City Manager Hasco Craver.
"We're working daily with the owner, architect and contractor to find a remedy," Craver said. "We're hopeful it will be done and have the property in a secure position in a timely manner."
For safety purposes, the city closed four parking spots in front of the building along with the striped gore area near Goldens On The Square. The property owner has also closed the parking lot in the back, according to Newnan Police Department Chief Deputy Mark Cooper.
"The nearby business owners affected by the closure of these spots understand the situation and are on board," Cooper said. "It's just a matter of keeping the public safe."
The building itself dates back to the 1800s. The property, originally owned by John and Ellis Mansour, was most recently the home of C.S. Toggery. The Mansour family sold the property to Newnan Square QOZB LLC in November 2019, according to Coweta tax records.
The owner filed a certificate of appropriateness back in October to renovate the front and rear facades of the building and 8 E. Court Square next door for the purposes of building a new third-floor structure that would contain a rooftop restaurant, along with a medispa and vein specialist clinic on the first two floors.