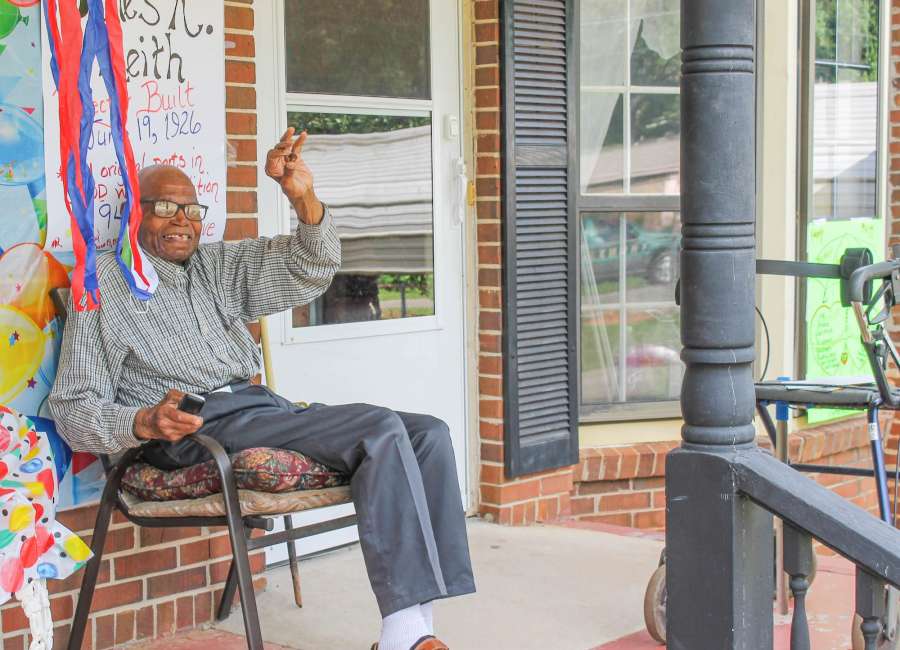 James R. Keith was born June 19, 1926, and recently celebrated his 94th birthday with family and friends by having a surprise car parade outside his house.

His daughter Angela Gilliard said she thought her dad's birthday needed to be celebrated, especially because it's on Juneteenth. Juneteenth is celebrated annually on June 19 to commemorate Union army general Gordon Granger's reading of federal orders in Galveston, Texas, in 1865 proclaiming that all slaves in Texas were now free.
Gilliard wanted people to come by and celebrate her father, but she said because he's 94 years old, she didn't want a lot of people in his house. She said they had a car parade birthday party for an elderly woman at her church in Florida, and thought that would be the best way to celebrate her dad.
James R. Keith
Keith was born in Coweta County, but his family moved to Meriwether County when he was six months old. He had eight sisters and four brothers, and he was the fourth-oldest child.
He said the school he went to was one room; the third and fourth graders sat on one side, and the fifth, sixth and seventh graders sat on the other side. Keith said one teacher taught all the students, and he would listen to what the older kids were learning.
He dropped out of school when he was in the fourth grade because he was the only boy big enough to pick up an axe.
"I got tired of cutting the wood to keep the students warm," Keith said.
After he dropped out of school, he said he sat around the house and helped with the cooking. Keith said his dad was a farmer, and his mom liked to be in the field rather than stay home with the kids, so he stayed home with them.
Keith said he registered for the Navy when he was 18, in 1944. He served during World War II, from 1945-46.
When he was 18, he also met his wife Mildred, who was 16 at the time. Keith said she lived across the street from him, and he saw her walking to the store one day and went out there to talk to her.
They were married in 1945, and that same year he went to Great Lakes, Illinois, for training before serving in the war. Keith said after training, they got on a ship and sat in the water for 21 days waiting for orders.
When Keith boarded the ship, he said he was next to a white man with the initials "KKK."
"I thought, 'I don't want to be around the Klu Klux Klan,'" Keith said.
Keith said they boarded the ship in alphabetical order, and he switched places with him so he could be in the section where more of the black people were, and the other man could be in the section where more of the white people were.
He said they ended up going to Guam. When they were ready to be discharged, Keith said the Navy told them if they had something they weren't supposed to, they would leave them there.
Keith said they had guns they weren't supposed to, so they threw them out before they were caught.
He was discharged from the Navy in April 1946, and when he came back from the war, he went back to his old job at Brown Peyton Service Station. Keith said he worked there for 17 years.
Keith said there was one guy managing the service station while he was there who said to him, "If you want to run something you need to go back where you came from."
Keith told him he was born in Newnan, but said black people couldn't run a station like that at the time, even though he knew more about running it than the white people who worked there.
He said he was working late one night in November and it was freezing outside, and the manager told him to wash something outside or he would be fired. Keith said he decided to quit, and his manager told him he wouldn't get a job in Georgia.
Keith said the first place he went to for a new job hired him. He ended up working at H.V. Kell, which was a wholesale grocery store.
Then he worked at R.D. Cole Manufacturing Company for three years. He then went to work at the American Can Company, starting out in the cutting department.
Another job became available in a different part of the company, and he applied for it. However, his manager told him that was a dead-end job and if he waited a few more days he would have something better for him.
He ended up working for the company fixing machines. Keith said when he got there, he had to take a test and even though he only had a fourth-grade education, they told him he had gotten the best score out of everyone who had ever taken it.
Keith ended up getting his GED in 1990 because his wife Mildred was working on getting hers. Gilliard said he is a great mathematician, and she remembers him sitting at the kitchen table helping her with homework.
He started preaching at Triumph Holiness Church in 1954, and he is still the senior bishop there.
Serving others
Keith and his wife Mildred were married for 67 years until she passed away in 2012. They had four children together and raised two adopted children.
The children they had together are Mirriam, William James, Milton and Charles. They also raised two of Keith's sister's children, Angela and Geraldine.
Keith has 18 grandchildren, and too many great-grandchildren and great-great-grandchildren to count.
Gilliard said he is a loving father and is always serving others. She said he was always giving, to the point of giving his own things away if he needed to.
Charles said Keith had a friend who was a preacher who needed a place to stay, so he asked his family to move in with them. Charles said they then moved out and gave the preacher and his family the house.
Gilliard said Keith's focus on service became important to his children as well. Milton served in the Marine Corps in the Vietnam War, Gillard served in the Army for three years and Charles served in the Air Force for 30 years and retired as a Chief Master Sergeant.
When the COVID-19 pandemic began, Keith put out a sign in his front yard that said "be safe." He said he saw people stop to get out of their cars and take a picture of it.
When asked how he's doing these days, Keith said, "I'm doing as good at 94 as you're doing at 22."
He also shared a piece of advice that he has learned over his 94 years of life.
"Treat everybody like you want them to treat you," Keith said. "If they don't treat you that way, don't stop treating them like you want to be treated."