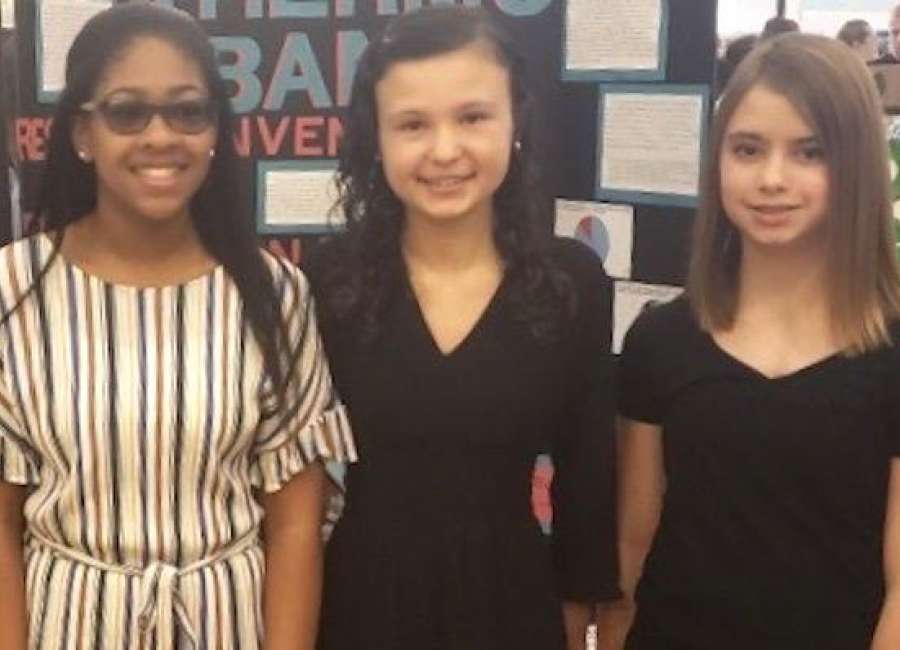 Aria Pigatt, Azure Collett and Bonnie Kanner were the grand prize winners of this year's Coweta "Shark Tank" competition with their project, ThermoBand.
The three students are seventh graders at Madras Middle School. Coweta County students were able to take place in this year's "Shark Tank" competition virtually over Zoom.
Kanner presented the project for her group to the other contestants and a panel of judges.
The product they developed, called ThermoBand, is a headband created with a thermochromic pattern to remind athletes and coaches that an athlete's body temperature is rising, and a heat-related injury could occur, Kanner said.
The pattern will turn from black to transparent when the user's body temperature reaches 100 degrees Fahrenheit.
The ThermoBand was created because of the amount of heat-related injuries that occur at school sports practices or other athletic events, according to Kanner. The ThermoBand is washable and reusable.
"The ThermoBand is a project that could save your life," Kanner said. "If you're feeling hot, check the dot."
Nine projects were chosen to present out of 250 that were entered, according to Coweta County School System's Science Curriculum Specialist, Donald White.
The projects were judged by Sarah Lees, a medical education manager at the Cancer Treatment Centers of America and Chad Ramey, a Ph.D. student at the Georgia Institute of Technology.
"I think functional fabrics and wearable technology is huge right now," said Ramey of ThermoBand. "Seeing fancy chemistry and material science merging there, the fact that you could have some piece of clothing that is undergoing a chemical reaction as you're wearing it to indicate you're in danger is pretty cool tech in my opinion."
The following are the names of the other projects entered:
Verge Emergency Light; Jonathan Colon, a fifth grader at Newnan Crossing Elementary School
Bedtime Bags; Addison Lewis, a fifth grader at Ruth Hill Elementary School
Ride Switch; Laura Beth Baldridge, a sixth grader at Arnall Middle School
141 Fashion; McKenzie Ray, a sixth grader at Arnall Middle School
Flutter Bees; Ava Smith, Isabella Ribeiro-Sonera, Dasha Smallwood and Isabella Correas, seventh graders at Evans Middle School
I Temperature V Changer; Nayeli Padilla-Galvez, Kate Howell and Katelynn Mundy, seventh graders at Madras Middle School
Wave Guard; Jack Whittemore, an eighth grader at Madras Middle School
Lit Lancet; Thomas Becker and Ethan Bake, ninth graders at Northgate High School
In addition to winning the grand prize, the ThermoBand team also won the overall people's choice award. Prizes were sponsored by Yamaha Motor Manufacturing Corporation and the Coweta STEM Institute.
The elementary division first place winner was Verge Emergency Light, middle school first place was 141 Fashion and high school first place was Lit Lancet.
Some of the projects were also entered into the K12 Inventure Prize at Georgia Tech. Flutter Bees won first place in the middle school division at the competition, and Wave Guard placed third in the middle school division.