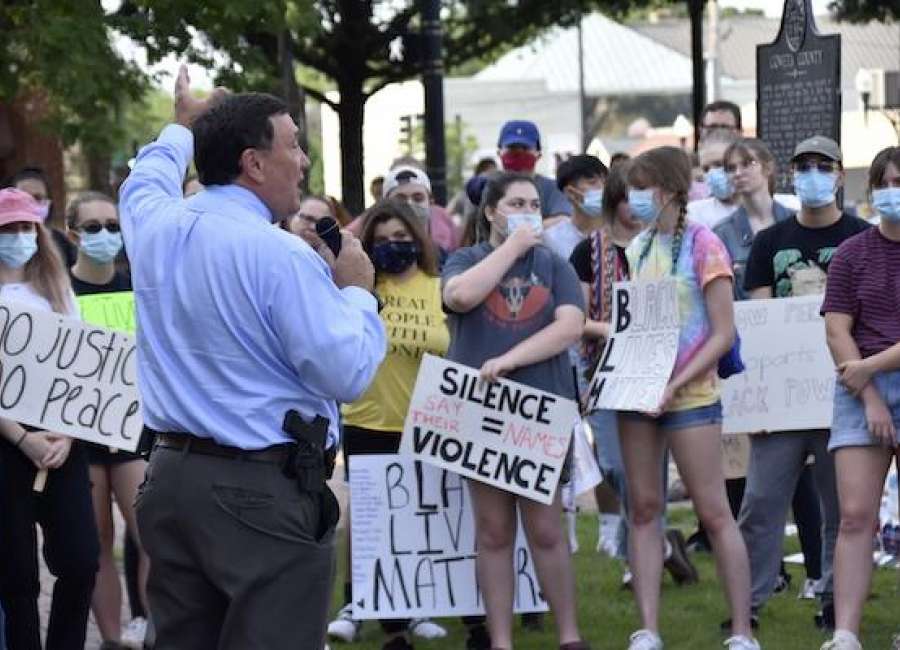 Tuesday was the fourth consecutive evening that protestors have gathered peacefully on the Historic Court Square, and local leaders came to show their support.
Cowetans have been protesting police brutality in the recent death of George Floyd in Minnesota and the death of Ahmaud Arbery in Brunswick.
Newnan Mayor Keith Brady, Newnan Police Chief Buster Meadows and Coweta County Sheriff Lenn Wood spoke at the beginning of the protest Tuesday evening.
"First and foremost, I want to say, I appreciate so much all of you being here," Brady said. "All of the times you've been here — you're doing this the right way, and you have the support of the city and the county."
Brady said one of the organizers, Josh Tuck, called him earlier Tuesday and asked if he would come to speak to the crowd. Tuck said he thought that Brady needed to come and he mentioned speaking sometime over the weekend.
Brady said he thought it was a great idea, and he decided to go ahead and speak that same day.
He told the crowd that when he was elected as mayor, Willie Lynch, the only minority member of the city council at the time, served as a mentor to him. Brady said every time there was an issue, he would go to Lynch and ask him how to handle it.
"The first thing he would always say to me is, 'You've got to remember the people,'" Brady said. "He didn't realize what he was saying back then was, 'Black lives matter.' He was teaching me back then, and it was just as true then as it is now."
Brady said that when it comes to setting policy and understanding how to treat the people of the city, "remember the people" is the philosophy they've used.
"That's what we're known for in Newnan — is being out front, being progressive, being understanding, being inclusive, understanding what it means to be a loving community," Brady said.
"We appreciate that you're here; we know why you're here, and we understand that you will continue to be here and you have our full support to do that," he added. "We look forward to hearing you on the 18th at our city council meeting."
Wood also addressed the crowd at the protest and said when he hasn't been able to attend, he's been keeping up with what's being said on Facebook Live.
"I'm here to tell you, first and foremost, we hear you," Wood said. "That's what it's all about. We couldn't hear you if you were causing damage and ruckus all over the county; we wouldn't have time to hear you."
Wood said that he's been in Newnan his whole life, and is community-minded.
He said last year the sheriff's office started an ownership program, where they assign a deputy to a certain area, so the people can get to know them. Wood said 911 calls have been down because people have gotten to know their officers and call them on their personal cell phones when there's an issue.
"That's one way we're going to get involved in the community," Wood said. "Hopefully that way, you feel safe when you leave your home and a police officer stops you — isn't that what it's all about?"
Wood said if someone has a problem with a certain officer or deputy, to call him. He said anyone who has something to talk about with him, he'll listen.
"I appreciate y'all. I appreciate the way y'all have done this; carry on," Wood said.
Meadows also addressed the crowd and told them that they've been a model for peaceful protesting.
"First I want to thank y'all for being here this evening, and these other evenings, and also thank you for the professionalism y'all are showing," Meadows said.
He said he's been with the city for 47 years, and this is his 19th year as chief of police. Meadows said changes have been made, and changes keep coming.
"We've heard your voice, also. That's what we want — everyone to feel safe when they're dealing with a police officer, and we want them to feel safe when they walk in these streets," Meadows said.
Meadows said a few years back, the police department started the community resource officers program. These officers go out in the community to do different programs and get to know people.
"If you have a concern, we want to hear it," Meadows said. "We've heard what y'all have said here. Change is possible and it's needed."
Meadows said officers have had extra training, including de-escalation and use-of-force training. He said his officers have been impressed with the protesters this week as well.
"Newnan can be proud of each of y'all, and we want you to be proud of us also," Meadows said. "We want y'all to feel safe."
Meadows concluded by praying for the protestors, the city and the country.
"We are so thankful for y'all coming out today, speaking from your heart and speaking for what you guys know is true, and speaking to the city of Newnan because you have so many cities in the country where this hasn't happened," Tuck said. "What you guys did today is not in vain; hopefully, other cities will take note and use this as a model."
One protester spoke to the leaders and asked that police officers receive more training, including prejudice and bias training. Another protester asked the law enforcement officers in attendance to raise their hands if they thought what happened to George Floyd was wrong. All of them did.
Organizer Stacy Bristow said the group will convene on the court square Monday-Friday at 6 p.m. and Saturday and Sunday at 4 p.m. until June 18. On June 18, Bristow will serve as a spokesperson and speak to the Newnan City Council at their regularly scheduled meeting.
"They're hearing us, if you look around you will see some very familiar faces," Bristow said. "They're only hearing us and listening to us because we're doing it the right way."