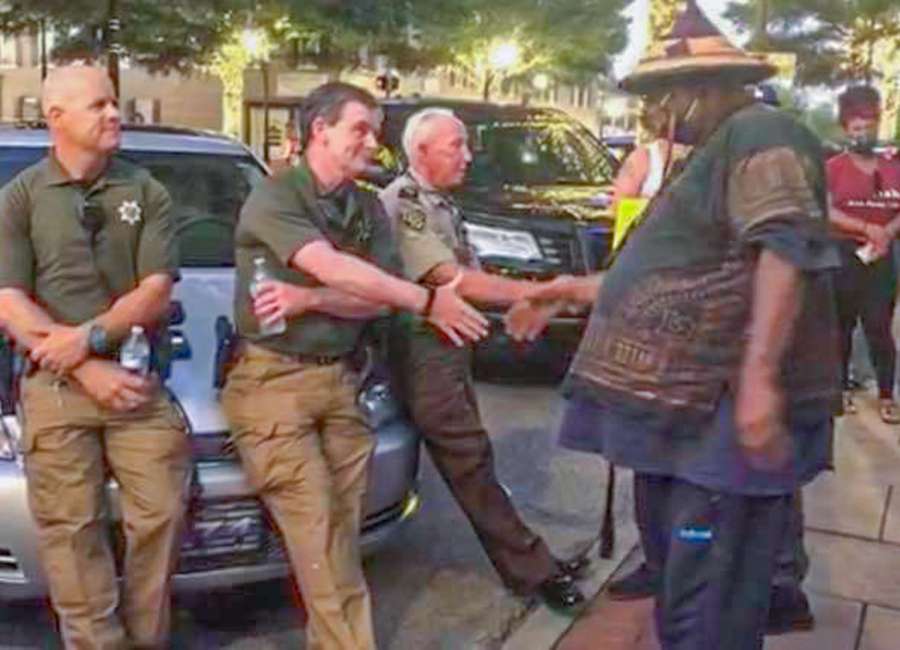 A common axiom among law enforcement is "no one hates a bad cop more than a good cop."

In a community like Newnan, that managed to successfully deal with a powder keg of emotions in the 2018 rally between neo-Nazi's and counter-protestors, law enforcement personnel say it's been difficult watching the fallout from last week's death of George Floyd.
In a phone interview Monday, Newnan Police Chief Douglas "Buster" Meadows, along with Deputy Chiefs Mark Cooper and Jay LaChance, all agreed the footage of Floyd's last moments was horrifying, alarming and in no way representative of the training received and required by the NPD.
"That was like nothing I'd ever seen before," he said.
Cooper recognized the maneuver utilized on Floyd but said it was done incorrectly and applied for far too long.
"They should have known the damage that could have been done," Cooper said. "Each officer I've talked to here knew it was wrong, too."
As dozens of major metropolitan cities across the United States are continuing to deal with riots and looting, Newnan has hosted a series of protests on the court square – all which have remained nonviolent and ended at sunset.
Cooper said the NPD supports the peaceful and legal exercise of an individual's constitutional rights to assemble and to free speech.
"Our goal is only to protect everyone present at the protests," he said.
Despite images of violent clashes between participants and police, many agencies have shown solidarity with protestors, including in North Carolina, where over 60 police officers knelt before demonstrators in Fayetteville on Monday.
In Newnan, many police officers have taken the opportunity to get to know those speaking during the demonstrations on the square in an ongoing attempt to create a dialogue and understanding of respect.
"We hoped it would be peaceful and we're very pleased how it's gone so far," Meadows said. "People get to have their say and it went really well. We're pleased with how people have conducted themselves and couldn't ask for better."
Meadows said the actions carried out by non-violent protesters are fundamental for the expression of free speech and reminds law enforcement about the need to stay vigilant in their training.
"It makes you reflect back that you treat others how you want to be treated," Meadows said. "You don't go overboard; you're there to protect everyone."
Many protesting across the country have cited the lack of urgency in prosecuting those charged in cases of police brutality, while others say the entire system is inherently flawed.
"The wheels of justice have always moved slowly, and when you add COVID on top of it, it brings us to a standstill," Meadows said. "Now it's moving again, but not fast enough. It gets frustrating for us, too."
Like the sheriff's office, the Newnan Police Department is a firm believer in consistent training in issues of use of force, de-escalation, police legitimacy and community-oriented policing.
"We want to continue to grow on that and keep the avenue of communication open," Meadows said. "If you get to the point to where you think you can't improve, that's when issues happen. You have to step outside the box to get things accomplished."
With a good chunk of our nation seemingly at war against law enforcement, Meadows said he's not taking it personally.
"It hurts that a lot of people think we're all bad, but it's something we have to deal with in our profession," he said. "Every profession, no matter what, has bad apples. You always try to catch them before, rather than afterward. It's just a matter how and when it comes out as to how much publicity it goes with."