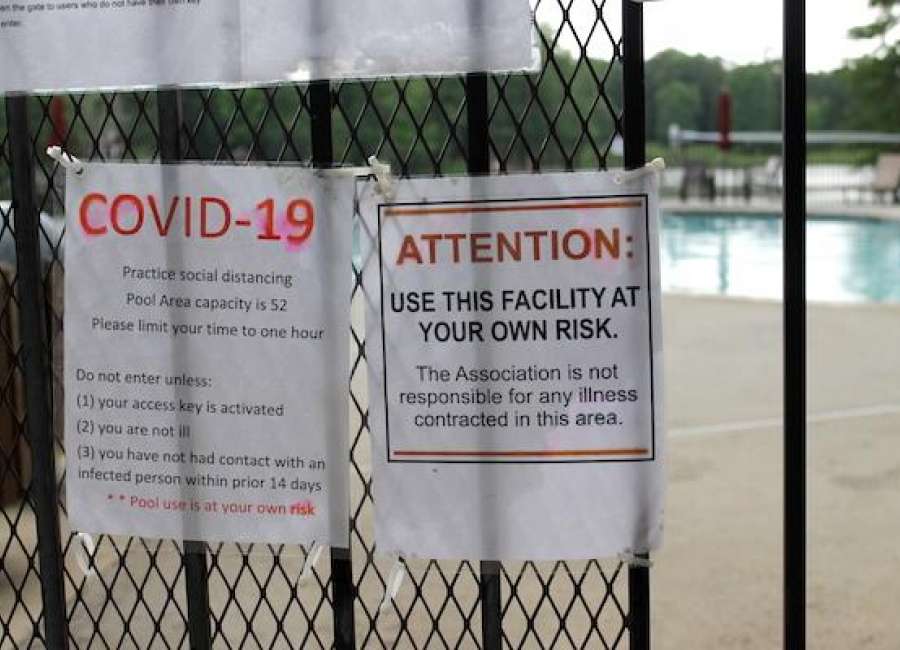 Summer is officially here, which means many will head to their neighborhood pools to cool off. However, some neighborhoods have been hesitant to open pools because of COVID-19.
Local homeowners associations have had to make tough decisions about opening their pools, including facing potential legal action should any residents contract COVID-19 at the pool.
SummerGrove opened its three neighborhood pools June 6, with limited numbers and enhanced cleaning.
SummerGrove Community Association President Marcie Bayne said the board first had to decide if they were going to open the pools at all. After looking at the guidance from the state and the Centers for Disease Control and Prevention, they decided to open.
The targeted opening date was Memorial Day weekend, however, Bayne said they pushed the date back to make sure they were able to meet with the association's attorney.
Bayne said once they made the decision to reopen, they had to figure out how to keep the lounge chairs clean, how to ensure only residents were using the pool, and how they would meet sanitation and social distancing requirements.
They decided to arrange the pool furniture in "pods" so that groups can remain 6 feet away from other groups at the pool. Bayne said staff is also cleaning the area twice a day.
Bayne said each pool has a monitor that has everyone sign a waiver when they come in and asks adults to show their ID to confirm they have a SummerGrove address, as guests aren't allowed.
"Reopening has actually gone very smoothly," Bayne said. "We're very thrilled."
Bayne said as new guidelines come or are relaxed, they will adjust the policies at the pool.
"The SummerGrove Board has been working really hard to do what's best for the residents, to keep them safe and follow the law," Bayne said.
Other neighborhoods and apartments have applied similar rules, including Arbor Springs Plantation off Highway 29.
Residents in Arbor Springs had to read and sign a contract about the new pool rules before their key card access was turned on. The chairs are spaced in groups 6 feet apart, and if they're all in use, residents have to wait to enter the pool.
They are asking that people maintain distance from those they don't live with, both in and out of the pool. No pool floats or rafts, other than personal flotation devices, are allowed.
Arbor Springs is also asking that residents don't share any items, such as food or toys, with people whom they don't live with. Residents are also encouraged to clean the chairs they use when they get there and when they leave.
The Promenade at Newnan Crossing apartment complex is having residents book a two-hour pass per day, up to twice in one day, to use the pool. There are 22 passes available per hour, with 22 chairs in the pool area spaced 6 feet apart.
The complex is closing the pool from noon to 1 p.m. every day for cleaning and asking residents to spray the chairs they used with provided cleaner before they leave.
Legal implications
Ashely Lanier represents homeowner associations and condominiums and said the legal implications for opening pools during COVID-19 is something they've never seen before.
Lanier said all the HOAs she has worked with have an exception in their insurance policy that doesn't cover communicable diseases, such as viruses and bacteria, including COVID-19.
Along with this gap in insurance, HOAs also have to comply with extensive mandates from Gov. Brian Kemp's executive order and recommendations from the Department of Public Health, Lanier said.
Lanier said some of the mandates are easier to comply with, such as putting up warning signs about COVID-19 and safety procedures. Other mandates include controlling social distancing and requiring enhanced sanitation.
She said this leaves HOAs, which are generally made up of residents who volunteer their time, to come up with guidelines to meet the requirements of the order and keep residents safe.
Lanier said it has been hard for neighborhoods to get the hand sanitizer and sanitation items they need. Others don't have pool staff that can help monitor social distancing and keep the area cleaned, and don't have enough money to hire them.
She said some neighborhoods have set up pods of furniture to encourage social distancing, requiring reservations to swim or removing all pool furniture.
Lanier said a few neighborhoods have opened because they already had pool monitors. She said some communities are waiting until guidelines are relaxed, and a few communities won't reopen until the insurance companies provide a plan to cover the gap.
"It's been a real strange situation, where you have the combination of legal issues," Lanier said. "It's unlike anything else I've seen."
Lanier said every community she has worked with has had this gap in insurance, but the difference between contracting illnesses such as strep throat or the flu and the present risk is how deadly COVID-19 has been.
She said because of the potential loss of life or long hospital stays from the virus, if an illness were traced back to the pool, it would be financially devastating for an HOA if they were sued. Even if they can't trace it back, it could still devastate small communities who don't have enough money to pay for defense if a lawsuit was filed against them, Lanier said.
Even if communities have residents sign a waiver, it doesn't stop them from filing a lawsuit if they contract COVID-19 and believe they did so from the pool.
"Associations have worked really hard to develop a plan that they feel is reasonable and include waivers and monitors and enhanced sanitation," Lanier said.