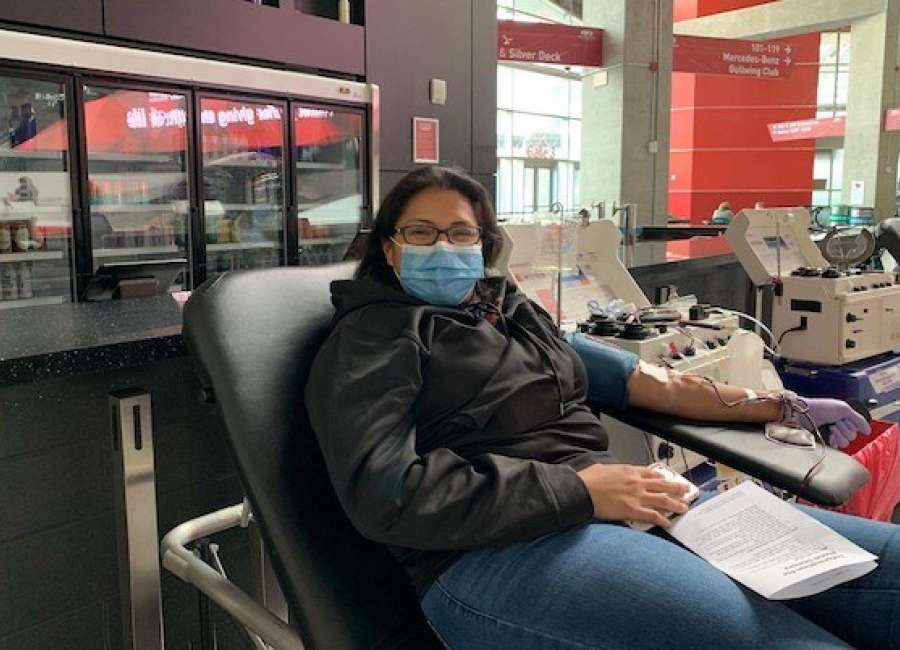 Several American Red Cross blood drives are planned for Newnan in July because of the urgent need for blood donations.
Blood donations are needed now to meet the needs of patients in hospitals as surgical procedures and treatments that were temporarily paused earlier this spring in response to COVID-19 resume, according to a release from the American Red Cross.
At the same time, blood drives continue to be canceled, as many businesses and community organizations restrict the number of individuals at their locations, creating challenges for the blood supply.
Those that donate in July will be entered for a chance to win a "Wonder Woman 1984" movie prop replica package, which includes The Golden Lasso and a pair of Gauntlets, identical to the pair worn by Wonder Woman in the movie.
Donors who give July 1-8 will receive a "Wonder Woman 1984" T-shirt, while supplies last, according to the release.
The Red Cross has also begun testing all blood, platelet and plasma donations for COVID-19 antibodies.
The antibody test is authorized by the U.S. Food and Drug Administration and may indicate if the donor's immune system has produced antibodies to COVID-19, regardless of whether they developed symptoms.
For the next few months, Red Cross blood, platelet and plasma donations will be tested using samples obtained at the time of donation and sent to a testing laboratory, where the samples will also undergo routine screening and infectious disease testing. A positive antibody test result does not confirm infection or immunity, according to the release.
"As a humanitarian organization and member of the broader health community, the Red Cross has adapted our services to help meet the needs of this extraordinary time," said Chris Hrouda, president of Red Cross Biomedical Services in the release. "We recognize that individuals and public health organizations desire more information about COVID-19, and as an organization dedicated to helping others, the Red Cross is fortunate to be able to help during this pandemic."
Red Cross donors can expect to receive the results of their antibody test within 7 to 10 days through the Red Cross Blood Donor App or on the donor portal at RedCrossBlood.org .
With the start of antibody testing, the Red Cross anticipates increased interest in blood donation appointments. If there is not an appointment immediately available, donations in the days and weeks ahead are still critically important to ensure it can build a stable blood supply throughout the difficult summer months, according to the release.
The Red Cross is not testing donors to diagnose illness, referred to as a diagnostic test. To protect the health and safety of the staff and donors, it is important that individuals who do not feel well postpone their donation.
Walk-in donors may not be able to be accommodated at blood drives due to social distancing, so donors must schedule an appointment in advance. Donors must also wear a face covering or mask while at the drive.
Each Red Cross blood drive and donation center follows the highest standards of safety and infection control. To ensure the health of staff and donors, precautions include:
Checking temperatures of staff and donors before entering a drive to make sure they are healthy.
Providing hand sanitizer for use before entering the drives, as well as throughout the donation process.
Following social distancing between donors including entry, donation and refreshment areas.
Ensuring face masks or coverings are worn by both staff and donors.
Routinely disinfecting surfaces, equipment and donor touched areas.
Wearing gloves, and changing gloves often.
Using sterile collection sets and an aseptic scrub for every donation.
In most states, individuals who are 17 years of age, 16 with parental consent where allowed by state law, weigh at least 110 pounds and are in generally good health may be eligible to donate blood. High school students and other donors 18 years of age and younger also have to meet certain height and weight requirements.
Local blood drives planned for July include:
Thursday, July 2, Asa M. Powell Expo Center, 197 Temple Ave., Newnan, noon to 5 p.m.
Monday, July 6, Newnan Church of Christ, 2675 Highway 34 E., Newnan, 2 to 7 p.m.
Friday, July 10, Piedmont Newnan Hospital, 745 Poplar Road, Newnan, 9 a.m. to 3 p.m.
Thursday, July 16, Asa M. Powell Expo Center, 197 Temple Ave., Newnan, noon to 5 p.m.
Friday, July 17, St. Mary Magdalene Catholic Church, 3 Village Road, Newnan, 2 to 7 p.m.
Tuesday, July 28, GO Church, 3935 Highway 34, Sharpsburg, 2 to 7 p.m.
To save up to 15 minutes at the blood drive, donors are encouraged to complete a RapidPass. With RapidPass, donors complete the predonation reading and health history questionnaire online on the day of donation, from a mobile device or computer. To complete a RapidPass, follow the instructions at RedCrossBlood.org/RapidPass or use the Red Cross Blood Donor App.
To schedule an appointment to give blood, visit RedCrossBlood.org , use the Red Cross Blood Donor App , call 1-800-RED-CROSS or activate the Blood Scheduling Skill for Amazon Alexa.