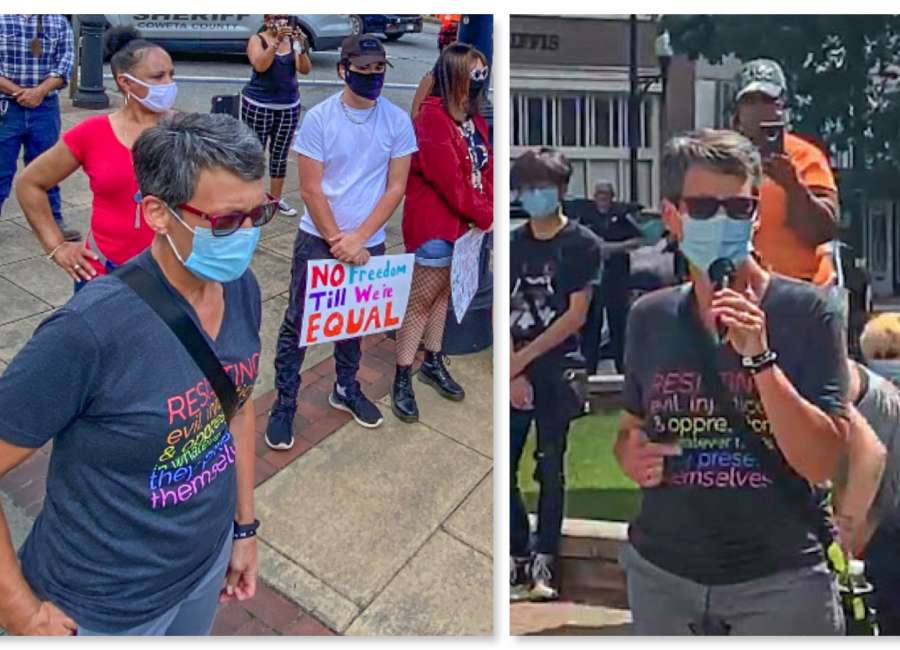 Protests have been held in downtown Newnan and all around the world the last several weeks and some local pastors and churches are taking part in the peaceful demonstrations.

Pastor JoAn Kinrade, a local United Methodist Church pastor, said she has participated in peaceful protests and demonstrations several times, as her ministry and schedule would allow, and she is not surprised the protests are happening.
"I have been deeply touched by the civility and depth to the protests," Kinrade said. "People are speaking truths — hard truths — that we need to hear, as we discern what actions we need to take individually and as a community."
Kinrade said she "had to get involved" with the local protests.
"God has pierced my heart for all of God's people," Kinrade said. "Racism is sin. Racism is evil. I can't deny that it exists or that I have played a part in it through my white privilege. I'm an ordained United Methodist deacon, with ordination vows that specifically call me to justice and compassion."
Kinrade said as a spiritual leader, she believes it's her job to bridge the church and community by living out the Baptismal Covenant.
"Living out our Baptismal Covenant states that we will 'resist evil, injustice and oppression in whatever forms they present themselves,'" Kinrade said.
Kinrade said for her, protesting is an action of solidarity.
"And standing alongside the black community, acknowledging the oppression and injustice that they continue to experience at an alarming level each and every day," Kinrade said.
"Secondly, as a white woman, I protest to acknowledge that the work begins with us white folks. We need to listen to and truly acknowledge the reality of our white privilege that we were born into."
Kinrade said she also attends the protests to listen.
"As hard as it is to hear, I need to hear the stories of my black brothers and sisters, and the injustices that are a part of their everyday lives right here in Newnan and Coweta County," she said.
Kinrade said the protests in Coweta are truly peaceful, without violence or destruction.
"Truth is being spoken. People are listening," she said.
Kinrade said churches can be involved and tough conversations are needed.
"For most white persons, it's very difficult for us to even talk about race or consider how we are contributing to systemic racism," she said. "That's indicative by the pushback I've received by publicly acknowledging our white privilege. This is a heart issue, and only God can change our hearts."
Kinrade said congregations should use this time to determine direction.
"I hope that congregations are being called to intentional times of prayer and fasting, as individuals ask God to reveal to them what they need to learn," Kinrade said. "I hope too, that our connection of churches across denominational and racial lines will continue to grow and that we can work together in unity and for change, just like Jesus prayed for us in John 17."
Kinrade said she will continue to participate. Kinrade, along with a small group from Newnan, joined other United Methodist clergy and laypersons from across the North Georgia Annual Conference of the United Methodist Church in a Prayerful March against racism and injustice, Friday, June 12. The group marched from Central UMC to Atlanta First UMC.