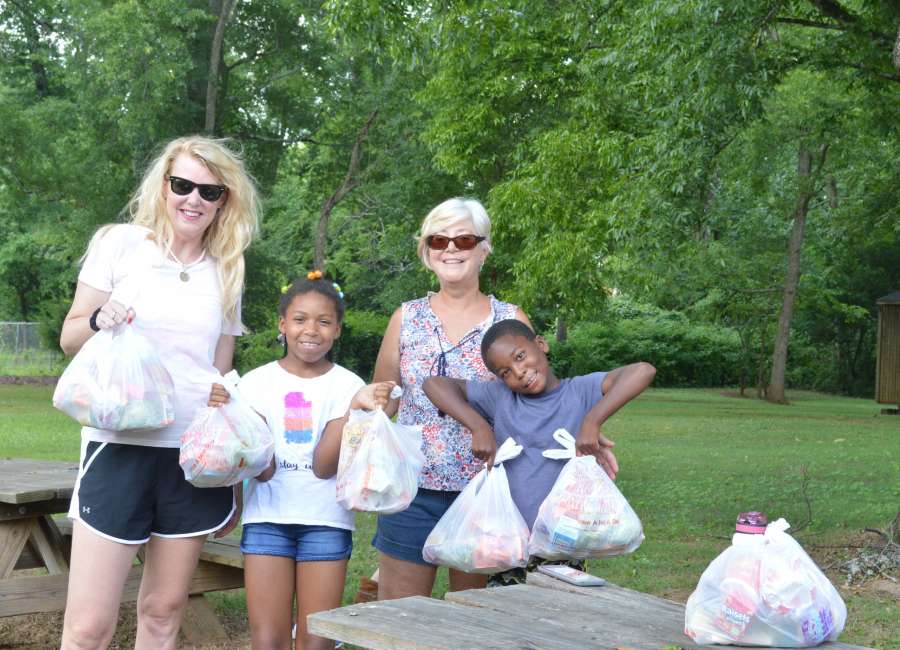 When schools closed in March and free lunch distribution points were set up around the county, Eastside Elementary School and East Coweta Middle School didn't qualify for a distribution point. Those in eastern Coweta had to travel all the way to East Coweta High School in Sharpsburg to get lunches – something that was unattainable for some families in Senoia.
So local residents and members of the Senoia City Council set to work trying to figure out how they could fix the problem. The local organization Our Father's House began buying food and preparing lunches for youngsters in public housing, while others set to work trying to figure out why there couldn't be a distribution point that was closer.
"They totally stepped up," Councilwoman Tracy Brady said of Our Father's House.
"We were trying to figure out how to get them lunches down here," said Vera Adair, co-director of Our Father's House, an after-school mentoring program. "We were doing it out of a home here for a little while, we were doing sandwiches and a bag lunch three days a week, just so we could get them fed." A lot of people donated to the effort, she said.
After many phone calls and emails, and conversations with the U.S. Department of Agriculture, a waiver was approved to allow food to be served in Senoia. Three days a week, volunteers go pick up lunches at ECHS and bring them to a distribution point outside the office of Senoia's public housing. They started out with 40 meals, but recently reduced that to 30. Each bag of meals contains two lunches and two breakfasts.
To get things rolling, Senoia City Councilman Chuck Eichorst had reached out to Coweta County Director of School Nutrition Keshia Williams to find out what steps they needed to take.
The distribution points in the school system program were based on the percentage of students at each school who qualify for free or reduced lunch and breakfast, as well as the accessibility of the schools, said Williams. Eastside and ECMS didn't have high enough free and reduced numbers to qualify based on the U.S. Department of Agriculture's rules.
However, Williams said, if she could show that there was an area of poverty, such as government housing, that could be used to get a waiver to make a new site.
Many of the families in public housing didn't have the ability to drive to ECHS to get the meals, and under the rules for the program, all children must come to the distribution point to get the meals, so those with cars couldn't simply pick up extra for their neighbors.
But they ran into an issue with that approach. Census maps of the area did not show the government housing and poverty area – because those households apparently didn't respond to the 2010 Census.
"At that point, we had exhausted all options of creating a site in that area," Williams said. "There was not another way to make a closer site, because free and reduced percentages are not there, and there is nothing on our area eligibility map that confirmed government housing through that Census data."
So they began working on some waivers to allow for people to do bulk pickup of meals from another distribution site to get them to children in Senoia.
They contacted Sen. David Perdue's office and the USDA, and Eichorst ended up talking to the state director for the child nutrition program.
"There were phone calls and email conversations back and forth with USDA," Eichorst said. Everyone was well intentioned, but there was a lot of red tape to work around.
"All of us wanted to do the same thing," Williams said. "It was just determining what infrastructure we needed to put in place to make it happen within the regulations." Once they did, it was seamless.
Eichorst said, "It took a month to finally get started. But it was worth it."
The problems with the Census map show the importance of everyone filling out the Census this year, according to Williams.
They began serving the meals May 22, just before the end of the school year, and now the meals continue as part of the "seamless summer" program. On Friday, volunteers also pick up Backpack Buddies bags.
Distribution is Mondays, Wednesdays and Fridays starting at 11:30 a.m. and running until noon or 12:30. Local kids help out with the distribution, and Brady does some limited deliveries for special situations.
"The kids are what make it so special and fun, and are such great helpers," Brady said. "It really is a community effort."