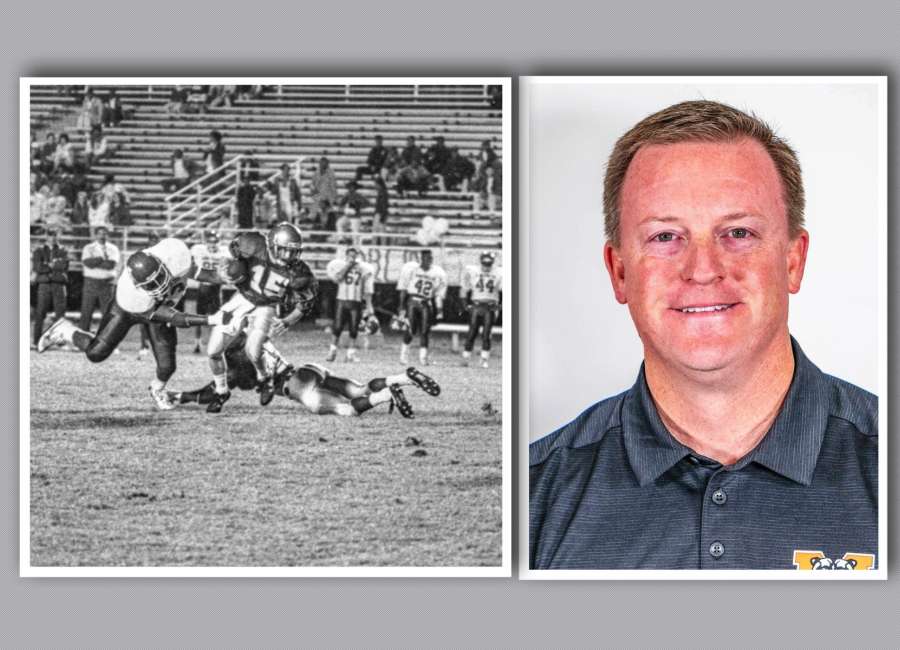 By Rob Grubbs, NTH Contributing Writer
It could be described as one of the most exciting moments in East Coweta football history.
On a late October Friday night in 1990, the Indians welcomed a bigger and more physical opponent to Garland-Shoemake Stadium: the Americus Panthers.
Led by a first-year coach and a skinny sophomore quarterback, the Indians found themselves down 12-7 with four seconds remaining.
With the endzone 55-yards away and the clock about to expire, Head Coach Danny Cronic called for the "Double-Reverse, Pass," and the quarterback and coach's son, Drew Cronic, initiated the play.
If this were a Hollywood movie, the action would go slow-motion now (with dramatic music playing in the background) as young Cronic took the snap from Spiker Stull, handed the ball to Eric Horsley who handed to Jermaine Fife, who lateralled the ball on a bounce back to Cronic and then heaved a deep pass to Brad Mizell for the winning score.
Just like it was drawn up in practice.
On Dec. 10, 2019, the skinny quarterback, who is all grown up now, was named the 20th head football coach for the Mercer Bears in Macon, Georgia. But when Coach Cronic was asked about that moment of history, his voice was energized as he shared details like it was 30 minutes ago instead of 30 years.
"That was a play that we had goofed around with a lot in practice, so when he called for it, we were ready," he said. "And as a matter of fact, even though I have not run the exact play as a head coach, we have had aspects of it in our playbook in all of the places I have coached at."
Cronic's journey is a classic football tale. He turned down scholarship offers from smaller schools to walk-on at the University of Georgia where he lettered twice and was teammates with the likes of Kirby Smart, Mike Bobo, Champ Bailey, Hines Ward and Robert Edwards.
His coaching travels took him first to James Madison where he helped recruit a team that would eventually win a 1-AA National Championship. He had two stints at Furman, helped launch a program from the ground up at Reinhardt College and performed a miracle turnaround at Lenoir-Rhyne which finished 3-8 before he got there and went on to finish 25-3 in the two seasons he was the head coach.
Six months into the journey at Mercer, Cronic speaks in a tone of quiet confidence. It comes from the years of watching his father coach and his own success to date. When asked for the advantages and disadvantages of being a coach's son, he was very direct.
"There were no disadvantages; it was a really unique experience that we both enjoyed," he recalled. "When he coached me, we got to spend a lot of time together. He was harder on me than other players, but I understood why and that is what I wanted. We didn't want others to feel like I was getting favoritism."
He also shared some advice for those young, skinny players as they embark on their high school athletic years.
"Try to play all sports, be around good coaches and make yourself coachable," he said. "Listen to what they say, and allow yourself to receive critical feedback at times. Be around those types of people and always make connections."
While it is obvious that his father played a huge role, Cronic was also quick to point out the late East Coweta basketball coach John Thrower had a huge impact on his career as well.
His time at Lenoir-Rhyne also gave Cronic a unique perspective into the NFL this past April, when his former player Kyle Dugger from nearby Whitewater High School was taken by the New England Patriots.
Dugger was not heavily recruited out of high school, but Cronic said, "We recruited him hard when we were at Reinhardt, so I was glad I finally got to coach him.
"Kyle is a gifted athlete, but he also had an elite work ethic," he said. "He was a late bloomer that worked himself to the NFL. There is no substitute for hard work."
Cronic is married to Amelia, also an East Coweta alumnus, and they have three sons: Noah, Elijah and Isaiah.
His dad, Danny, still lives in Newnan and is playing golf on a regular basis. Even though his coaching travels have carried him away, he says he still has a special place for East Coweta.
"Every time I pull into Garland-Shoemake Stadium parking lot, I get that feeling of my time here with my dad," he said. "It was a special time."
It is just a reminder to all of us that those young men who are the high school heroes on Friday nights grow up and move on in life, but there will always be a piece of that high school stadium in their hearts.
No matter where life may take Cronic down the road, his memories of that miracle touchdown pass against Americus will always resonate.