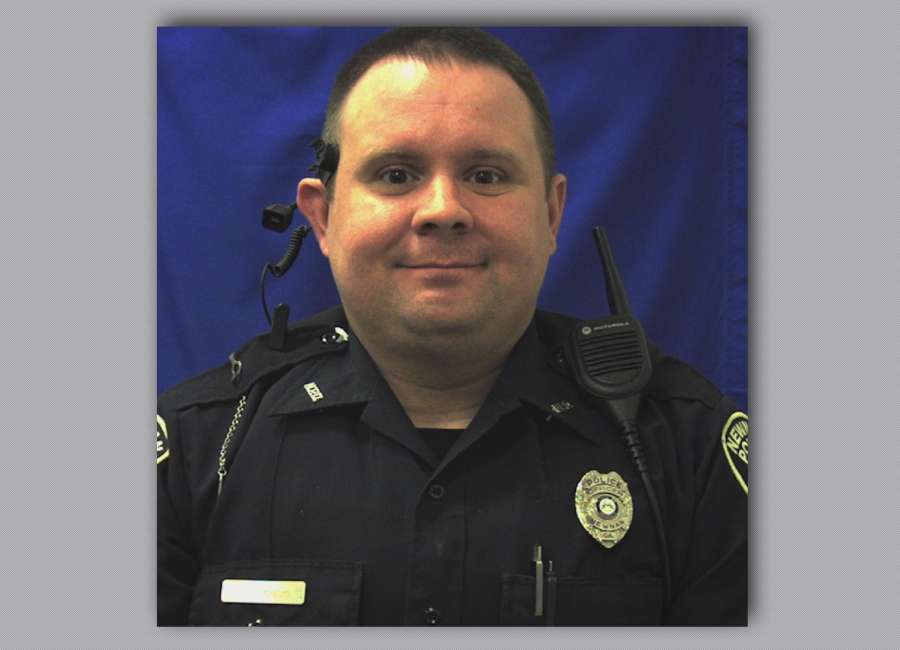 A former Newnan Police Department officer recently fired for a use of force violation says his termination was the result of "outside political issues."
Officer James Robson was fired on June 18 after the conclusion of an internal investigation based on his arrest of Sherman Ramon Daniel for a traffic violation just four days prior.
According to the investigation, issues regarding the use of force, failing to properly secure a detainee and insubordination are among the reasons cited for Robson's termination.
On June 14, Robson attempted to perform a traffic stop on Daniel after noticing the brake light on his 2012 Hyundai Sonata was broken.
However, Daniel failed to pull over and continued driving over half a mile into the Eastgate Apartment Complex where he came to a stop in front of an apartment building.
No excessive speeding occurred during the incident, according to the report.
In the Eastgate parking lot, Robson stepped out of his patrol car with his gun drawn by his side and ordered Daniel to turn the car off. A crowd had gathered upon his arrival, which Robson estimated contained at least 30 people.
A woman, later identified as Daniel's wife, informed Robson there was a child in the car. A backup officer then arrived and drew his weapon, which was pointed downward.
After the juvenile was removed from the back seat of the car, Daniel exited the vehicle and was handcuffed by Robson who had holstered his weapon.
Videos taken from the scene, from both spectators and body-worn cameras, show the crowd screaming and shouting at the officers as they were attempting to take Daniel into custody.
While being led to the car, Daniel questioned Robson's use of force in the moment, asking him why he was being so rough, to which Robson replied "because you failed to stop," according to the report.
Robson then pushed Daniel into the back of the patrol vehicle, which brushed Daniel's head against the door frame "slightly," the report stated.
A third officer arrived on the scene and attempted to deescalate the volatile situation. Daniel was then transported to jail.
video courtesy Newnan Police Department
During the subsequent investigation into the arrest, Robson justified his use of force to superiors and said he wasn't "rough" with Daniel.
Citing the nature of the tense situation involving the crowd, Robson said the circumstances "necessitated efficiency for safety," and didn't have time to wait when Daniel "failed to comply with multiple commands."
"Daniel pushed his weight backwards as walking in (an) effort to slow my and his walk," Robson stated in his grievance. "This is passive resistance."
Robson also stated he used the "minimal force necessary" to overcome Daniel's resistance and had to act quickly due to the large crowd that had gathered, which he said was growing increasingly hostile.
Robson cited observing a resident armed with a belt and another who threatened to throw a brick into his patrol car, according to the report.
"You can't play games with these people," Robson said, according to the investigation document.
At the time of the arrest, Robson noted there were only two officers, including himself, on scene at an apartment complex that is considered a "high crime" area, according to the report.
"All this was on my mind as a hostile crowd was growing and getting the suspect out (of) there," Robson said. "I had to secure Daniel so I could turn my attention back to the crowd."
The investigation concluded Robson was in violation of the department's use of force policies and had failed to secure Daniel properly (utilizing a seat belt) in the patrol vehicle prior to his transport to jail.
However, Robson alleged that there was no time to secure his passenger based on the hostile crowd, and stated that securing a passenger in the back often requires the use of two officers.
"I would argue it was not possible to safely seat belt Daniel at the time of transport without reaching over him, exposing myself to increased risk," Robson said.
'Insubordinate' during investigation
During the course of the investigation, Robson was questioned about his pursuit report where he charged Daniel with fleeing.
When asked if the incident was a pursuit, "Robson did not clarify at first and was specifically asked if the incident was a pursuit," the report stated. "Ofc. Robson eventually said that it was a chase."
Following the conclusion of the interview, Robson then requested a written statement be added to his file that stated, "During the interview with me, you had me say the vehicle failing to stop was a chase."
The investigator later replied, "At no point during the interview with Ofc. Robson was he made to say anything. Questions were asked and he provided his own answers."
Robson was determined to have been insubordinate by showing disrespect for a ranking officer's position because he "wanted to deflect his actions and discuss unrelated incidents even after being told we were discussing this specific incident," according to the investigator.
On June 23, Robson submitted an official grievance to Chief Douglas "Buster" Meadows, in which he defended his use of force with Daniel and refuted claims of being "defensive" during the investigation.
"If a person cannot defend themselves when they are being accused, then the internal affairs process is unfair to the officer and the concept of 'innocent until proven guilty,'" Robson said.
Politically motivated?
"I can only presume that outside political forces influenced the decision to terminate," Robson continued, citing the Black Lives Matter protests that had occurred daily for several weeks in June.
Robson argued his termination was extreme based on the circumstances, citing his recent recognition with a Lifesaving Award from the NPD and "several other commendations in the last two and a half years with the department."
"To go from no write-ups to termination is not in line with previous punishments other officers have received for more flagrant violations," Robson said.
According to an open records request, Robson was awarded commendations from the Newnan Police Department in May 2018 and September 2019 for instances regarding compassion and implementing lifesaving measures, respectively.
However, in 2018, Robson was found to be in violation of NPD's evidence control policy after conducting a DUI traffic stop where the suspect's wallet went missing after he was taken into custody.
The wallet contained $1,250 in cash, along with a driver's license, credit and debit cards, and social security card. The wallet was determined to have been lost after it was placed on Robson's patrol car and mistakenly left on the roof as Robson drove away from the scene.
The city of Newnan later reimbursed the driver $1,500 when the wallet was determined unable to be recovered.
Robson also alleges Mayor Keith Brady confirmed the officer's termination with a citizen through a text message the day before Robson was officially fired.
"This would lead one to believe the mayor did influence the decision in this case," Robson said. "This would be in violation of the city charter."
Newnan City Manager Cleatus Phillips denied Robson's allegation, citing all decisions regarding termination in the police department are solely the responsibility of the police chief.
"The mayor and city council have no authorization in personnel matters," Phillips said. "The city manager is the only one who reports to the mayor and city council."
Robson's grievance is currently under review by Chief Douglas "Buster" Meadows.