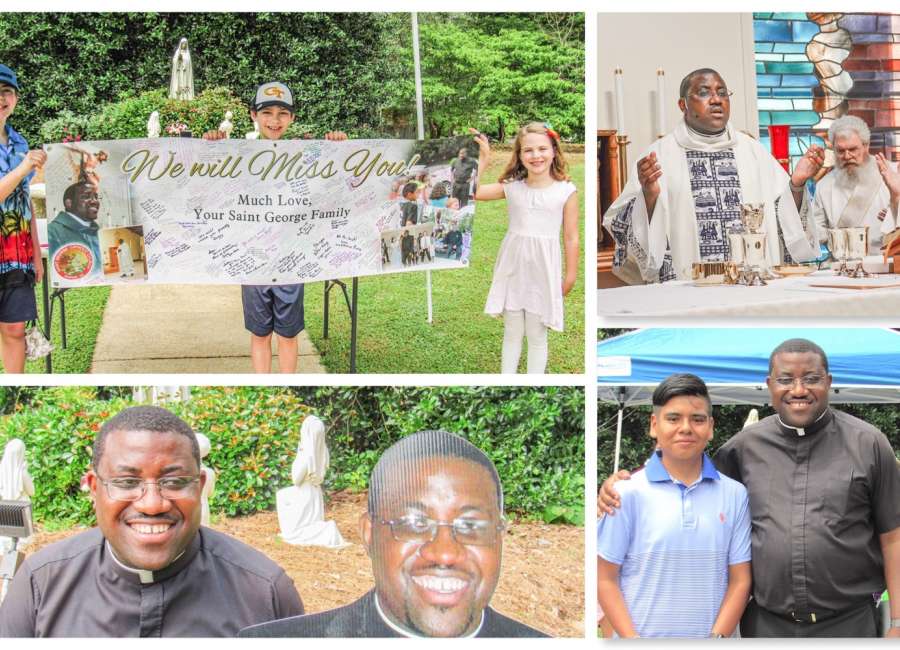 Father Henry Atem leaving St. George Catholic Church in Newnan after eight years.

Father Henry Atem, pastor of St. George Catholic Church in Newnan, will be taking a new assignment as pastor of St. Lawrence in Lawrenceville, effective July 1.

Atem has been the pastor of St. George for eight years.
"The last eight years as pastor of St. George has been an absolute delight in my life," Atem said in a letter to parishioners. "I profoundly and truly appreciate the memories, the love and support I received from this community. As I leave, I take you all in my heart."
A "Farewell and Love Rally for Fr. Henry" was held Sunday, June 7 at the end of the 10 a.m. and 12:30 p.m. masses, with social distancing rules.
A banner proclaiming "we will miss you, much love, your St. George family," was hung at the church. The banner also showed a few photos of the outgoing pastor with the church's seal.
One photograph was taken on June 25, 2012, the day the incoming priest arrived for a quick visit before his vacation and his start date at the church, according to Verna Funk.
Balloons, posters and artwork were among the items given. There were two songs sung and many tears shed as Atem spoke to those in the group gathered.
Debby Dye, a member of St. George, said she will miss Atem, especially after she prayed and asked God to send a God-fearing priest.
"And Father Henry Atem was sent to our parish," Dye said.
"He has taught us the seriousness of our Catholic faith and our walk with God in love. I will miss Father Henry's anointed homilies, which were filled with scripture and explanation," she said. "I will also miss Father Henry presiding over the Mass. Led by him, the Eucharist was always holy and sacred. The Eucharist is much more meaningful to me because of his spiritual example."
Dye said Atem has touched her heart in many ways.
"I am so grateful that God sent him to St. George Catholic Church," Dye said.
Steve Swope, who is also a member of the parish, said Atem has done a lot for the community while at St. George.
"Through his devotion to his vocation and the Blessed Sacrament, he inspired the parishioners to greater participation in the Christian life and also helped grow the number of families attending St. George," Swope said. "Quickly learning Spanish after arriving in 2012, Fr. Henry became a beloved spiritual leader for the St. George Hispanic community."
Swope said Atem also served on board of directors for the Samaritan Clinic and helped promote the community Lenten services/luncheons.
"Father Henry even dressed for billboards as part of Piedmont Newnan's 'Real Men Wear Pink' breast cancer initiative," Swope said.
"Father Henry is a dear friend and a wonderful priest. He will be greatly missed by St. George and the people he has so faithfully served in Newnan for the past eight years."