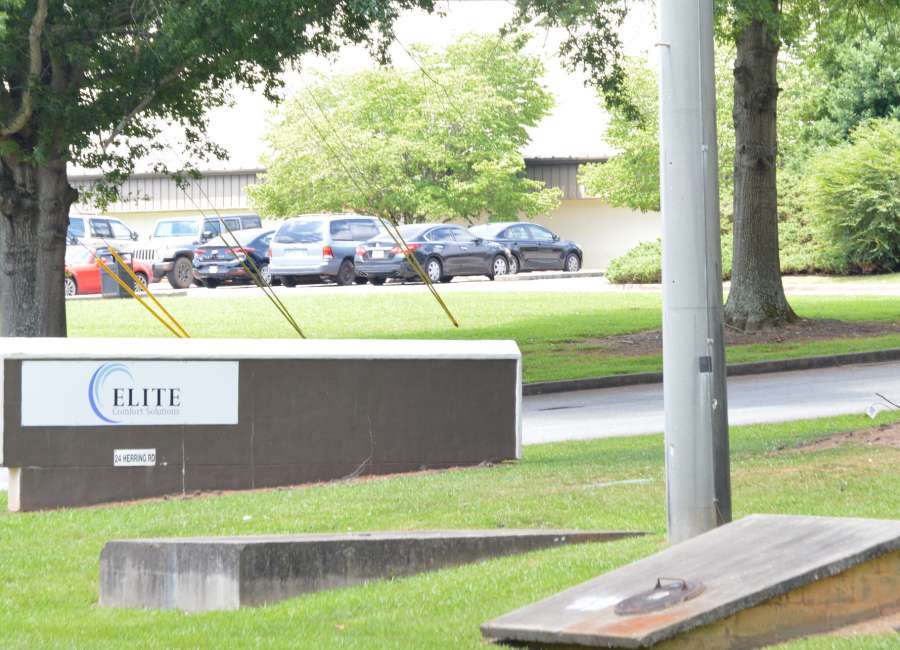 Monday morning, a large number of employees at the Elite Comfort Solutions plant on Herring Road refused to go into work out of concerns that the plant wasn't cleaned properly after a co-worker tested positive for COVID-19.
Employees, who asked not to be named for fear of losing their jobs, said that they gathered outside to hear from management, and were later told to leave the property if they weren't going to come into work. They estimated over 50 people left.
Employees said they were told the plant was sanitized Saturday, but workers who arrived on Saturday said they didn't see that happening.
Earlier in the pandemic, the plant shut down for a week after several employees tested positive. One elderly employee later passed away, and two are still undergoing physical therapy as part of their recovery from the illness, according to employees.
Recently, one worker was tested because the worker's close relative had tested positive. The worker's boyfriend, who lives with her and also works at the facility, continued coming to work until the girlfriend's test came back positive, according to the employees. They found out about the positive test Sunday night.
"We did not want them to work," one employee said. After the plant reopened, one employee had a fever and was sent home, then came back, saying it was only allergies. She later tested positive, the employees said.
Employees said they and their coworkers are fearful, and they think many of those who went to work on Monday only did so because they were afraid of losing their jobs.
"They are mad at us because we are concerned about our safety," the employee said. There are crews assigned to do sanitizing, but it's mostly just wiping doorknobs, she said. There are hand sanitizer stations, but they aren't always filled. Hand sanitizer isn't always by the time clocks or the snack machines.
The company operates on a "no-fault" point system, employees said; the people receive points when they are out, whether or not they are sick. "They are basically scaring people into working," the employees said.
Company spokeswoman, Valerie Glaze, who is based in Missouri, said Tuesday that Elite Comfort Solutions has a "robust system of procedures designed to educate employees and prevent the spread of COVID-19 within our workplaces."
The company has a flexible attendance policy and employees who report symptoms or who are staying home because of possible COVID-19 exposure are not assessed attendance points and they are asked to self-isolate for 14 days or as instructed by their health care provider, Glaze said.
Employees wear masks and the facility is sanitized on a regular basis, Glaze said. If someone tests positive for COVID-19, that employee's work area and all areas the employee might have touched are thoroughly cleaned and disinfected under a "deep cleaning protocol" as soon as the symptoms, exposure or positive test result are reported, Glaze said.
If an employee tests positive, those in direct contact with that person are isolated from the facility without any negative impact on their attendance record, she said. No employees are allowed inside the facility if ill, and if they become sick at work, they are sent home.
Glaze said that "relevant information about potential exposures is communicated to employees as appropriate."
The Herring Road plant makes foam mattresses, and employees work in pairs on a mattress, employees said. It's not possible to stay 6 feet away from their partner.
Employees say one reason they are so upset is "there is so much going on, and they don't talk to us. They don't tell us what is going on," and they feel like the company is trying to cover up things, they said.
Their main concern is having the facility thoroughly cleaned and sanitized – not a quick clean.
Employees say that the company only started providing masks a few weeks ago, after the employee passed away. The employee had been sick for several weeks.
"Before that, they told us the only way we could get a mask was if we were sick and having symptoms and about to go home," another employee said. Now, employees get their temperature checked when reporting to work.
Another employee said they want to be informed about what is going on, so they can make their own decisions about their health based on their own circumstances.
"I want them to stop making our life decisions for us. I want them to quit playing with our health," the employee said.