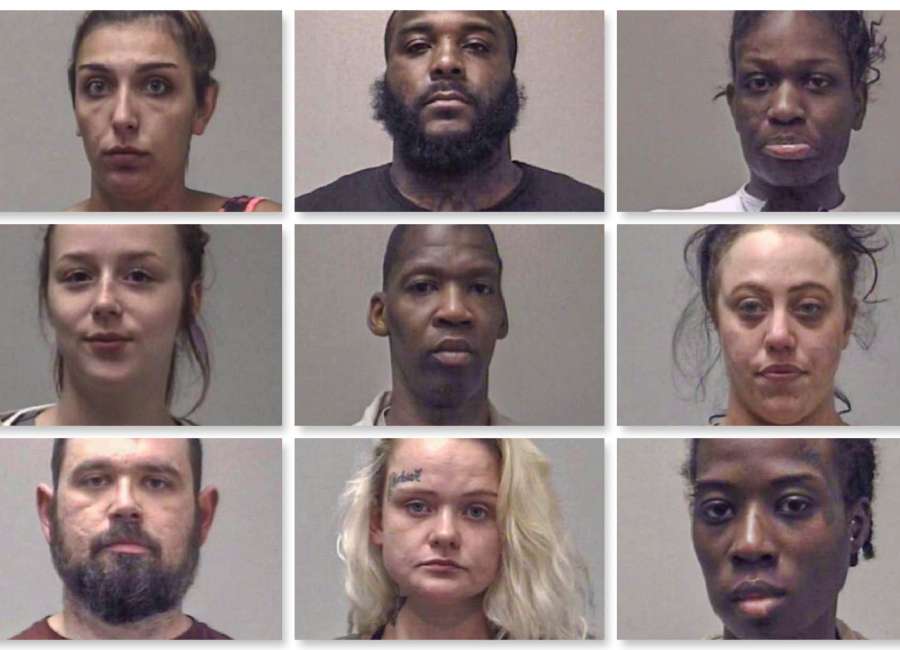 A victim of human trafficking was rescued after a two-day prostitution sting which led to the arrest of over two dozen individuals.
Working in conjunction with the Homeland Security Human Trafficking and Child Exploitation Group, investigators with the Coweta County Sheriff's Office began the two-day operation Wednesday.
Through the use of social media, analysts with the sheriff's office were able to identify over 200 suspected advertisements for prostitution.
After making multiple phone and video calls, along with text messages, investigators were able to confirm commitments for the exchange of sexual acts for money, according to Lt. Edwin Rivera with the sheriff's office.
The sting was conducted at a local hotel. Prices ranged from $85 to $500 per person, Rivera said. During the sting, a variety of drugs were seized along with a handgun.
Only one individual arrested in the operation was a local resident. Robert Lee Jones, a resident of Berry Avenue, was charged with prostitution.
During the operation, a 21-year-old female was found suffering from a gunshot wound to her leg and had been refused treatment by her alleged pimp, Rivera said.
The woman was transported to a local hospital to receive treatment and offered assistance through the Victim's Advocate Office from the Homeland Security Human Trafficking and Child Exploitation Unit.
A local man was also arrested during the operation, but under an unrelated charge.
Michael Eugene Hale, 38, was charged with public drunkenness after an investigator working the sting reportedly observed Hale walking around the parking lot of the hotel without a shirt, waving his arms and yelling.
After failing a breathalyzer, Hale was arrested and transported to jail … again.
Hale told deputies he had just been released from jail on an OR bond earlier that day and didn't want to return, according to the report. Jail reports confirmed Hale was charged with narcotics possession and drug-related objects on June 15.
The following were arrested:
Gena Michelle Alley, 23, Simpsonville, South Carolina - prostitution
Marlis Deon Hill, 35, Atlanta - narcotics possession
Michael Devonte Holmes, 27 - pimping
Alyssa Makenzie Jones, 18 - narcotics possession, prostitution, marijuana possession with intent to distribute
Robert Lee Jones, 40, Newnan - prostitution
Cassie Marie Kates, 28, Russell Springs, Kentucky - prostitution
John Michael Lawrence, 32, Dallas, Georgia - pimping
Meghan L MacLellan, 25, Atlanta - prostitution
Brittnie C.S. Osunde, 29, Atlanta - prostitution, narcotics possession
Misha Rachell Perry, 22, Atlanta - purchase, possession, manufacture, distribution or sale of controlled substances, marijuana possession, prostitution
Tynidric Tymon Revell, 27, Atlanta - prostitution
Jason Al Rhodes, 23, Atlanta - prostitution
Perfection Unique Rivers, 26, Conyers, Georgia - narcotics possession with intent to distribute, marijuana possession with intent to distribute
Mya Lauree Saenz, 20, Atlanta - prostitution, marijuana possession with intent to distribute, synthetic narcotics possession with intent to distribute
Aaron Tyler Simmons, 23, Greenville, South Carolina - pimping, narcotics possession, possession of a firearm during the commission of a crime, possession of a firearm by a convicted felon
Jakeria Rozerica Simpson, 20, Hinesville, Georgia - prostitution
Traniya Ja'Laka Steele, 19, Covington, Georgia - marijuana possession
Nicholas Julian Terrell, 27, Tucker, Georgia - pimping, narcotics possession, marijuana possession
Jada Kaci Tucker, 25, Canton, Georgia - prostitution
Cameo Lynn Vogel, 34, Atlanta - prostitution
Fredrick Walker Jr., 26, Barnesville, Georgia - pimping, obstruction of officers, narcotics possession
Kati Lee Wall, 31, Douglasville, Georgia - prostitution
Isaac Ellison Williams, 21, Marietta, Georgia - prostitution
Trelony Dreshum Woods, 28, Decatur, Georgia - prostitution