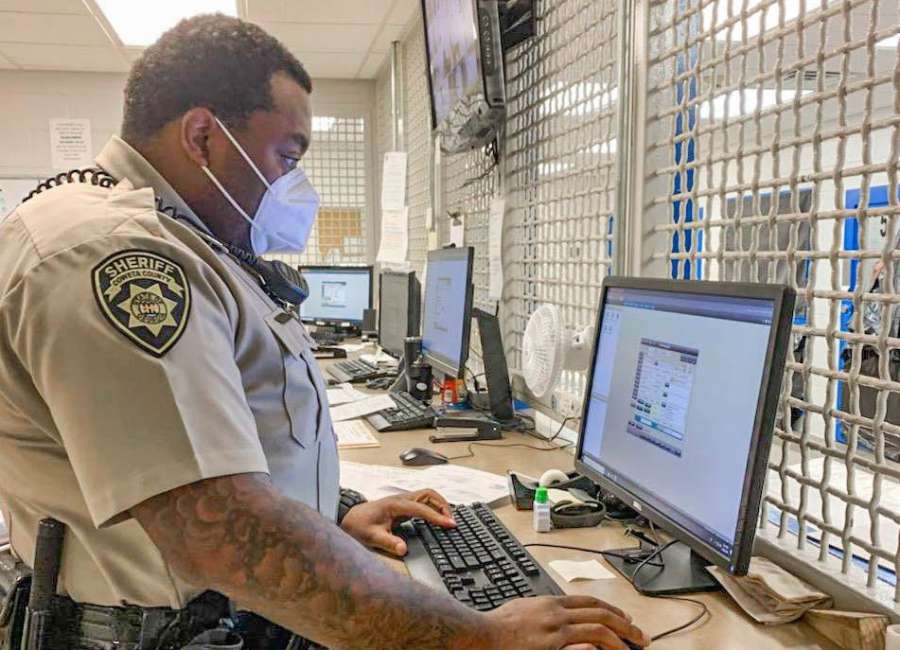 As the Troup County Jail and some prisons around the state see major outbreaks of COVID-19 in their facilities, the Coweta County Prison and Coweta County Jail are continuing to take significant measures to stop the virus from getting into their facilities and from spreading if it does get in.
Recently, two jail inmates tested positive for the virus and later recovered, according to Jail Division Director Major Warren Campbell.
Both were identified as potential COVID cases when they arrived at the jail and went directly into quarantine. After a 17-day quarantine, they were put into the general population.
The Coweta County Prison has seen no confirmed cases of COVID-19 so far, according to Warden Bill McKenzie. Some employees had symptoms, and others had been exposed, but all tested negative.
"I think we have been truly blessed here," he said.
Both facilities have significantly limited access to their facilities – stopping in-person visitation, and requiring screening questions and temperature checks for entry.
The jail's infirmary has a negative pressure room which doesn't allow any air to leave the room. Inmates suspected of having COVID-19 or related symptoms are taken to this room upon their arrival to the jail.
Now, an entire pod at the jail is set aside for quarantine.
A proactive strategy
The jail population is down significantly, thanks to cooperation with local courts.
When it became clear that COVID-19 was a threat, jail officials worked with the courts to get the population down, by releasing some inmates on their own recognizance and giving those with minor probation violations a second chance.
Overcrowding has been a problem for years, but through recent changes, the jail's population dropped dramatically – from a typical total of over 400 to a range of 220 to 251 over the past few weeks, according to Campbell.
That reduction in population meant inmates could be consolidated in the pods, leaving two empty pods.
The jail's infirmary stays busy with mental health and medical patients, and some of those patients are kept in the holding cells in booking. Now that there is extra space, crews are working to transform the second spare pod into a medical pod. The project is almost complete.
Campbell said that jail staff has been listening to corrections leadership podcasts.
"They're saying now is the time to be creative. If you have to make changes, make some changes that are lasting," he said.
"We've been pivoting and finding ways to improve our operations," he said. "We're about two weeks away from making the best of COVID-19."
The jail's doctor has put together some protocols for treating inmates, and that includes an immunity-boosting vitamin and mineral supplement.
The jail also stopped accepting transfers from other counties except for the most serious crimes. Additionally, those who are arrested and are expected to bond out stay in the holding cells and don't go into the general population.
Keeping COVID-19 locked down
McKenzie said he's always felt Coweta's prison was a clean facility. However, he said, "we've gone overboard with disinfectant, and making hand sanitizers available and having inmates wear gloves."
Staff wear masks, and inmates wear masks unless they are inside their dorms or eating.
The prison has resumed its GED classes, which are taught by inmates and prison staff, and two weeks ago, the welding program through West Georgia Technical College started up again.
Church services and Bible studies led by outside groups haven't started back yet, but McKenzie said that soon they will be allowing them to "slowly trickle back in." In the meantime, offenders have been leading church services.
Getting into the prison requires more than a temperature check and screening – everyone has to sign an attestation sheet saying they haven't been out of the country or exposed to COVID-19, and everyone has to step in a pan of disinfectant solution for their shoes – even inmates coming from the recreation yard.
A fogging machine sprays the entire facility with a disinfectant solution at least once a day, McKenzie said – and some areas are sprayed more often.
If employees have a fever or any other symptoms, they have to stay out of work, McKenzie said. One employee had a fever, and though she tested negative for COVID-19, she still couldn't come to work until she was fever-free for seven days without medication.
McKenzie said they simply can't afford to take any chances with the virus.
"If one person here breaks out, that is going to lock down this whole prison," he said.
Inmates work on many inside and outside work crews, and crews are back to work, with masks and as much social distancing as possible.
When it comes to mask-wearing, "the officers are doing a really good job of promoting it," McKenzie said. People may not enjoy wearing masks but "they are setting the example."
Family visitation has been restricted for over three months, but McKenzie said it may resume in mid-July. Some offenders have had family members pass away during the pandemic.
Though they can't attend funerals because of COVID-19 regulations, McKenzie said they're working with the families and the funeral homes for them to attend virtually with either a cell phone or tablets.
When work crews go out, they are temperature checked, and they are checked again when they come back in. The same rules apply to those at the work release center.
Before COVID-19, vendors such as the food delivery service unloaded by the kitchen. Now, all deliveries are dropped outside of the main gate. And that's something they'll probably continue in the future, McKenzie said.
After nearly three months of no transfers, the state has begun sending new inmates to the prison. New arrivals spend two weeks in an empty dorm at the work release center before they are allowed inside the prison, McKenzie said.
As of this week, there were eight new arrivals who were one week into their quarantine period. McKenzie said it is the state's policy to not transfer any offenders from prisons that have an active outbreak.
The prison isn't accepting any new offenders from county jails for the work release program, he said.
If offenders have to leave the prison for medical care, officers wear full personal protective equipment – including a suit over their uniforms. When they return, inmates change clothes and the vehicle is completely disinfected.
Campbell said that early on in the outbreak, some people who had been arrested would say they had been exposed to COVID or were sick.
When they found out they were still going to be arrested, they were just going to be quarantined, they would often change their tune. Sometimes the inmate workers who work inside the jail would complain of symptoms, and they would be kept in the negative pressure room.
Anytime an inmate tells staff they feel flu-like symptoms or have been exposed, they're treated as though they have COVID-19, according to Campbell.
Initially, inmates were sent to Atlanta for a rapid COVID-19 test, Campbell said. But the jail's doctor said that a negative test when they first arrived didn't mean they wouldn't test positive later, so the long quarantine period was chosen instead.
One foodservice contract worker displayed flu-like symptoms, but is now back from quarantine, Campbell said. One work detail inmate thinks he may have gotten it from that worker, so he was quarantined.
The jail implemented a limited program with tablets for inmates several months ago, and after video visitation was stopped at the jail, they were able to set up a program so that inmates can video chat with loved ones from the dorms.
To facilitate those video chats, the jail purchased a set of earbuds for every inmate, Campbell said.