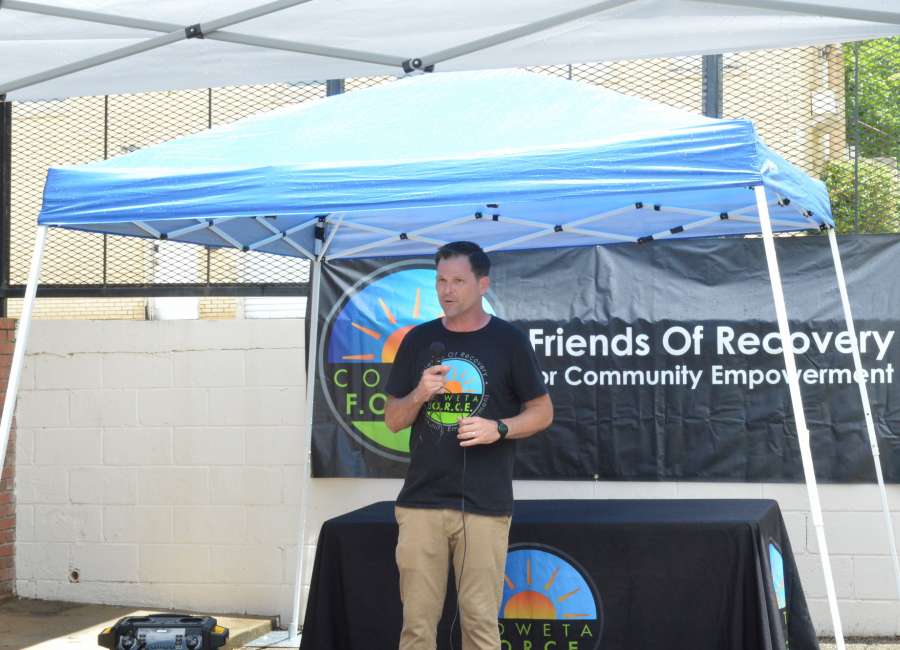 When proposed state budget cuts were announced that would completely wipe out funding for recovery community organizations, such as Coweta FORCE, the local organization and others around the state went to work on advocacy.
They urged the state Department of Behavioral Health and Developmental Disabilities, the governor and legislators to back off on the drastic cut.
Because of the impact of COVID-19 on the economy and state revenues, all state agencies were tasked with cutting 14 percent of their budgets, and the DBHDD had proposed the complete elimination of funding for recovery community organizations.
Gov. Brian Kemp has now told agencies that they will only need to make cuts of 11 percent, as state tax revenues aren't quite as bad as originally thought.
Coweta FORCE (Friends of Recovery for Community Empowerment) had a rally last week to raise awareness of what the organization does and to talk about the impact of cuts. A rally was also held at the state capitol to urge that the funds be restored. For that rally, participants attached posters with recovery messages to their vehicles and drove around the capitol, according to Hank Arnold, executive director of Coweta FORCE.
And, it seems, that message has been heard. DBHDD Commissioner Judy Fitzgerald has now recommended restoring $3.5 million of the $4 million that had been cut from the RCO budget, Arnold said.
The Georgia General Assembly resumed its 2020 session Monday. The House had already passed a budget before the session was suspended for COVID-19, and the Senate Appropriations Committee has been working on a budget that incorporates the needed cuts. A budget must be passed by June 30, because fiscal year 2021 begins July 1.
Sen. Matt Brass, R-Newnan, and Rep. Philip Singleton, R-Sharpsburg, were among those attending the Coweta FORCE rally, and both spoke. Sheriff Lenn Wood was also in attendance.
Support throughout recovery
Jeff Breedlove of the Georgia Council on Substance Abuse spoke, as did two people who have found recovery — and Coweta FORCE — to be life-changing. They spoke about the importance of Coweta FORCE and organizations like it.
"The reason why we're here is that Coweta County and Newnan has one of the best recovery community organizations in the state," Breedlove said. "They're doing great things – not only in this city but in this county and in this region."
Breedlove told the crowd a bit of his own story. He went to a very exclusive drug rehab center and was there for 90 days.
"What happens on day 91? This is what happens on day 91," he said of Coweta FORCE and other organizations. "This is what sustains recovery. No matter how you get into recovery … you've got to have a network of peer supports."
Recovery community organizations "make people's lives better – and they save taxpayer dollars," Breedlove said.
Executive Director Hank Arnold and his team "are our voice," Breedlove said, "To strengthen this community, to strengthen families and to make Coweta and Newnan a better place."
Coweta FORCE wants to be an organization to help people find recovery and sustain it – not just on day 91, but in year nine or 10, he said.
After years of substance abuse and arrests, Arnold found recovery. He received a full pardon and now every Tuesday, he gets to be in one of his favorite places – the Coweta County Jail.
"That's the highlight of my whole week," he said. "To be able to go in there and shed a little bit of light, shed a little bit of hope, offer some perspective and offer a pathway," he said.
He lets the inmates know: you don't have to live life this way.
If it wasn't for this place, I wouldn't be here
Arnold asked Zoe Powell and Tony Young to speak about their recovery experiences.
"I had several setbacks for about 10 years. I was in and out of rehab and in and out of jail," said Powell. "It's a miracle I didn't die, honestly."
The last time she got into recovery, she had somebody to believe in her. And not everybody has that. Two weeks later, she found out she was pregnant.
"I decided I was going to be the best mom I could possibly be," she said. "About three years ago, I kept hearing about this guy Hank," she said. "I met Hank, and I knew from that day that whatever he was doing, I wanted to do," she said. "I knew I needed to be a part of it and it has changed the trajectory of my life."
On Tuesdays, "I get to go into the jail that I was once in and I get to share yoga," she said.
Powell added, "I have always been very open about my recovery. Being loud and proud is how I reach those people in the darkness."
Young said he used drugs for about 32 years. "I didn't see any way out," he said. "I wanted to kill myself. I'd been to treatment centers, been to jail, prison. I didn't know what to do, so I decided to give recovery a chance and my life changed." He's now been in recovery for 4 1/2 years.
Young said the first time he talked to Arnold, "He made me feel like I wanted to save everybody."
When you're in recovery, "It's good to have a place to go and it's good to be able to find a lot of people like myself who understand what I'm going through," Young said. And that's one of the things Coweta FORCE offers.
"Life is good today. I've got a job, I pay taxes, I've got a banking account, I've got my dream car," he continued. "And I owe it all to my recovery and the people I have met in recovery.
"If it wasn't for this place, I wouldn't be here."