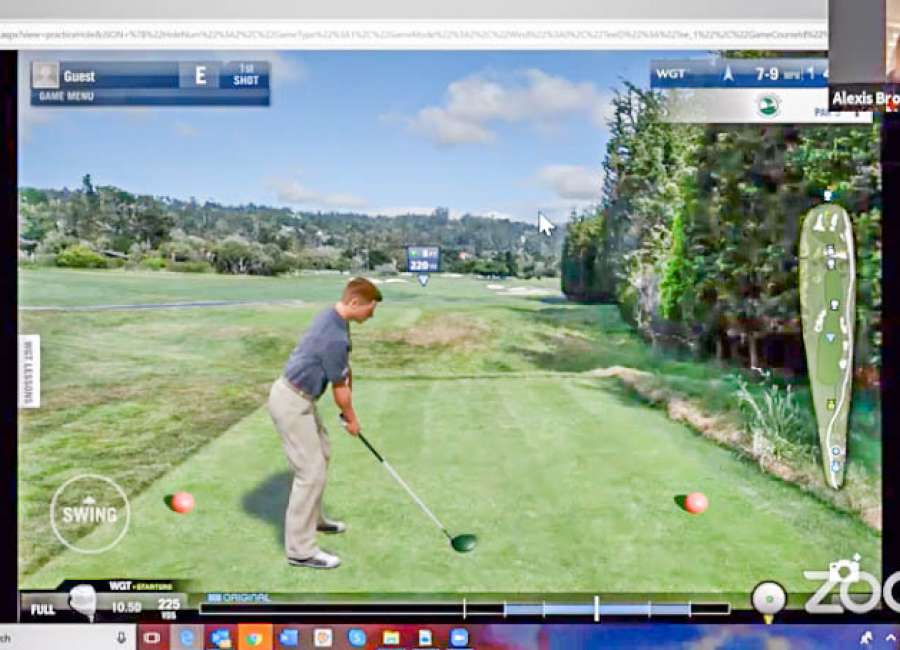 When Coweta Fellowship of Christian Athletes realized it wouldn't be able to hold its annual golf tournament fundraiser because of COVID-19, the tournament went virtual.
Tamara Ledford, Coweta County Area Director for FCA, said that when they decided to cancel the in-person golf tournament, they wanted to come up with a way to do it virtually.
Ledford said fundraising is necessary for FCA because the ministry is completely supported by donations.
They used World Golf Tour, www.wgt.com , to play a virtual round of golf at Pebble Beach on May 18. Ledford, Coweta County Area Representative Brian Morgan and Coweta County Administrative Assistant Carrie Schelhaas logged on to Zoom from 10 a.m. to 2 p.m. for the tournament.
Ledford said Coweta FCA has 11 board members, and each played a hole and were challenged to raise $1,000. She said they each had a time slot where they would play their hole and talk about who donated money to FCA or tell an FCA story.
For the other seven holes, Ledford and Morgan put out a challenge where two people could play a hole, and the winner would donate $50 and the loser would donate $100.
"Who knew that it could be so competitive playing online golf on a Zoom call," Ledford said. "It was so much fun."
Ledford said the fundraising goal was set at $10,000, even though the in-person golf tournament usually raises between $20,000 to $25,000. She said they weren't sure how much money they would raise this year since it was virtual, but they ended up raising a total of $12,355.
Because the tournament was completely online, Ledford said all of that money was able to go into FCA's ministry account. This allows Coweta FCA to buy things to encourage the coaches and athletes at the schools they are in.
"It was awesome to see our board take ownership of funding the ministry," Ledford said. "There have been so many cool blessings with all this virtual stuff."
Typically during the summer, Ledford said they would be participating in FCA camps, but all the camps have been canceled this year.
She said they are taking this time to refocus, and encourage student leaders and character coaches. Ledford said they don't have a set plan for the summer, but are making themselves available for administrators, coaches and athletes at the schools.
Ledford said they also have been sharing highlights from the virtual devotions they hosted on their social media pages while student-athletes were at home because of COVID-19.