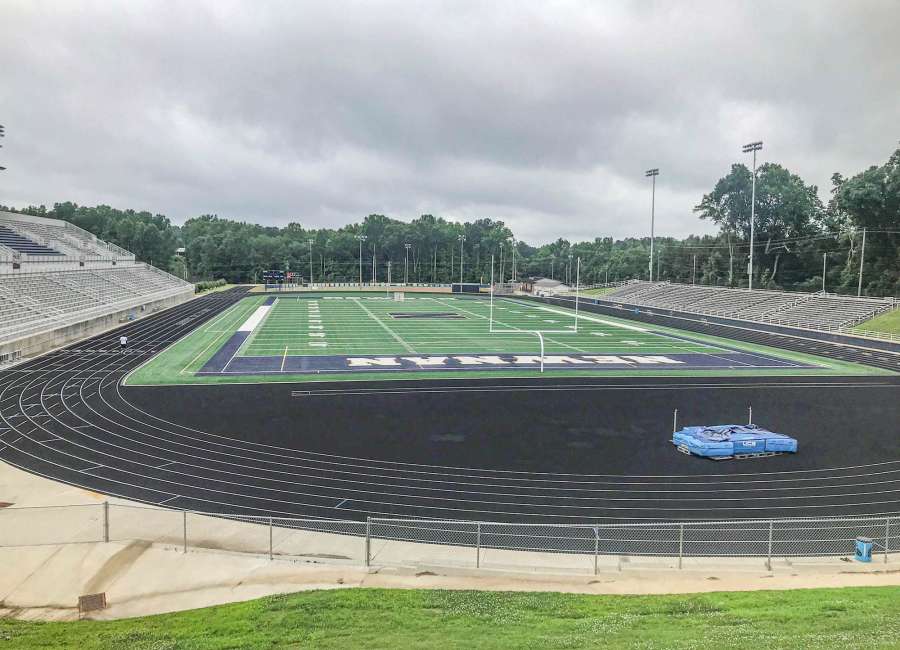 By Rob Grubbs, NTH Contributing Writer
In less than two months, high school football will return to Coweta County in a big way.
The inaugural Coweta-Fayette Classic will kick off the season for East Coweta, Newnan and Northgate against Fayette County opponents in a tripleheader on Saturday, August 22 at Newnan's Drake Stadium.
Newnan Head Coach Chip Walker shared his vision for the event.
"We as coaches have all at one time or another gone to a season-opening kickoff classic, but we wanted to build something special here in Coweta and Fayette counties — something we could call our own," he said. "So, all the coaches got together to put this into place. It is going to be a special day for high school football fans."
On the menu for this high school football feast include East Coweta in the opening 2 p.m. game against the Starr's Mill Panthers. Northgate faces off against the Sandy Creek Patriots in the second game, and Newnan will tangle with the Whitewater Wildcats in the nightcap.
Coach John Small's East Coweta Indians will face two opponents right from the start: the heat of an August early afternoon and Head Coach Chad Phillips's Starr's Mill program. The Panthers have won four straight region titles and made it all the way to the Class 5A semifinals last season before losing to Warner Robins.
"We wanted that first game; we wanted to play in that environment," Small said. "It is going to be a great event for both Coweta and Fayette Counties — six established programs with a track record of success in one day. We know Starr's Mill has an outstanding program, and Coach Phillips does a great job there. They are well-coached and run the Wing T offense to perfection."
The Panthers also bring two of the best defensive players in the state with Cole Bishop at linebacker and Wes Haney at safety. It will be the fifth meeting between the two schools but the first since the 2005 season. The Indians currently hold a 3-2 advantage.
The Northgate Vikings follow a matchup against the Sandy Creek Patriots. Head Coach Brett Garvin, who replaced Coach Walker four years ago when he came to Newnan, also took his team to the semifinals of Class 4A last year where they lost to Oconee County.
Graduation was not kind to Sandy Creek, two of their offensive players, Rashad Amos and Brian Branch are playing in the SEC this year but look for Coach Garvin to rebuild with a strong defense.
Viking Head Coach Mike McDonald looks to start their season off with a bang, Northgate has played Sandy Creek six times in school history, but they are looking for their first win against the neighbors from a few exits up Interstate 85.
In the final game of the night, Newnan will host the Whitewater Wildcats and their new head coach Chad Frazier, who transitioned over from Union Grove after the 2019 season. After only three wins in the past two seasons, the Wildcats made a change to Coach Frazier, who has also had stops at Heritage-Conyers and Villa Rica as head coach.
Coach Walker shared a little of an early scouting report.
"We know they ran the Wing T at Union Grove, so that will be one of the things we prepare for. But we know Coach Frazier will have them prepared," he said. "By then, we will also have some tape of their scrimmage game and will have a better idea."
While the two schools have played a few preseason scrimmage games, this will be their first regular-season game against each other since 2007, a 21-13 Newnan win. In that game, Cougar running back Keandreas Wynn rushed for 129 yards and had two touchdowns, including a 23-yard pass from Russell Powell.
The classic is scheduled to be at Starr's Mill in 2021, and as Coach Walker shared in closing, "We want this to be every year thing, this is good for our communities and our schools. We want to keep it going."
At the end of the day, the three winning teams will feel a little better about themselves, and the three losers will know what to work on and still have time to improve before the region schedule. But the fans will be the ultimate winners as they experience one of the most action-packed football days ever in Coweta County.